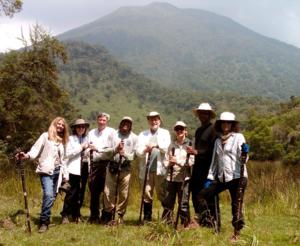 I was sitting in my den watching a news report when the telephone rang. Ellen Harrington was calling to invite me to travel to Nairobi and Rwanda as a delegate in an educational exchange program with African film students. She is Director of Exhibitions, Special Events and International Outreach for the Motion Picture Academy. Phil Robinson, Chairman of the program, had recommended me, she said. Phil is a writer/director I had worked with on two films, "All of Me" and "Sneakers."
Ellen explained to me that the Outreach Program brings delegations to countries with developing film industries. Creative conversations between emerging and established filmmakers help connect communities throughout the globe. Academy members are selected to participate from such diverse crafts as screenwriting, directing, cinematography, producing, sound, production design, acting, editing and documentary filmmaking. As delegates we would spend about two weeks interacting with students in programs in both Kenya and Rwanda.
I was excited to be part of this group, and felt honored to be asked, but wasn't quite ready to say yes. The program was to start in the beginning of July and I hadn't worked in the first half of the year. I was on the hunt for a film job. There is a saying in Hollywood that the phone will ring the moment you commit to something other than work. But I also believe that if you do something good for others, it always comes back to you – eventually. . I felt this was a fantastic opportunity for me to share some of my experience and knowledge with others. After mulling it over a few days I called Ellen and committed to the trip. Sure enough, a week later the phone rang with a job offer with conflicting dates. Job offers are scarce these days so it was a hard decision but I turned it down. When I called the production manager to tell her why I couldn't do the project she said, "What a great opportunity! Go and have fun."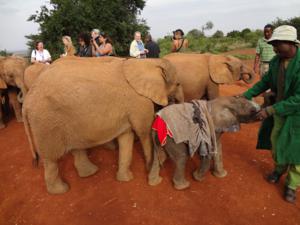 Then the "fun" began. I had to get all my shots for international travel, prescription tablets for malaria and meet with the other delegates to review the itinerary. In addition to Ellen Harrington, the Director of the Outreach Program and Phil Robinson, the Chairman of the Program, the Academy group included Actress Alfre Woodard, Producer Stephanie Allain, Cinematographer John Bailey, Production Designer Wynn Thomas and Editor Carol Littleton. I was excited to be traveling with such a select group and it was great to see a few familiar faces.
I was all set for the trip when I had to decline yet another job offer, this time for a two-day commercial. But then I received a call for a show scheduled to start filming in Cleveland only a week and a half after my return. I knew it would be a scramble but felt I could do it and happily accepted. It was a relief to know I had a project to return to.
We left LA for Nairobi on Friday, July 8. After eighteen hours in the air, plus some layover time, we arrived on Saturday night and were met by Ginger Wilson of Ginger Ink, a film production company, and Project Manager of One Fine Day Films. One Fine Day Films, our local partner in the training program, offers workshops and seminars to more than sixty-five students from nine African countries. The participants gain practical experience in a variety of disciplines. At the conclusion of the program they collaborate on a feature length project.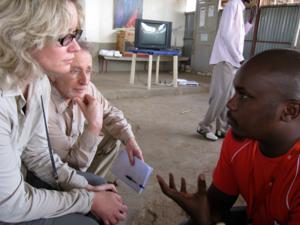 We were taken to the Fairview hotel, a family-owned business located on acres of beautifully landscaped gardens. Built in the 1930's, its stonewalls and arched window give it the look of a country inn.
We spent Sunday morning relaxing and recuperating from the long journey. Ginger Wilson arranged a private viewing at Daphne Sheldrick Elephant Orphanage for the afternoon. It's a wonderful refuge where they save the lives of elephants and rhinos and eventually release them back into the wild. The Orphanage has a program where one can adopt an elephant. I knew if I adopted one, I would become emotionally attached – wanting to visit occasionally and so forth – so I chose not to do it. But, several in our group did adopt an elephant.
Dinner that evening with our African mentors gave us a chance to review program specifics. Matthias Lambert, designer of the sound program, told me there would be six students in our group. Much of the immediate attention of the students, he told me, was directed to post production because a previous project, "Nairobi Half Life," had completed principal photography and was being edited. Nevertheless, my assignment was to teach production sound techniques and relate them to making the post-production process run smoothly.
On Monday we traveled to the Herron Hotel in Nairobi, where the workshops would be held, and met with the students and other members of the team. They were happy to see us and equally eager to get started. We split up into smaller groups by discipline: script writing, acting, directing, producing, production design, cinematography, sound and editing. Most of the Sound participants were already working in sound or music or both.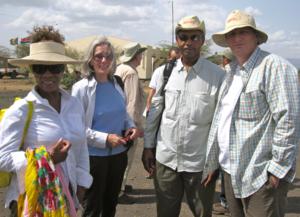 Matthias Lambert taught post-production sound in the morning and turned the class over to me for production sound in the afternoon. Since this was my first time teaching a class, and I only had 3 days to do it, I wanted to make every minute count. I started at the very beginning and talked about getting the call for a job and reading the script before the interview. I explained that my course of action is really about understanding the story and the equipment necessary for the job. I then covered the next steps, which include location scouting, prepping and loading your sound equipment. There were many questions from the participants and I considered the workshop a great success.
The daily sessions ended around 5 PM and we would hurry over to nightly screenings of American movies popular in Africa followed by a Q&A session. The first night's selection, "The Shawshank Redemption," was a bit of luck for me since I had been part of the crew and was quite familiar with the film. That was a good thing because African students study US films as part of their learning process and many of the students had already seen the film several times. Their own storytelling tends to be more linear but this may be because their subjects often come from personal experience.
We spent our second day in Homeboy Z studio recording ADR and doing mixing exercises for "Nairobi Half Life." Matthias Lambert welcomed my participation in this post-production work and I assisted in mixing and recording ADR and Foley tracks.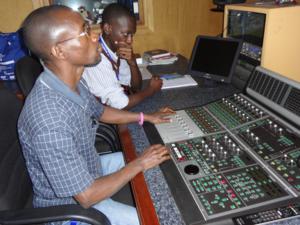 The following day we focused on production sound. I would like to thank Local 695 and all the participants responsible for the articles in the 695 Quarterly. I handed out seven magazines and this was a big plus in my teaching, especially the article from Jim Tanenbaum regarding the placement of wireless mikes. I found that mounting wireless mikes on actors without excessive clothing noise was one of the greatest challenges for my students. It's a difficult skill to teach but after many demonstrations and using some of the techniques in Jim's article they eventually began to get the hang of it. I was exhausted at the end of the seven-hour class but my spirits were high and I looked forward to that evening's screening of "Silverado," one of my favorites.
On our fourth day our Academy group joined with a group from Film Aid International. They use film and video to reach the world's most vulnerable communities with messages that educate, inspire and address critical shared needs with the goal of effecting social change. We met with the filmmakers and viewed some of their short films. A question and answer session was held afterward.
Together the two groups visited the Kakuma Refugee Camp in the Northeastern part of Kenya. Approximately 1500 people fleeing drought and turmoil in neighboring Somalia arrive in these camps every day. The humanitarian needs of the people overwhelm regional resources and there is a perpetual shortage of food, water and medical supplies. Seeing these conditions firsthand made it clear that our trip was not just about us sharing our knowledge and experiences, it was also a demonstration of conditions and a challenge to us, as individuals and as representatives of our respective countries, to find ways to help with the problem of starvation in Africa. . I've seen it on the news, but there is nothing as powerful as observing the situation first hand. As we boarded our flight headed back to Nairobi, there were conversations among the group about what we'd seen and what we could do to help. Our Director, Ellen, informed us that their most urgent need is for donations and help in spreading the word. She gave us website information for donations.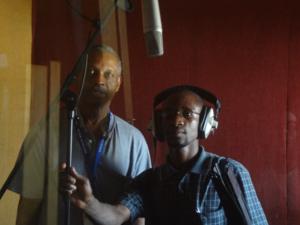 On Friday, July 15th, I went out with Cinematographer John Bailey to assist students doing pick-up shots for "Nairobi Half Life." Some of the participants were from the present class and others were students from the previous class who had worked on the film. I demonstrated various methods of recording sound on location for the sound team.
We returned from the pick-ups right in the middle of testing and review of student projects. The students were required to produce short films, each working in their designated craft in cooperation with the others. After all the projects had been evaluated, we had a wrap party and distributed certificates of completion. There were heart-felt moments as we said our goodbyes. We had all benefited from the experience, they from the instruction and we from a new appreciation of African culture and circumstances.
Saturday was safari day! After checking out of the hotel we set out on a photo safari in Nairobi National Park. We successfully "bagged" all the expected beasts except lions; they were nowhere to be found. Ellen Harrington, the Director of the Outreach Program, managed last minute arrangements for the group to have dinner in the park and stay overnight at Nairobi Tent Camp. Beautiful women greeted us at the camp with wine, champagne and passion juice. After a few drinks, we were escorted to a dimly lit bar and restaurant with an open wood fire. Outside of that area, it was pitch black. The meal was excellent. Afterwards, hot water was hand carried in to permit us to take showers. Then we were each escorted by flashlight to our tents.
I had been a little apprehensive about spending the night in a tent but was pleasantly surprised when I saw it. Inside there was a small bed, a face bowl, a shower and a toilet; it was amazing! But I also thought about all the animals that must be out there and wondered how much protection the soft canvas cover might provide. It did help to know that three or four men were stationed around the camp to keep a watchful lookout for us. After a while, I fell into a sound sleep. During the night, I was awakened by noises. I could hear people from nearby tents saying there was a lion outside. And then I heard it. That sound was bone chilling. I lay very still and hoped the lion would move on. I got less than my usual sleep that night.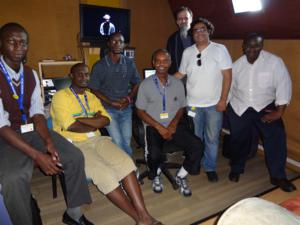 The next morning, following a wonderful breakfast, we set out for the airport to travel to Rwanda. Driving through the safari area, we continued to look for lions without any luck. But we remembered those sounds from the middle of the night. It was just a short flight to Kigali, Rwanda's capital, but it brought us to a most affecting experience.
Eric Kabera, writer, producer and founder of the Rwanda Cinema Center (RCC) met our flight and got us settled in the Guest Lux Hotel. Immediately after he took us to the Gosozi Memorial that commemorates the Rwanda genocide. Seeing the photos of so many people lost and imagining their suffering was devastating. We later learned that many of our students lost family members in those events. Today they are determined to follow their dreams with a rededicated sense of purpose.
The Rwanda Cinema Center hosted a cocktail reception for the Academy delegates that evening. We met with many of the people active in regional film and cultural activities including members of the Rwanda Development Board, the KWETU Film Institute and representatives of the Ministry of Sports and Culture. It was a good opportunity to become familiar with the local film community. The RCC sponsors several youth programs and an International Film Festival. The KWETU Film Institute provides cinema education and training and supports programs in the performing arts.
After a short press briefing on Monday, we met with out students at KWETU Film Institute. Like the students from Kenya, they were excited to meet and eager to get started. We divided into two groups with Group 1 focused on writing, directing, producing, screenwriting and acting while Group 2 concentrated on cinematography, editing, sound design and production design. We took turns teaching and taking questions. There were many questions and we soon realized that many students were interested in more than one craft.
Tuesday morning we found the students already waiting for us and eager to get started when we arrived at the Institute. We screened their short films and had a lengthy open discussion on ways they might improve their projects. It was amazing to see how talented some of the African students were; the quality of their work was quite good. We did observe limitations due to budget constraints and some of errors that come from limited experience. For example, music was often used to cover areas where there should have been sound effects. My advice to all was to record as many sound effects as possible while filming on location, even if you have to start early or stay late after wrap.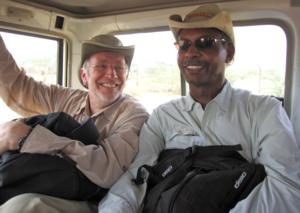 That same afternoon we traveled with Eric Kabera to Musanze, a city in the northern province of Rwanda. We checked into the Gorillas Volcanos Hotel and immediately headed out to Musanze Stadium for a "Hillywood" screening of "Africa United." There are no movie theaters in most Rwandan cities so films are shown in any available venue. The Hillywood screenings are a component of the Rwanda Film Festival organized by the RCC and are specifically designed to entertain, educate and give a voice to Rwandan youth. Arriving at the stadium we were amazed to see the thousands of people who had come out. There was music and dancing afterwards and the event turned into a party.
The next morning we set out on yet another adventure arranged by Ellen Harrington. We were to hike into a high mountain park that serves as a gorilla reserve. The gorillas are found at a considerable elevation and park guides sized us up and assigned us to groups based on our physical condition. Before setting out we all purchased gorilla sticks both as a hiking aid and as souvenirs. We were given the opportunity to hire someone to carry our backpacks but I elected to carry my own. Each group had an escort with a firearm for protection from other hostile animals.
We hiked through potato fields and then began our ascent through woods. Everyone kept up pretty well and, after two hours of hiking, our guide announced that we had only a couple of miles to go. And we thought we were almost there! But the trip each way was about four an a half miles. Eventually we reached the summit and stopped to take pictures of the valley below. The guide announced that trackers had found a group of gorillas and instructed us on how to behave to avoid spooking the animals. We were told to avoid loud noises and, if grabbed by a gorilla, to just relax and not pull back. We cautiously approached and, for nearly an hour, were able to observe a group of about eighteen gorillas eating, sleeping and interacting. Returning, we were surprised to find the trek down the mountain even more difficult than climbing up.
On Wednesday we traveled to Gisenyi, a city in the western province of Rwanda, for another Hillywood screening. We were put up at the Lake Kivu Serena Hotel, a beautiful old hotel on the magnificent calm lake. The screening was near the lake, only a short walk from the hotel. Again, thousands of people attended.
On Thursday we returned to Kigali for more film festival events and an additional seminar with students at the KWETU Film Institute. We met with the students in the afternoon for a question and answer session. That evening's screening was in KWETU's theater, the first movie theater in Rwanda. So new was the building that I was able to look up and see stars as the roof was not yet in place. Building this facility was the special project of Eric Kabera who had raised the funds and secured the necessary support.
This was the last night of our journey and we said our good-byes with much love and feeling for the African people we had met. I believe we left them with enhanced skills and knowledge of the filmmaking process. I know that we learned a lot about East African culture. We witnessed the joy for life they express on a daily basis, despite adverse conditions and I hope that impact stays with me for a long time to come.
On Sunday we had a brief opportunity for some shopping or a final tour before traveling to the airport. Our immediate concern was how to pack all of our gorilla sticks. We decided to wrap them all together and send them as a single bundle. That was appropriate, as our shared experiences had bundled us together as an extended family. Arriving in LA we separated our sticks and went our individual ways. I shared a car with Ellen but forgot and left my gorilla stick behind. But I was able to retrieve it the next day.
CHARITIES
Many charities address the needs of people throughout Africa. We can confidently recommend the following:
Save the Children is feeding underweight children, providing life-saving medical treatment, and getting clean water to remote communities in Kenya, Somalia and Ethiopia. $100 can feed one child for 100 days. See the Facebook Cause page: http://www.causes.com/causes/749 or text "SURVIVE" to 20222 to donate $10 from the United States.
Action Against Hunger helps victims in Kenya, Ethiopia, Djibouti and southern Somalia, providing treatment and medical care for acutely malnourished children, general nutritional support for children under 5 years of age, and emergency access to food, clean water and improved sanitation for vulnerable populations. Text "NOHUNGER" to 20222 to donate $10 or see https://www.actionagainsthunger.org/donate/humanitarian-catastrophe-the-horn-africa
UNICEF provides therapeutic treatment for women and children with severe malnutrition, access to clean drinking water and vaccinations to prevent deadly diseases like measles and polio. Text "FOOD" to 864233 to donate $10 or see the https://secure.unicefusa.org/site/Donation2
The United Nations World Food Programme plans to airlift high-energy biscuits and highly nutritious supplementary foods for children and pregnant or nursing mothers into southern Somalia. Donate at https://www. wfp.org/donate/hornofafrica or text "AID" to 27722.
CARE reaches a million people affected by the food crisis in Kenya, Ethiopia and Somalia, providing food, water and sanitation facilities. https://my.care.org/site/Donation2?df_ id=9620&9620.donation=form1
Operation USA works to assess unmet needs on the ground, with its initial response focusing on water resource needs in Kenya's Dadaab refugee camps. Donations at http://www.opusa.org/ or by phone at 1-800-678-7255 or texting "AID" to 50555 to donate $10.