From the Business Representative
In Perspective
As we approach our 82nd anniversary as an important member of the IATSE, providing technical and engineering services for motion picture, television, commercial and new media producers, let me share an important message from International President Matthew D. Loeb.
Fraternally,
James A. Osburn, CAS
Business Representative
Executive Director

---
To All Officers and Members of Local 695 On behalf of all the officers of the IATSE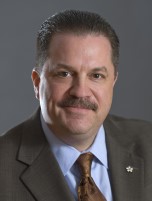 On behalf of all the officers of the IATSE, I am pleased to write this message to Local 695. In these challenging economic times, our participation in the political process of this country has perhaps never been more important. We will soon enter another election year and the voices of our membership and working families must be heard.
We also have a Hollywood Basic Agreement that takes us into 2012, and it is now up to all of us to do everything we can to keep our members employed and the industry healthy. Although challenges will no doubt arise during the next round of negotiations, I am confident that our collective strength will guide us and allow us to grow and prosper.
Our industry is constantly facing challenges and we have remained strong through good times and bad. Audiences continue to want entertainment, and we are committed to provide it for them in the most creative ways possible while protecting our members.
I am proud to serve as your International President, and I am dedicated to you and all members of this Alliance.
In Solidarity,
Matthew D. Loeb
International President