Website: On the importance of getting online
Judging by usage statistics, most of our membership makes great use of the Local 695 web site, with members taking advantage of its content and features on a regular basis. But for registered members who may have overlooked some of the available features, and also for that smaller group who still haven't even registered yet, here is some of what you're missing:
News & Announcements – Updated every few days, a good way to keep up with what's going on.
Education and Training – Info about upcoming classes (many free), training resources, online videos, etc.
Membership Directory – An excellent way to promote your job skills (updatable in realtime).
Available for Work List – Another great way to generate work opportunities or fill openings on your crew (updatable in realtime).
Trading work days to get or share hours for healthcare qualification – If you're worried about being a few days short, this could help. And for members needing to hire someone for a few days, this is a great place to look.
Classified Ads – Free ad listings for 695 members.
Health and Safety – Links and information.
Online access to the "695 Quarterly" – With archive of previous issues.
Discounts – Including cellphone, insurance, mortgage, car buying, travel, entertainment and more.
Online Store – Lots of new Local 695 accessories, including mugs, license plate frames, bags, hats, water bottles, wall clocks and more.
Registration only takes about 30 seconds at www.local695.com.
Yet another reason to register is to provide an email address that we can use to send occasional messages with announcements about training and events and other business related to the Local. Don't worry… you won't get bombarded with tons of unwanted email.
PLEASE NOTE: In the interest of conserving printing supplies and economizing mailing costs, the Local may use email for certain communications. In order to receive these messages, you must provide a valid email address and see to it that these emails are not being blocked by your spam filters. In some instances, you may need to add info@local695.com to your "whitelist". For those who are already registered on the website but haven't been online in a while, please log in to make sure that the email address we have for you is still valid.
---
Production Tracking Database: On the importance of "Calling In" your jobs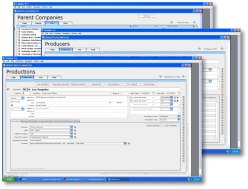 Since going online two years ago, the Local 695 Production Tracking Database has made it possible for us collect detailed information on more than 1,800 film and television productions, providing us with instant access to a huge volume of essential information.
This continuously expanding database, allows us to search and cross-reference historical data going back years… an indispensable tool for your Representatives at the Local 695 office. We use this information to enforce the contracts, to help to ensure that you've been paid correctly and with proper contributions made for your health and welfare benefits, to help protect your job and the jobs of your union Brothers and Sisters, and also to support the IA's continuing efforts to organize non-IA productions and create more union job opportunities for all IA members. The earlier we know about these non-IA projects, the better chance there is to work with those companies to negotiate an IATSE contract before the project is completed. In case you haven't noticed, the organizing team at the IA has been very active lately, with numerous successes on projects both large and small. Information stored in the Production Tracking Database is vitally important to our support of those efforts.
And if that's still not enough reason to call in jobs, don't forget that it's one of the fundamental responsibilities of your membership in Local 695, as stated in Article Thirteen of the Local 695 By-Laws:
All members shall upon receiving employment immediately notify the Local No. 695 business office either by phone or electronic mail [or Website], when hired and provide the following information;
[a] The name of the Employer.
[b] The name of the production, studio and/or laboratory where employed.
[c] The date[s] of employment assignment.
[d] The name of the "payroll" company, if used.
[e] The date of layoff and re-hire.
This pertains to every job that you accept… long-term assignments and day-calls… IA productions and non-IA shoots… films, television, commercials, so-called "reality programming", sports broadcasting, "webisodes" and other content headed for the internet, documentaries, music videos, political ads… everything.
The next time you accept a job, you can phone the information in to our Office at (818) 985-9204 or you can email it to info@local695.com but the easiest and fastest way to report your job info right now and each time you take a job is to visitwww.local695.com/mbr/jobreport.php. Just a few clicks and you're done. It is extremely helpful if you are also able to submit one of your call-sheets. Attach the call-sheet with your email, fax it to (818) 760-4681, or the easiest way is to just include the callsheet PDF file with the input form you submit atwww.local695.com/mbr/jobreport.php.