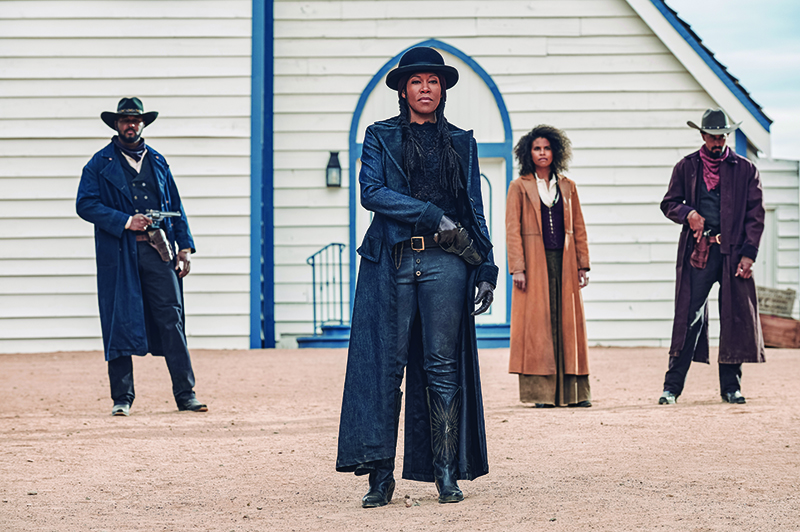 by Anthony Ortiz CAS
While working on location in Hawaii on a sunny Sunday afternoon, I received an email from the New Mexico production office for Netflix's The Harder They Fall, confirming the script, written and directed by Jeymes Samuel, was on its way. Ten pages into my read, it was very clear that the music references in the script were going to be as essential and important as any performer or character in the film. I put the script down for a few minutes, opened a music app, and started my read again from scene one. Headphones on pulling up the music cues that Jeymes had noted in the script.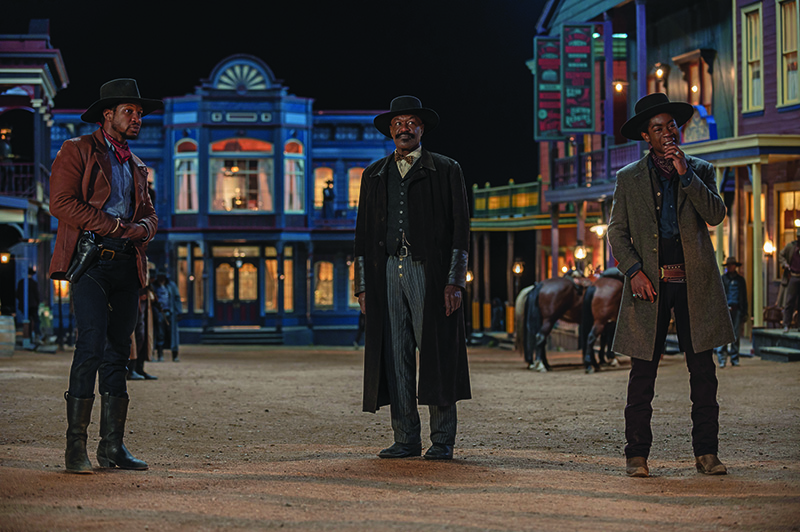 It is rare that I read a script all at once, but I found myself unable to pull away from the pages. The Old West was illustrated in a way never represented before, a truthful exploration of mid/late nineteenth-century pioneers, lawmen, women, and outlaws.
Next on the agenda, my first virtual meeting with Jeymes.
I grew up in Bayamón, Puerto Rico, on the outskirts of San Juan, and Afro-Caribbean rhythms were a big part of my upbringing, and music is what lead my path to Production Sound. My conversation with Jeymes in our first meeting drifted immediately into the music aspect of the film, and the influence music had on both our careers. This first conversation and the ones that followed, put into perspective Jeymes' vision, and I began putting together a plan for our preproduction phase for The Harder They Fall.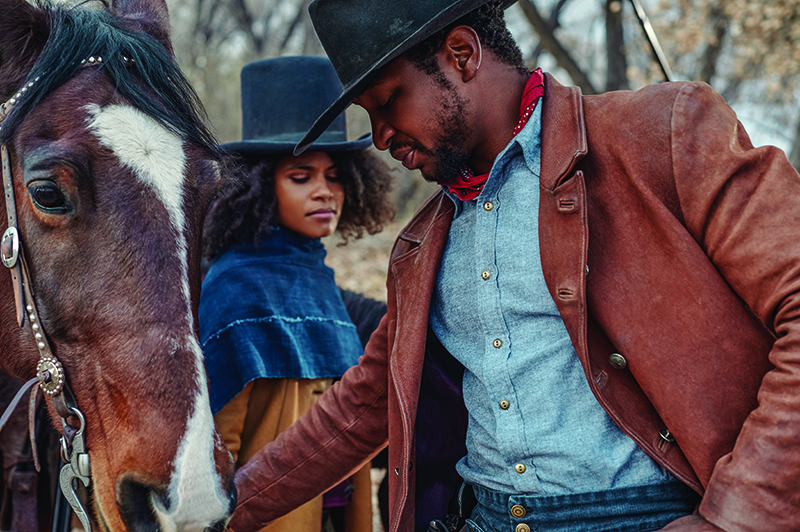 Boom Operator Douglas Shamburger and Sound Utility Nick Ronzio joined the sound team. Doug is an outstanding Boom Operator with decades of feature films on his résumé, and Nick's years in the field and vast Pro Tools knowledge were instrumental to our production soundtrack success. Joining us locally from our sister New Mexico Local 480 was Phillip Blahd (2020 Academy Award winner), and David Sickles, who was able to help with additional units and personnel.
The Harder They Fall was shot entirely on location, the majority of the shoot about forty-five minutes outside of Santa Fe, New Mexico, at the Tom Ford Ranch, where Production Designer Martin Whist and his team built a four-block-long mid 1800s Western town. Most of the film was exteriors, which came with its challenges for our team, and the entire shooting crew.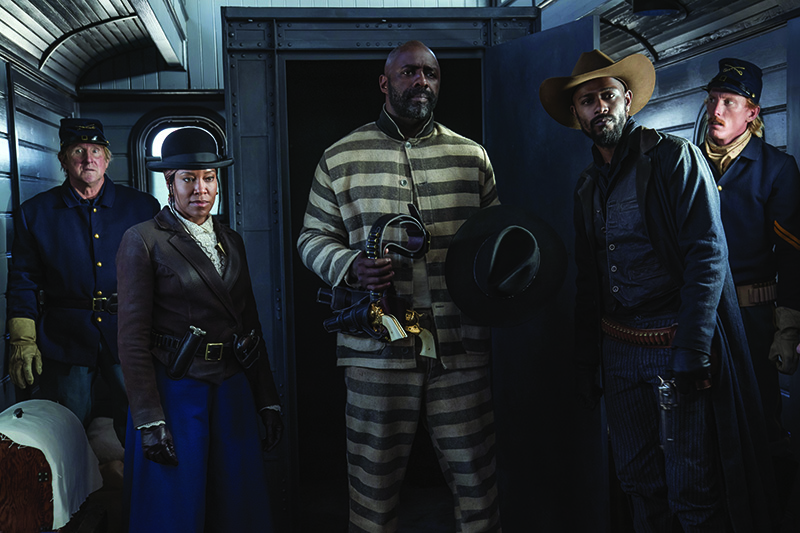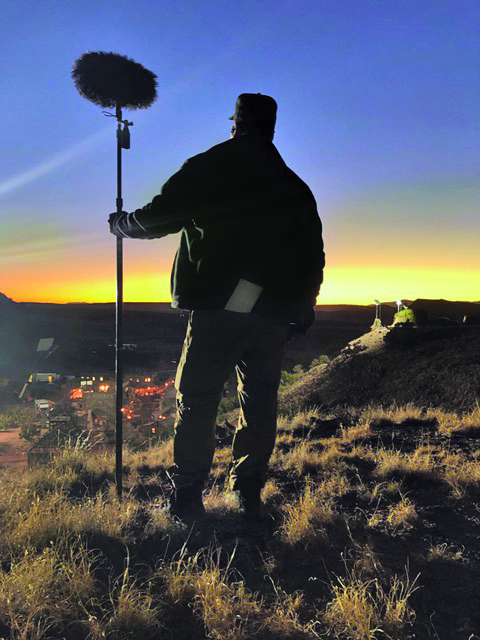 One of our biggest challenges on location in New Mexico was the harsh environment, not only the physical daily grind of location access, weather, and equipment transportation, but the RF noise floor, which to my surprise was extremely crowded. The U.S. military has a big presence in this region, so the first call of order every day, even when at the same location, was the coordination of all needed frequencies. Each day, I stood at the foot of our tailgate, looking as far as the eye could see into miles and miles of vast empty and beautiful New Mexico landscape, where it was hard to comprehend how crowded the bandwidth was. It was as crowded as any major city like downtown Los Angeles or NYC.
The next day could bring a completely different scenario on the airwaves. Lectrosonics Wireless Designer made our efforts much easier to scan, manage and coordinate frequencies in a more efficient manner.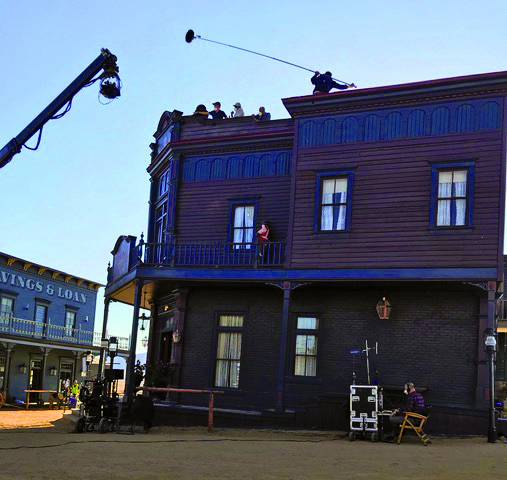 There is a great opportunity to do some preliminary RF scanning while on location scouts and start understanding what is coming your way with coordination and allocation of frequencies during production. The RF Explorer, in conjunction with Touchstone RF spectrum analyzer software, are great tools which allow us to put in perspective in real time what we will be faced with.
One important step is to reach out to the AD or Production Department to find out who the vendor is for the walkie rentals. The rental company might have an in-house frequency coordinator and see if they can provide a list of the walkie frequencies intended to be in use (sometimes called a conventional personality list). The 400MHz range seems to be popular for walkie frequencies, so it is very important we take that into consideration.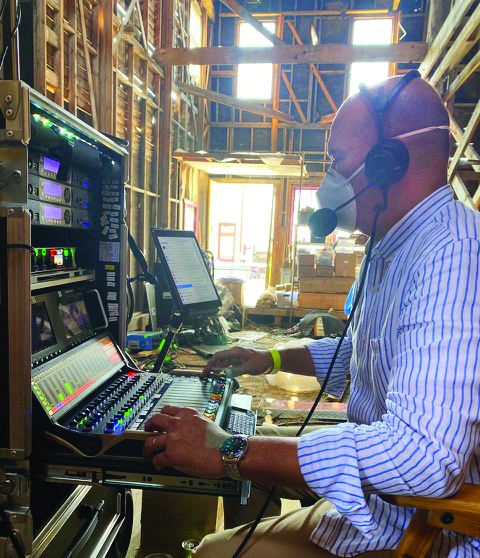 After I had a better understanding of director Jeymes Samuel's expectations, I decided that the need for more tracks was going to be essential. I had a Sound Devices 688 as my main recorder, with the CL-12 as my control surface. Moving onto a recorder that provided more than twelve tracks was a must as The Harder They Fall had such a large ensemble cast, live instrument recordings in our saloon scenes, more tracks needed to capture sound effects of our period wagons, horses, weapons, and stagecoaches. My experience with Sound Devices was more than positive, so transitioning to the
32-track Sound Devices Scorpio was the obvious choice for me.
We were originally scheduled to begin principal photography March 2020. On the last few days of our pre-production work, COVID-19 hit and the project was halted. With the cast and crew safety as a priority, commencing filming was to be postponed until further notice. After a few months at home, our Line Producer, G. Mac Brown, got in touch with great news; a new start date for The Harder They Fall was set, and we would head back to New Mexico in early September.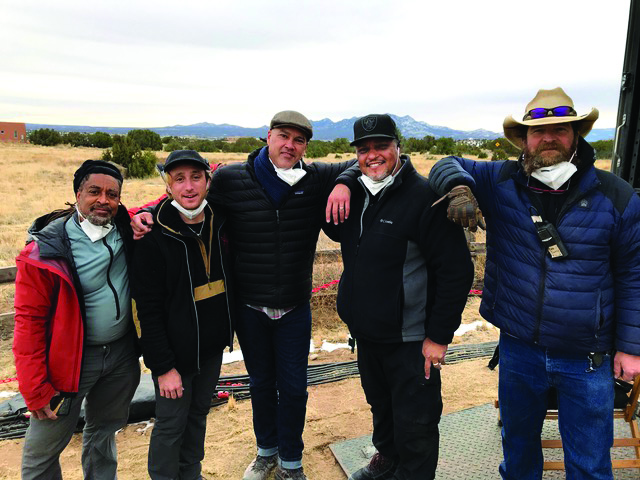 I had sent my production sound package back to Los Angeles until the film was to resume, and fortunately, the new Sound Devices CL-16 control surface was released. I had been eagerly awaiting its arrival, as I knew the CL-16 was going to help make our efforts on The Harder They Fall much more efficient with its new features and capabilities.
While at home, what a better time to focus on incorporating the CL-16 into my main cart; go back to the bench to make a few new cables, trips to a machine shop to make some custom parts, gain some CL-16 flight hours to increase confidence, and speed navigating the new features and menus. Having worked with the CL-12 until then, the transition came with ease.
We returned to New Mexico in September with the new health and safety COVID-19 protocols in place. It was a fresh start with a new schedule, revised script notes, and making sure our needs had not changed during our long break. Pretty much of our plan of action was the same, with the sole exception that our saloon live music recordings were now changed to prerecorded tracks for playback, due to COVID-19 safety protocols.
Mood music during setups and rehearsals was an essential part on most days for Jeymes. Nick and I worked on putting together a system that would allow Jeymes to play music tracks from his cellphone that we could independently feed to his headsets, giving him the ability to play any track during a setup or rehearsal that could assist with the tone, rhythm, movement, or choreography of a scene.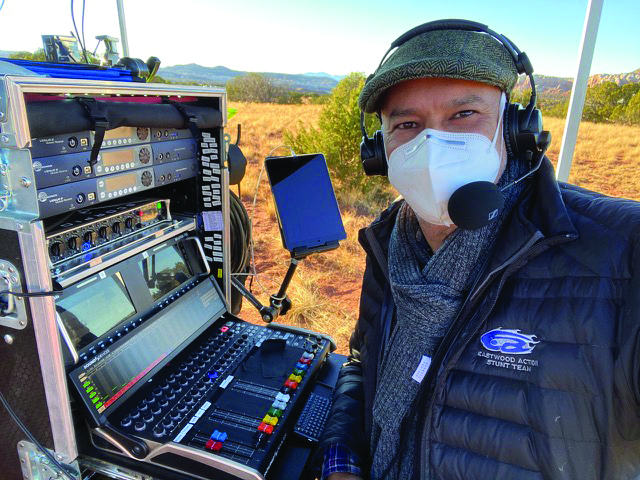 A long-range stereo Bluetooth receiver was our choice for this setup, (S.M.S.L. B1 stereo CSR 4.2 receiver) connected to a 2-channel portable mixer. The left output fed the on-set battery-powered speaker, which usually stayed on Jeymes' video cart, that our Video Playback Operator, Scott Wetzel, very kindly helped to integrate. The right output went to a Lectrosonics SMV transmitter, with that signal coming to my cart, and also fed to a Lectrosonics T1 IFB transmitter, giving Jeymes control of the volume on both the speaker and his Lectrosonics R1 IFB receiver and headset.
When scripted music playback was needed, we took over the task, with Pro Tools being our DAW of choice. The setup got more complex when speakers with wireless feeds were needed. For example, in a scene were Trudy Smith (Regina King) and Cherokee Bill (LaKeith Stanfield) walk across town to meet with Wiley Escoe (Deon Cole); we had speakers set up all around town, plus a wireless feed to a battery-operated speaker (Behringer Europort MPA40BT) on a Grip Trix camera cart a few feet away from our actors. Jeymes wanted the actors' steps to be in sync with the tempo of the music, keeping it consistent on all camera setups, angles, and takes.
We also put together an additional public address sound cart system that served as a "VOG" that could also double as an external playback system allowing us to, as Jeymes liked to say, "blast the town." The idea of having this cart was that we could roll it off the truck and be ready to go, with at least one functioning battery-powered speaker until AC power was available.
The cart was made up of an Alto TX208-powered speaker, a Behringer BN1200D-Pro Eurolive active subwoofer, an EV ZLX12P-powered speaker, a battery-operated Behringer Europort MPA40BT portable speaker, and another EV ZLX12P speaker as a satellite deployment unit. A Sound Devices 442 gave us input control on the music source, and two "VOG" mics were Sennheiser E835 dynamic handhelds, with thumb switches, HMa transmitters and Lectrosonics LR, and 411 receivers.
Some days, in the name of safety, the volume of music was requested by our horse wranglers, as the horses were very sensitive to loud noises and sudden movements.
One key aspect of our success as the production sound team on The Harder They Fall was our communication within the department. Having a dedicated private comms system that could allow Doug, Nick, and I to speak freely at any point during setups, takes, or rehearsals, but also keeping the conversations private.
Doug and Nick wore Lectrosonics LT transmitters that I had assigned to channels 15 and 16 on the Scorpio, pre-fade, routed to a custom headphone mix and their IEM's bus feed; push-to-talk surveillance mics converted to T5 connectors. Their in-ear monitors are Wisycom MPR50's with a Wisycom MTP40S transmitter on my main cart. I chose the portable transmitter unit so I could quickly remove it from the main cart and use it on my portable "bag" rig.
Wind, wind, and more wind. I was very fortunate to be advised by fellow mixers, prior to arriving in New Mexico, that the wind could sometimes be very aggressive. That's an understatement! Nick Ronzio, our Sound Utility, did his homework and prepared himself for the battle of the wind, and very successfully was able to keep it from contaminating our production tracks.
Boom Operator Doug Shamburger also had his work cut out for him with the open boom mics. The Cinela PIA-Piano and Cinela COSI came in handy to mitigate wind on whichever mic was decided to be at the end of the boom pole.
The wind was so strong on a handful of days that we found refuge inside our truck with the main recording and utility carts. The wind shook our truck side to side, while the cast and shooting crew were protected inside. The powered Betso antennas took a dive at some point. In one scene, where Trudy Smith tells Stagecoach Mary (Zazie Beetz) her sister's story, you can probably see the evidence of the wind gusts happening on the main street, out the window.
Collaboration was the key to our team efforts. Weeks before the start of production, I flew out to New Mexico for our technical scout. I always find this process extremely helpful, as you get the opportunity to meet most department heads and their keys, start conversations on potential challenges, and together find solutions to any potential issues.
The magnificent costumes were designed by Costume Designer Antoinette Messam. I began a conversation with Antoinette and she and her team immediately made themselves available offering her ideas on what the costumes designs were going to be. Even with last-minute changes, we were able to work together to accommodate our lavalier and radio mic transmitter placements.
In a scene were Cuffy (Danielle Deadwyler) and Nat Love (Jonathan Majors) rob a bank, Cuffy is wearing a form-fitting red dress and as she gets off the horse, her movement made it impossible for the lav to be in her dress, but her bonnet hat saved the day! Working with one of our onset costumers, Nick was able to install both the mic and transmitter in the hat, and the costumer looked after it during the few days of filming. A battery change, a quick check to make sure all was in place, and we were ready to go!
Generator placement was also an essential part of our technical scouts, as we were filming in the expansive ranches of Santa Fe; empty land as far as the eye can see. Generator noise really travels, especially when the wind picks up. The art and construction departments built structures that could hide generators and keep the low rumble to a minimum. If that wasn't possible, then the rigging grips and the Construction Department had portable baffles made that could be deployed when needed.
Once we left our Western town sets, some of our locations were accessible only by ATV. Our Transportation Department provided an ATV for our "all-wheel drive sound cart." Our Teamster Driver and honorary sound team member, Rob Elliott-Barry. took such good care of us, with smooth driving and even some tire repairs.
The daily cooperation and teamwork on set was supreme, with tremendous help from Grip, Electric, Camera, AD's, Locations, Art, and other departments achieving our goal of providing Jeymes with the best production tracks possible.
Once the first day of filming is behind us, we often do not get the opportunity to have direct contact with the Post Production Sound Editing team that will be working with our production tracks. As on all my projects, I establish communication with the Picture Editorial team, and I had the opportunity to visit the cutting room that was set up in our production office. Having conversations with Picture Editor Tom Eagle, and First Assistant Editor John Sosnovsky, gave me the chance to better understand and address their needs.
The Post Sound team usually comes on board after the film has wrapped. In most cases, we are already working on another project, perhaps not in the same city. Keeping in touch with our Post Production Supervisor, Jason Miller, gave me the opportunity to catch up with the Sound Post team a few months after wrap. I had the chance to spend a few hours at the post facility in Los Angeles of David Bach, Dialog Editor and ADR Supervisor. David was working on some scenes, and multiple Academy Award and BAFTA recipient Richard King served as the Supervising Sound Editor and Re-recording Mixer with his team.
Having the opportunity to hear and view how our production tracks and efforts during filming were falling into place was the most rewarding learning experience I've had as a Production Sound Mixer.
What really caught my attention was the use of lavs and boom mics and how they were mixed to maximize the overall sonic quality of the voice. Having the choices between boom, plants, and lavs gave them the ability to enhance our work in the most positive ways, which was the ultimate goal.
Working with Writer-Director Jeymes Samuel on Netflix's The Harder They Fall has been the highlight of my production mixing career. Our fearless leader Jeymes brought the most positive energy to set every single day without fail. His tremendous cinematic vision was an honor to watch, but most importantly, his understanding, consideration, and support of the craft of sound was unprecedented. He allowed and inspired us to come to set every day, bringing our best game forward. Thank you to my crew of Doug Shamburger and Nick Ronzio for their hard work under some difficult conditions, masks, goggles, shields, and all!