by Delroy Leon Cornick Jr.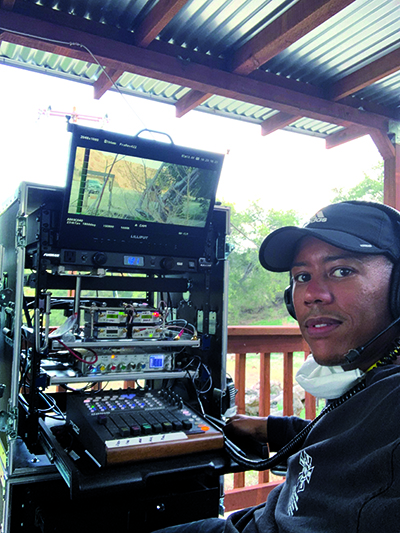 As working sound professionals, we all know the challenges and complexities of both cart placement and RF/signal management. Finding the perfect spot to place a sound cart can be a delicate balance between being close enough to properly record the scene and remain an integral part of the filmmaking process, yet far enough away that you're not constantly having to move each time a new angle is filmed. Adding distance between the cart and set brings new challenges, thanks to ever shrinking available frequencies. While remoting antennas has gained in popularity via CAT 5/Dante, and wireless transmission for video remains popular, they require purchasing Dante-enabled gear or competing with other wireless equipment. RF over Fiber (RFoF) can work with any existing setup, and I'm a firm believer that adopting RFoF could be a game changer for our profession. It's been used in the military and broadcasting for years and as the technology matures, the price has come down enough to be adopted by individual owner-operators.
RF over Fiber is the conversion and transmission of standard radio frequency signals into pulses of light through fiber optic cables, which have none of the loss of traditional copper. Where RG8 & LMR cables top out at around one hundred feet before needing amplification (especially at 2.4ghz), fiber-optic cables are capable of sending these same signals for miles with negligible loss. Now, we can be at the cart anywhere at a location with our antennas mere feet from set, down one cable, including picture. This could mean filming on the roof of a 10-story building with no elevator from the parking lot or in the middle of a dense forest while comfortably back at basecamp, since cable length is a non-issue. Utilizing fiber can also mean shooting a quick scene three blocks away without having to leave your original location. Since we can simply place our antennas just out of frame, signal dropouts are nearly a thing of the past. My favorite fact about fiber? It doesn't pass electricity, so it's waterproof. Theoretically, one could film a scene on a boat … on a beach.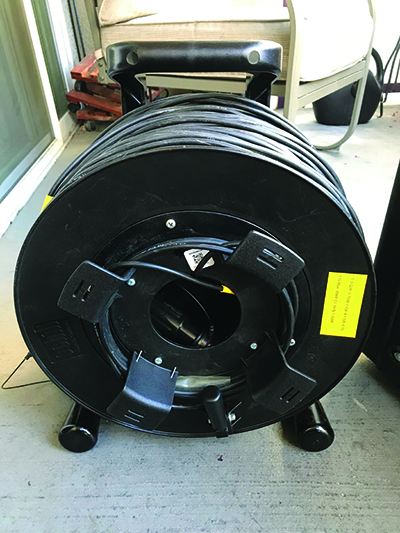 What ties the whole system together are two sets of connectors, T-FOCA or Tactical Fiber Optic Cable Assembly. Designed for harsh environments, including oil and gas pipelines and military installations, these connectors can house 4-12 individual lines of fiber in a cable thinner than an XLR. Standard fiber-optic connectors are far too delicate for the realities of filmmaking. One of the most common reasons for the signal to not reach the other end is simply dirt. Having a fiber-optic cleaning tool is often the difference between getting a signal and not, considering an individual fiber strand is thinner than a human hair.
Being that far away from the set absolutely does come with challenges. It's impossible to run in every time in between to give notes or to adjust a lav. There is no opportunity to give a visual cue that a take was no good or that we're OK to move on. It is imperative that at this distance, one has competent and qualified boom operators and utilities who can relay information quickly and clearly. It also helps when a director wears their IFB.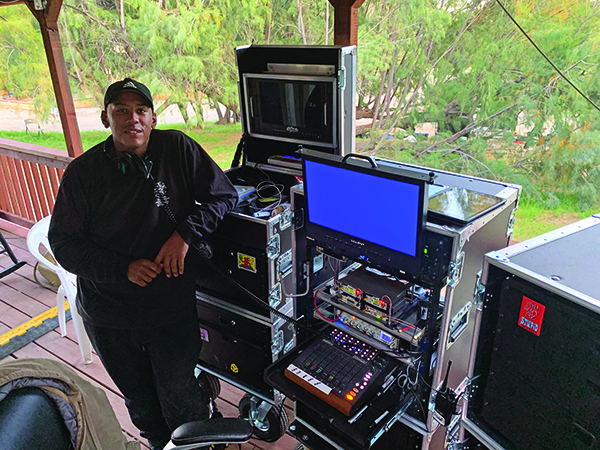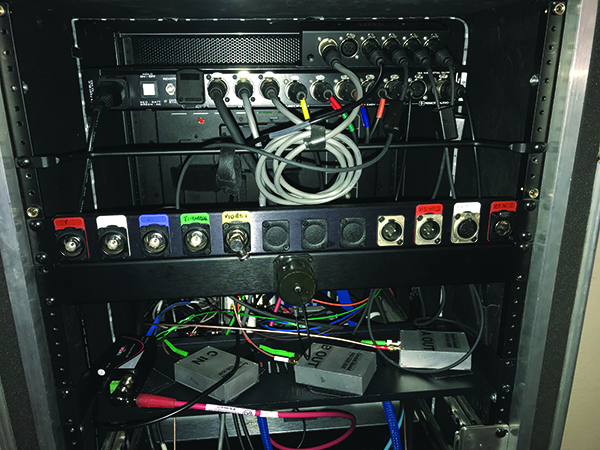 Speaking of directors, making sure they understand that you may be slightly farther away during some scenes is important. I've found that remaining close by and visible for any setups where there is room for the cart goes a long way when it comes time to make the compromise to remain at a distance. Once they see how much time can be saved without any loss in sound quality, they (often) quickly understand.
With any new technology, there are going to be challenges. Before I had the custom Pelican case housing made by DataPro, walkie-talkies would cause interference and on very rare occasions, cause a slight signal hit. The remote gain and on-board recording feature of the Zaxcom transmitter was invaluable as a backup against this. Thankfully, the hits went away once the housing was created and better shielded cables were installed. Also, one thousand feet of cable, no matter how thin, gets to be heavy. Most of the cost is in the connectors so the difference between ten feet of fiber and one thousand feet was only a few hundred dollars. I recently purchased a 300' reel, which is far easier to handle. What's great about T-FOCA is that the connectors are hermaphroditic, and therefore, adding extra fiber only means attaching another set. If by accident, one thousand feet of fiber is cut at two hundred feet, for example, all one would have to do would be to add T-FOCA connectors on both cut ends, and all one thousand feet of fiber is still usable.
And of course, price. All in, this system cost me about $8,500. Three RF modules at $1,500 each, one thousand feet of T-Foca fiber cable at $1,500, T-FOCA Break-Out/Break-In Assemblies at $800, the DataPro Pelican case at $900, the Decimator Quad Splitter at $400, and another $500 or so in various connectors, cables, and a copy of Patrushkha Mierzwa's book, Behind the Sound Cart, which is excellent.
Here are photos of the system designed with assistance from RFOptic, FISBlue, and DataPro: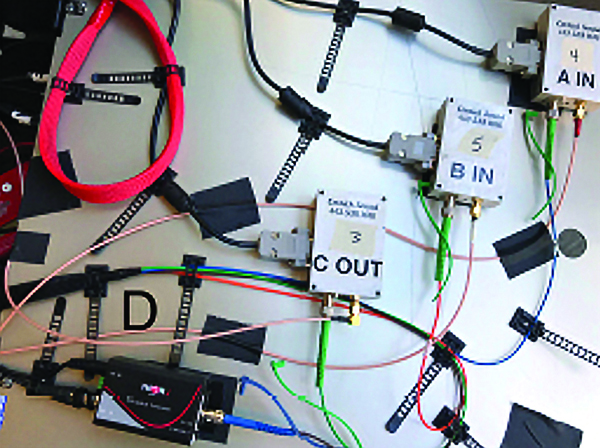 Modules A&B take in the RF signal via RF Venue's Diversity Fin antenna. Module C is the 2.4ghz IFB return from the cart out of an RF Venue CP Beam. All three RFOptic modules are capable of converting from 0.01mhz-2.5ghz, easily covering 500mhz & 2.4ghz. Module D is the SDI over fiber converter. This is fed from the BNC output of a 4×1 Decimator Quad Split. These four lines are then fed into the Break-In end of the T-FOCA connector mounted on the side of a custom-designed Pelican 1600 case. On the outside of the case are the T-FOCA connector, three BNC connectors for Dual UHF, and 2.4ghz Zaxnet on the left panel; and on the right are four BNC inputs for SDI Video and one HDMI output from the Decimator Quad View. On the opposite side of the Pelican is an AC input. The entire case can run on either AC power or a basic laptop charging battery with AC outputs.
At the cart end are a Break-Out cable assembly feeding the opposite modules (A&B), receiving the signal and sending RF out via SMA into the Zaxcom Mic-Plexer. The Nomad's IFB output via SMA feeds the third module (C). Each module, including SDI, powers via both AC and DC power.