Assembled and edited by Rosa Costanza Tyabji
All photos courtesy of the respective participants unless specifically credited
Embarking on the creation of this article has allowed me to investigate and to understand better the dynamics involved in being a gender minority in this field. My hope is that this article also lends you greater insight on how far we women have come, and how far we have yet to go.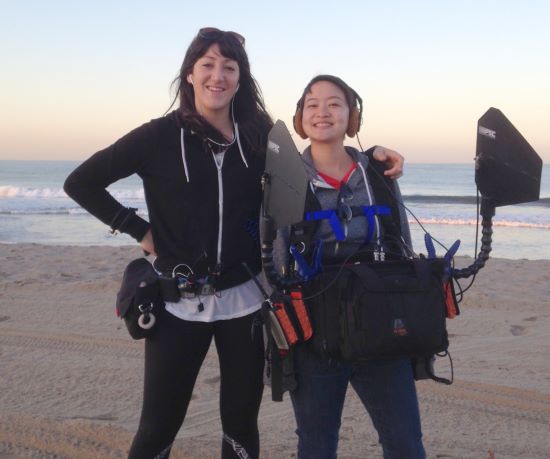 In November 2014, I organized a group of Local 695 member-sisters to gather to discuss our shared professional experiences for the purpose of creating this article. It was a sublime yet charged atmosphere, beneficial to all participants. Cabell Smith, one of the first women to join IATSE (Local 52) as a Sound Mixer in 1974, was laughing with new member and Y-1, Eva Rismanforoush, who joined in 2014. There was much networking and camaraderie as we got to know each other.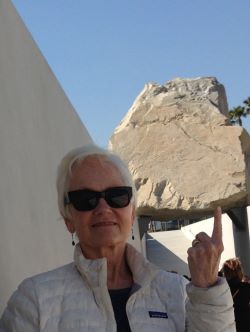 Prior to the November meeting, I sent requests for stories, quotes and anecdotes of working life to all the active women members in IATSE Local 695. More than thirty people responded to participate in this article.
Chartered in 1930, Local 695 has nearly 2000 members working in the fields of Production Sound Technicians, Television Engineers, Video Assist Technicians and Studio Projectionists. The presence of women working in those fields has been slowly growing since the first woman knocked on the door in the 1960s. In its first fifty-five years, the number of women members grew from none to only eight percent. It is encouraging to see that this year, nearly twenty-five percent of new members are female.
Peggy Names, a member since 1977 and one of the first female Microphone Boom Operators, prepared these statistics with help from Linda Skinner and Nikki Riordan in the office. "Every new production brings new faces," Peggy mused, "sometimes those faces are surprised to see a woman working in sound, even in the year 2015. We look forward to the day when people stop saying, 'I've never seen a woman sound person before.'"
Currently, women make up less than ten percent of the membership of Local 695, though we trust that there will be more women attracted to work in our technical fields of the industry.
We found the commonalities we have, yes as women, but also as professionals networked in our organization, Local 695. All members play an important creative role in the production world. Just as utilizing the necessary technology needed by our department for any given project may change, it is understood that the personnel needs may also change with production type and complexity. As an example, women often gain employment as Utility Sound Technicians when a project has women and/or children in the cast, when the personnel needs create that opportunity.
We share a collective gratitude to those who opened the doors of possibility and employment in this technical art, and an appreciation of the tenacity and perseverance they employed in our shared craft.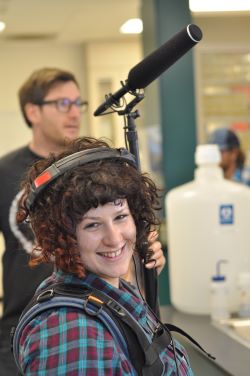 "We are grateful to our Local for opening its doors so willingly to us," Names states. "We think we have the best brothers any sister could have. The trailblazers may not have known there were any obstacles before them, but we were tenacious and paved the way for the future generations of women in Local 695."
Her words are an understatement. In our artistic and scientific field, the backgrounds we bring are diverse, as are the paths we've taken to gain experience and employment as technicians. Here are a few stories showing that diversity:
Phyllis Bailey Brooks (joined IATSE in 1981) is a Y-8 Boom Operator primarily using the Fisher for multi-camera TV: "My very first semester at USC studying TV & film, I met a Unit Manager (a recent USC grad) working on Good Times for Tandem Productions. She assisted me in getting a job as a page working on the lot at Metromedia Square on shows like All in the Family, One Day at a Time and The Jeffersons … My first engineering job was as a cable puller on Good Times, but wow, some folks weren't quite ready for me! A young, black, female with my eyes wide open, but soon those that weren't keen on the idea in the beginning became my best mentors."
Michele Wolfe (1980) is one of only four female Projectionists in Local 695. "I worked as a cashier and candy girl at the Sunland Drive-In Theater. I was lucky to meet another union projectionist in 1972 to teach me the trade. At that time, you needed a license to work because of nitrate film. I received my license and became the second woman to join Local 150. I started out in the theater Local and paid my dues by working the porno houses in the valley. So I became a Studio Projectionist. I feel very lucky to be a union member in a great industry that has provided me a good living for forty years."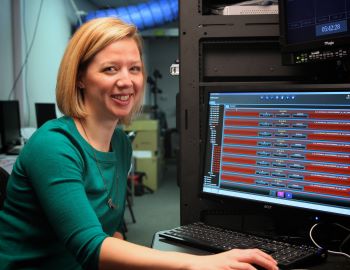 Jillian Arnold (2012) is a Y-4 doing data asset management and data capture. She shares: "My first shooting/media managing job was with the RED camera for NASA's Jet Propulsion Laboratory. We were shooting parachute tests for the Curiosity Mars Rover at one of the world's largest wind tunnels … I felt very lucky to be working alongside some of the most seasoned and intelligent men in the country. I started out doing media management from camera cards to field hard drives, and now I operate the Pronology ingest control application, an all-encompassing media ingest and management software."
Rita Rubalcava (1974), a Y-9 Videotape Operator, began her career in the newly inaugurated Engineering Training Program at KCET after being their first female Videotape Librarian. She recalls, "After taking a three-year hiatus for parenting, I rejoined the workforce as a freelance Videotape Operator in 1986 and my first production was Family Ties. After more than forty years, I am still in the workplace and currently working on the Disney show Liv and Maddie and CBS's Mom."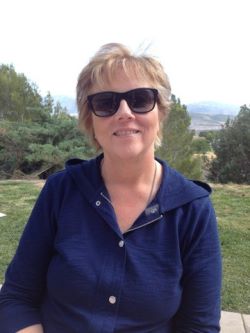 Rosa Costanza Tyabji (2007), a Y-1, gained an apprenticeship on the Universal cop drama New York Undercover, arranged through the Institute of Audio Research, where she received her certificate in recording engineering. She apprenticed with the late Bill Daly on the Universal Studios soundstages in NYC. Rosa remembers: "New York Undercover was very popular at the time and it was exciting to shoot on locations all over the city for a show with such strong public support. I helped Bill as a utility person, making BNC cables and soldering connectors on busted wires. Much of the professional work ethic I still carry comes from that experience.
"Apprenticeship programs are so rare these days. We need to bring them back to train the next generation, whether tied to schools or guilds or otherwise." Rosa has given lectures on location sound for students enrolled in the film/video program at the Orange Coast College.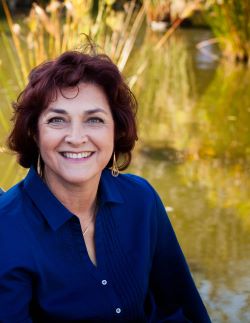 "No matter where you learn your craft, who you work with, or where you work, we all adapt to the parameters of each style of film, TV program, documentary, commercial, reality show or event for which we provide our services."
Rosa adds, "Working as a Sound Mixer has gifted me with amazing life experiences: From recording around Zanzibar with a Nagra, on set of a South African MNET TV show in 2000; to following the Dalai Lama and documenting through the Golden Temple in Amritsar, India; spending six weeks on and off of seagoing vessels in Mendocino; or hiking the border of Tennessee carrying a portable kit plus all expendables for a documentary. Each of these productions presented situations demanding immediate assessments and action. I draw from my background the problem-solving tools with which to solve new challenges."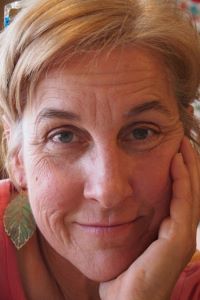 Emmy winner Gail Carroll-Coe (1996) joined as a Y-8. She cites her ability to anticipate and adjust her responses as a key reason she can meet challenges. "I love challenges and embrace being able to anticipate problems in order to solve them without holding up production and, more importantly, getting the best sound possible. I immediately communicate the information needed as it arises on the set to those concerned: the Mixer, the Director and/or Producers. I try to accomplish this by keeping calm and thinking rationally. One of my favorite sayings is, 'Panic is not our friend.' Last year, I did a movie with a director (actor-turned-first-time-director) who told me he was extremely happy I stood my ground when needed and that he loved my negotiating techniques … whew!"
Patrushkha Mierzwa (1983) is a now-retired Y-8. Her love of production as a whole gave her this perspective about her work: "Boom operating is a perfect storm of crafts; it requires knowledge of nearly all the other filmmaking disciplines. Because Boom Operators often work next to the camera, they become the default sound representative on the set, and the one to relay essential information. Sound is one of the few departments that does not directly support the visual (camera), so it is important to help educate our brothers and sisters that our contribution does not take away from that, but imparts a valuable layer for the audience."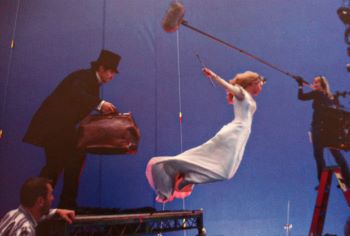 Upgrades and updates, shifts and changes in our electronic toolkits are the norm in our lines of work—something that we all roll with to stay current as we utilize our knowledge in the field. Here are some anecdotes and observations:
Kim McCall (2003) is a Y-4 working in video/24-frame playback, currently at Warner Bros. on new show Blunt Talk. She recalls, "I started my career in an analog world. Going all the way back to using quad, to one-inch tape reels. Editing and shooting on 3/4-inch tape to beta. Then learning the old 24-frame standards conversion and color correcting to playback on set syncing up film cameras using the old CE or Barton box and phasing that old bar out of the modified tube TV … It was a challenge for all of us to switch over to the HD 23.976 world. Always trying to keep up with new technology. Of course, you could write a book on this subject alone."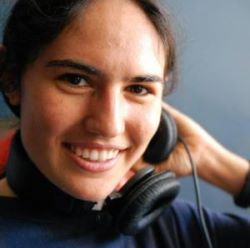 Nicole Zwiren (2013), a Y-1, has an MFA in sound design, so her knowledge of audio post informs her work as a Location Sound Recordist. She shares: "Mostly I am a bag Sound Mixer, which requires a lot of stamina, luck, skill and tact. As a Post-Production Sound Mixer, I know how difficult it is to remove background noise, so I make sure that all sources of noise in my control are handled to make for the quietest set possible. I prefer to use wireless lavaliers on actors when I know there will be problems with background noises."
Lisa Gillespie (2007), a Y-8, agrees with Nicole: "I went to Columbia College in Chicago, where I did location sound. I worked in their sound studio. I was a part-time student and an employee, checking out equipment to students. I mixed films with the Nagra. I also did Foley recording and Post Production. I always have Post Production in mind when I work."
We are all team players by our natures or we would not gravitate toward this business. We are all also singular in how we do what we do. Meeting each other, creating the open discourse about our work, and having a reliable pool of referrals that we trust are key. Networking works.
Alexis Schafer (2009) went from being a Y-13 Service Sound person to a 7A, Utility Sound. She gained the bulk of her understanding from day-playing with various talented Mixers who started as Utilities. Alexis highlights her ability to make connections: "I have made friends with my fellow 695 members and have gone to numerous BBQs and other events, but some of the most beneficial friendships I've made are with individuals in other departments. Understanding how these different departments contribute to the production has become a valuable asset in my ability to get my job done."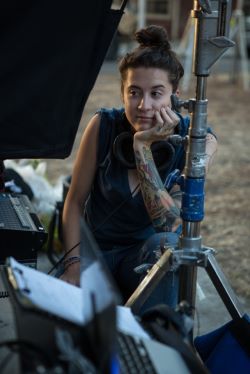 Amanda Beggs (2013) joined as a Y-1 Production Sound Mixer, with encouragement from mentors: "I've had the amazing honor of getting to network with the other Mixers I've looked up to and tried to emulate since I first realized I wanted to go into this field. Shawn Holden, a Y-1 Mixer, let me accost her at Location Sound one day. I was so thrilled to meet the woman who I absolutely feel is blazing the trail for women like me."
Jane Fleck (1981) is a Y-4 with multiple qualifications, a Video Engineer/24-Frame Playback/Sitcom Sound Recordist.
Her take is to "network relentlessly, if the networking does not feel right, rethink what you are asking. Doing for others is part of networking; it is always a two-way street. The woman who hired me for my first job in Los Angeles a zillion years ago recommended me for a job in the last five years as well. Stay in contact, say hi when you can, send thank-you notes when someone helps you out."
We make strides for all women who may be interested in the technical processes of production, the electronic arts, so cooperation together is tremendous. There is a responsibility to be always at your best. This awareness was expressed by all in different ways.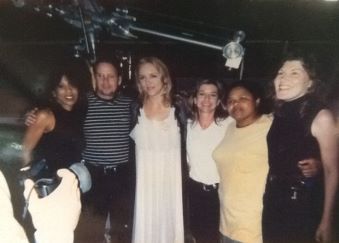 Jillian Arnold describes her view: "As a woman, I am very mindful that I have to be on my game. I believe I need to know all aspects of my craft well. Therefore, I spend quite a bit of time training and studying on my days off. I often feel I can't afford to make a mistake without it reflecting poorly upon me, and my gender. Some may say I'm too hard on myself, but I think that I have to be as good as the best."
Cabell Smith, a pioneering female Sound Mixer, reflects on her thirty-plus year career: "A word of advice—if they offer to carry it for you, let them! I retired in 2005 or 2006, after two hip operations and a back operation. So, I am serious. You really don't have that to prove anymore."
Lisa Schway (1993) is a Y-7A, part of a unique team that started in Carsey- Werner Productions' run of classic TV. The team was a standout for having four women on the floor, as a sound department in a multi-camera studio environment. Technicians Azhar Aluqdah (1996) Y-7A, Yasmin Muniz (1990) Y-8 and Phyllis Bailey Brooks completed the crew.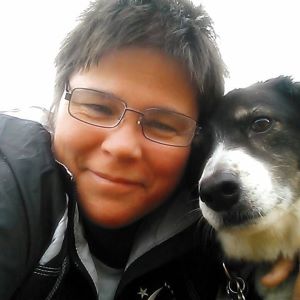 Lisa sets the scene: "In the late eighties, four of us 'audio girls' made up the audio floor crew while working on Grace Under Fire. We were comprised of two Boom Operators and two Boom Pushers. The four of us knew at the time what a special bond we had and that we were so fortunate to have such a supportive and positive team."
Yasmin Muniz, one of the two Y-8 Fisher boom specialists from that same team, had her first TV run in 1983 on Mama's Family. She is grateful for her career path "… coming from multi-camera, which is the most stable of all the jobs, we have regular hours. Working on features is grueling. Doing anything single camera is grueling. I respect you who do that work immensely. I was fortunate to have started out in sitcoms."
Phyllis expands the conversation and says, "My quest now is to continue to be a positive image on set, and to mentor as many young women pursuing this work as I can. This opportunity has given me so much and I continue to be eternally grateful."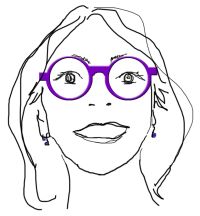 We are having a great exchange within our community regarding the expansion of professional skills, sharing tales of different production styles, expanding job opportunities and experiences, keeping the right attitude and swapping stories from set life. Wisdom hard won through adversity has no substitute.
Rosa recalls: "One of the greatest challenges I met was when filming on the ocean, in fishing boats and sailboats and on the beach. All the elements in the environment were stacked against us. First, we modified a sound cart for beach mode by installing bicycle tires and then made two sets of B-unit 'run and gun' style harnesses. We got waterproof cellphone cases and made them fit on transmitters. We added extra shrink-wrap to connectors on cables and to antennas. Our maintenance was immediate, with boom poles being disassembled and cleaned daily. Other than a zodiac-type boat being capsized and dumping my Boom Op in the ocean, we came out of the shoot just fine."
Currently, women make up less than ten percent of the membership of Local 695, though we trust that there will be more women attracted to work in our technical fields of the industry.
We look forward to continuing this conversation and to drawing new voices into the dialog. Some one-liners to wrap up:
Eva: "I keep a positive attitude; nothing is an obstacle, just a challenge in determination."
Jillian: "For me, being a woman in the tech world is a non-issue. The screensaver on my phone is a Steve Martin line: 'Be so good, they can't ignore you.' I live by these words."
Rosa: "Location audio recording is a fusion of art and science in the world of film production. I have always felt my work to be a part of the creative process on set, and negotiated potential difficulties using creativity and flexibility."
Eva says, "Coping under pressure? I never take anything personally. The prime directive is to do your job exceptionally well while keeping a great attitude. Even if that means throwing on a flashlight and a pair of latex gloves to kill an ice machine in a dive bar …"
Amanda: "I love my job so much and can't see myself doing anything else, so I'm excited to see where my career takes me. I like bringing something new to the table as far as not being what people expect in a Sound Mixer."
Theresa Radka (2006) Y-1: "When I am told, 'I've never seen a woman do this,' I get over my shock and my pat answer is: 'Well, they needed the best person for the job.'"

---
Glossary of Y Classifications
The Y numbers specify particular union work classifications as defined in the contract.
Y-1 – Production Sound Mixer
Y-4 – Supervising Sound or Video Engineer
Y-7A – Utility Sound Technician
Y-8 – Microphone Boom Operator
Y-9 & Y-13 – Sound and Video Service Person