by David Waelder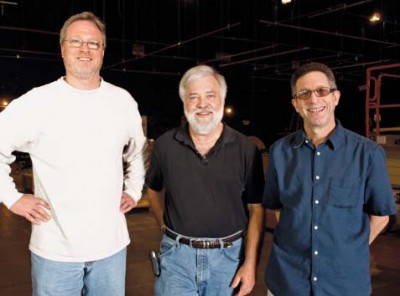 We are pleased to bring attention, long overdue, to the women members of our Local. Cabell Smith tells of her adventures in a changing environment beginning in the early seventies. Working news for NBC in New York, she came in contact with all the major players in that turbulent time from a Man on a Wire to mafia hits. Coming to Los Angeles, she joined Local 695 in 1992 and pursued a career as a commercial Mixer. Mary Jo Devenney had an equally circuitous path in her career and credits some of her success to an independent-minded cast member named Two Socks. Peggy Names and Jennifer Winslow provide a spirited defense of the Utility Sound position. Finally, we have Rosa Costanza Tyabji's compilation article that introduces us to nearly two dozen women in the Local today.
Also, check out our account of the strike action against Asylum Productions and Sharknado.
Finally, this issue marks my last as managing editor of the 695 Quarterly. Richard Lightstone, one of the original editors and longtime partner in this venture, will assume the responsibility of managing editor for future issues. The last six years have been a challenge, an opportunity to expand my horizons through contact with the many disciplines represented by the Local and a chance to grow with the enterprise. I thank you.
Fraternally yours,
Eric Pierce, Richard Lightstone and David Waelder