A Boom and a BBQ
by Laurence B. Abrams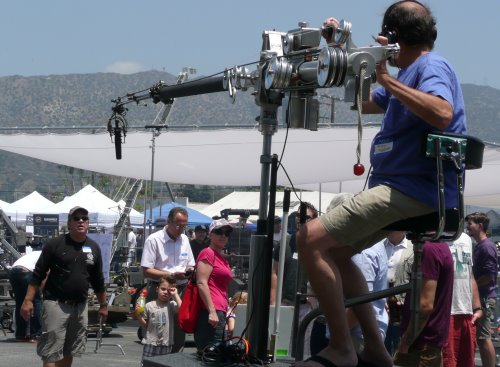 The Fisher microphone booms that we use in production today are the evolution of a design first manufactured by James L. Fisher in 1951, when he was working in the shop at Republic Studios in Studio City.
So successful was his design that it is the only one to survive that era … and after evolving somewhat since then, it is the only major studio boom in use today.The studios needed microphone booms that could hold the heavier mikes in use at that time and that would also permit the operator to swing and extend the arm and cue the mike as needed. These studio booms used a system of sliding weights to keep the boom arm balanced as it was extended or retracted to follow action. Mole- Richardson and several of the sound shops at the motion picture studios, such as Paramount and 20th Century Fox and Republic, had each developed their own proprietary studio booms. Thinking he could do better, Mr. Fisher began working on his own design in his spare time and came up with a boom that turned out to be lighter and more functional than the competition.
After a long career developing and manufacturing sound and camera booms, Mr. Fisher passed away in 2005. But more than 60 years after its introduction, his booms are still in use today and were on display at Fisher's annual Open House and BBQ Lunch, held this year on May 18. Now in its eighth year, this all-day free event was conducted at the Fisher facility in Burbank and featured product displays from a variety of camera, grip and lighting equipment manufacturers along with Fisher's complete product line, including of course, the full selection of Fisher microphone booms.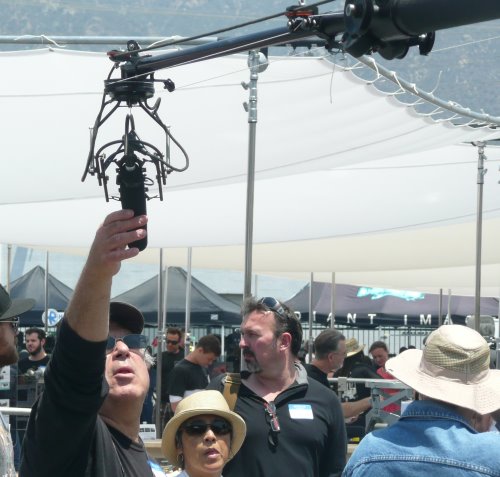 As in the past, Local 695 Microphone Boom Operators Andy Rovins and Laurence Abrams were on hand to demonstrate the 23-foot Model 7 boom arm and Model 6E base. Lots of Local 695 members came by during the day to chat, share production stories, do a little networking, and jump up on the boom to give it a quick run. Some of the folks who stopped by were experienced Fisher boom ops from way back and some were seeing it for the first time. Plenty of camera operators and grips and electricians came by, as well, and got a chance to try out the boom for themselves and gain some new insight into what we do. More often than not, they'd jump down and say something like "Hey, this isn't as easy as it looks!"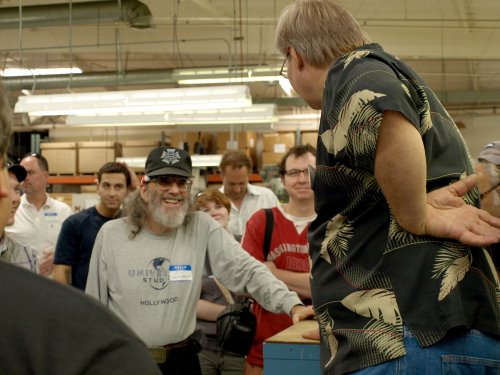 The company's current president, Jim Fisher, son of the boom's designer, offered guided tours of the facility and machine shop. Fisher sales reps Frank Kaye and Cary Clayton were there to answer questions … and there was plenty to eat and drink, with food trucks and BBQ grills serving burgers and dogs, chicken and steaks, and our personal favorite … BBQ pizzas.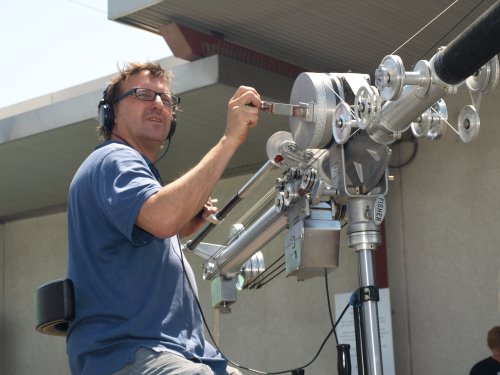 If you missed it, watch for next year's announcement and when you're there, be sure to stop by to say hello. If you still need to learn how to use the Fisher boom, be sure to take advantage of Local 695's unique Fisher Microphone Boom: Oneon- One Intensive training program. To sign up for a personal training session, see www.local695.com/mbr/edu-fbt.php for details.