Education & Training
by Laurence B. Abrams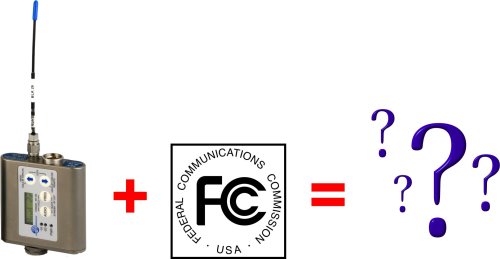 Wireless Mikes and FCC Licensing
A look at federal regulations, an $82,500 fine, changing realities of the RF landscape … and of course, White Spaces
Most often, the production sound recording technique of choice is the open microphone positioned a short distance from the actor and operated by a specially trained Microphone Boom Operator. Modern production realities, however, often dictate alternative solutions. And frequently, that means the use of wireless microphones. They, too, require specialized training but unlike a boom, they also require a license.
Created by Congress in the Communications Act of 1934, the Federal Communications Commission (FCC) was originally mandated with the task of regulating all commercial and amateur and ham radio transmissions so as to eliminate interference between the various transmitting entities. One of the many ways Congress has expanded upon that is to also require the FCC to "ensure that the American people have available, at reasonable costs and without discrimination, rapid, efficient, nationwide and worldwide communication services whether by radio, television, wire, satellite or cable."
That means that the FCC must oversee all equipment that emits RF (radio frequencies). It began with television and radio broadcasters but as the range of communications systems and tools and gadgets that operate over the airwaves have expanded, so has the list of devices that come under the watchful eye of the FCC. Today, this includes RC toy cars and planes, wireless computer networks in the home, automobile remote entry systems, microwave ovens (which cook your food with high-energy radio waves), electric garage door openers … and of course, the wireless communications of picture and sound.
FCC licensing for wireless mikes
So if the FCC regulates ALL the radio microphones we use in production, are we required to get a license from the FCC in order to operate them?
A small portion of the broadcast spectrum has been made available for wireless microphone use WITHOUT the need for a license. In each geographic location, there are two UHF channels set aside for unlicensed operation in houses of worship, small theaters and other small-scale use. When operated in these narrow frequency ranges and at transmitting powers below 100 mW, a license from the FCC is not required.
Anything else, however, is NOT authorized for use without a license. That means that the FCC says you need a license if you want to operate anything between 470 MHz and 698 MHz … which includes UHF channels 14-51 and Lectro Blocks 470 and 19 through 26 … at transmitting powers of up to 250 mW. The exceptions would be 608 MHz to 614 MHz (UHF channel 37) and 488 MHz to 494 MHz (UHF channel 17) in Hawaii as well as additional UHF channels which may be reserved locally for public safety and rescue operations (i.e., channels 14, 15, 16, and 20 in Los Angeles). Any individual who operates radio mikes in the frequencies we use every day at work, when not in the presence of someone who holds the appropriate FCC license, is subject to action taken against them by the FCC.
What can the FCC do to us?
In the event of a violation, the FCC has the option to issue something called an NAL … a Notice of Apparent Liability. The NAL can contain anything from a stern warning to monetary fines of up to $11,000 per incident with a maximum of $82,500 per day and/or a one-year sentence in federal prison. And for the record, they can confiscate your radio equipment too.
The good news is … we don't know of this ever actually happening to anyone working on a movie set. Nonetheless, the possibility of action taken against you is real. FCC Section 47, Part 74 of the Government's Electronic Code of Federal Regulations (e-CFR) contains the rules that specifically pertain to the use of wireless devices in motion picture and television broadcast production and we strongly advise that you review them. You can see FCC Section 47, Part 74 here at http://goo.gl/N25lP
So … if unlicensed operation of the radio transmitters we use daily on nearly all motion picture and television productions is prohibited … and yet punitive legal action against us is rarely if ever implemented … is there still any reason to get a license? Yes. And this introduces a critically important aspect of this story. White Spaces.
This is where things start to get bad
The radio frequency spectrum is a finite resource shared by television and radio broadcasters, police, firemen, the military, Citizen's Band, radio astronomers, aircraft, wireless LANs, maritime communications, satellite television broadcasters, Bluetooth, mobile phones and much more. The low-powered devices that we transmit with during film and television production must find an open, unused spot that sits free of interference amongst the mass of RF activity that constantly surrounds it. These unused spots are called White Spaces.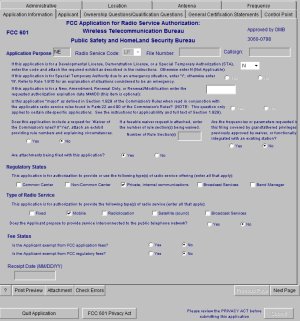 Not so very long ago, the RF landscape began to change rapidly with the adoption of HD television standards and the Telecommunications Act of 1996, quickly followed by a radio frequency "land grab" by corporate giants like Google, Microsoft, Verizon and many others. The engine behind this change has been the huge economic potential those companies can gain by monetizing the wireless spectrum for their own purposes. This is why we need to pay attention to White Space Devices (WSDs), which are soon to be deployed across the spectrum.
A WSD is a device that can hop onto any "unregistered" UHF channel in the spectrum for the purpose of communicating with a person or another device. A White Space-enabled device theoretically checks in with the White Space Database regularly to determine if the channel it wants to use is blocked off by virtue of being registered to a licensed operator. If the channel is blocked, the WSD tries another and another until it finds an open channel upon which to operate.
When you have an FCC Part 74 license, you are authorized to register the frequencies you plan to use in a registry called the White Space Database, thereby blocking those frequencies from use by the WSDs. If you don't do that, and if you are using a frequency in a channel that a WSD sees as not registered, then it will simply blow your signal away. Remember … your radio mike is transmitting at 50 mW but a WSD can transmit up to 1000 mW and over an entire UHF channel (approximately 40% of a Lectrosonics block). The only way to be protected from being overpowered by a WSD is to be a licensed user and to register yourself in the White Space Database (which is authorized by the FCC, but is actually operated by 10 independent but interconnected database administrators). A Part 74 Low Power Broadcast Auxiliary License has priority over any White Space Device. But an unlicensed operator, operating on something other than the two UHF channels reserved for unlicensed use in a particular area, has no priority over a WSD and can very easily get stepped on.
The growing impact
The demand for radio microphones is increasing with the proliferation of reality television which relies almost exclusively on wireless transmission, and with new styles of multi-camera dramatic production which place much greater demands on the use of wireless mikes. And yet the availability of the wireless frequencies needed for this type of production continues to diminish. The narrow RF slices of the UHF spectrum we depend upon are shrinking so dramatically that they are truly endangered. The equipment we use in production would, of course, be entirely inoperable without suitable radio space within which to operate them.
The path forward
What can be done to protect the RF frequencies we need in order to be able to continue to use our radio mikes legally and without interference? According to its mandate, the FCC is required to protect the RF space operated by entities who are licensed to use it. Primary Users (UHF TV stations) and Secondary Users (licensed wireless mike user transmitting on channels they've registered with the FCC) are authorized to have priority over any and all unlicensed users. For example, the FCC must protect the rights of TV broadcasters to operate in frequencies they are licensed to use. And if the TV broadcasters have issues or concerns about those frequencies or about new policies or changes under consideration that may hinder their operation, the FCC is required by law to take those concerns into consideration. Similarly, if you get a license for the operation of your equipment as a Secondary User, the FCC is mandated to give consideration to your concerns, as well.
A license grants you priority to operate your transmitters when unlicensed operators are in the same area. And a license gives you the ability to submit your data into the White Space Database, thus protecting your transmitters from getting squashed by roaming WSDs. And, with respect to future FCC regulations and actions, a license allows all of us to build a collective voice for wireless mike users during the months and years ahead as the evolution of RF space moves forward. The small remaining bands of the UHF spectrum that we use will need to be protected if we expect to continue to operate within them. This is why we recommend that Production Sound Mixers and Microphone Boom Operators and Utility Sound Technicians and Video Assist Technicians and Engineers consider acquiring an FCC license.
How to get an FCC license
The license that you would get is called a Part 74 Low Power Broadcast Auxiliary License, and it is specifically designated for individuals who operate equipment used for film and television production. The easiest way to apply for an FCC Part 74 license is through the FCC's online application form, which is not to say that it is in any way easy … it's just that the online form is easier than filing the written application form.
Whether using the written form or the online form, it's a difficult process with numerous pitfalls for anyone who hasn't done it many times before. To assist you in getting through the licensing application process, Local 695 has developed a website to provide you with related information, updated FCC news and perhaps most importantly, a detailed set of instructions on how to complete the license application. We offer guidance on two possible paths you could choose to follow:
1) Pay a professional to handle the hardest part of the application for you.
Or
2) Follow a comprehensive step-by-step guide that we created to walk you through the entire application procedure from start to finish.
Either way, the website will offer help in getting through the entire process. You can find our FCC website, including complete instructions to obtain the Part 74 license at www.local695.com/fcc. We encourage you to visit the site and then take the steps to acquire an FCC Part 74 license.