by Ric Teller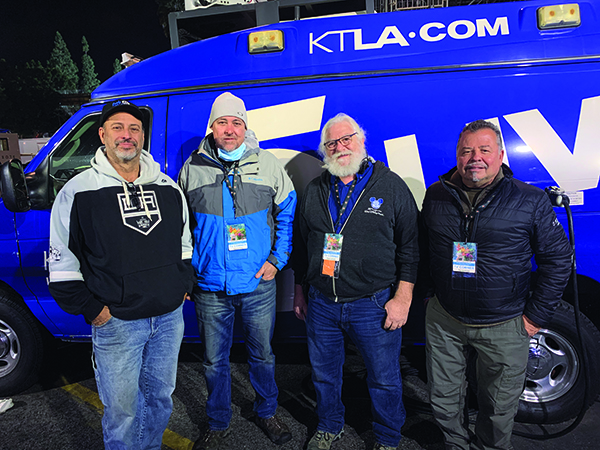 In my initial article, "Ric Rambles and Reflects," a few months ago, I belabored the story of my start in television at KTLA closing with the possibility that I might be working on their Rose Parade broadcast for the fortieth time. Wow! What a cliffhanger.
Well, I did it. Forty. More than half the parades televised by that historic seventy-five-year-old station. Not a record, but pretty good. In 1982, when I did my first, it was in mono and SD (Standard Definition). Actually, it was OD (Only Definition). Soon, the show was broadcast in stereo, and eventually in high defintion. My first parade was the initial one hosted by the iconic pair, Bob Eubanks and Stephanie Edwards. Thirty-five years later, when Bob and Stephanie retired, Mark Steines and Leeza Gibbons stepped in and have done a terrific job ever since. As you can imagine, many things have changed over that amount of time, of course, there have been some constants. The parade still goes from left to right and the food at the Elks Club in Pasadena is … well, let's just say that the New Year's breakfast of powdered eggs and filet of Adidas is legendary.
There are a couple of certainties about my career. One: It is coming to an end, "on the back nine" as my fellow '52 baby, Dennis Mays, reminds me, and Two: I've been very fortunate. David Velte, the iconic, hilarious, unique, beloved mixer, would have reminded me that we knew each other long before I changed my name (from Lucky Bastard). Believe me, I'm grateful for all I have seen and done, and the longevity has given me the gift of working with many wonderful people. The friends and mentors who are no longer with us are missed, but we continue to appreciate them with stories and memories.
I was a little late getting started in television, nearly thirty years old when I began that run of consecutive parades. Over the years, I've worked on more than twenty Oscars, Emmys, Grammys, Jerry Lewis Telethons, Kennedy Center Honors, and the Dick Clark alphabet soup of ACMs and AMAs. Gotta love live television. My main excuse for the gaudy numbers is that I believe production departments often look at the previous crew list and go with that. Hey, it worked last year. Annual events such as award shows lend themselves to longevity in entertainment television.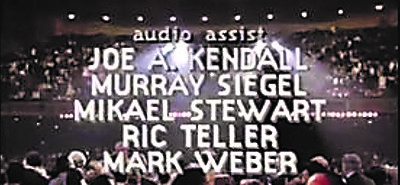 Over the years, many things have changed. WTTW, in Chicago, a leader in simulcasting (a stereo broadcast carried on an FM radio station that was in sync with the picture on the air), began transmitting music programs in stereo in 1984. That same year, The Tonight Show Starring Johnny Carson, on NBC, began broadcasting in stereo, although at first, that new format was only available in New York City. By the time I began working on award shows, in 1987, all the networks had joined the stereo party, although not all the programs. How many remember "In Stereo (where available)"? Eventually, more audio channels were added, the somewhat problematic 5.1, the more confusing 7.1, and I believe Ed Greene once did a show in 3.9 … maybe. I'll have to ask Hugh. One of the other especially helpful changes for the aging A2 population has been the transition from copper to fiber. At the Grammys a few years ago, the connections at all seven mixing consoles were fiber. Yes, seven. One on-air console in the broadcast truck, two music mix consoles in the two music trucks, two FOH (front of house) consoles, one for production, one for music, and two monitor mix consoles. Today, fiber is the norm, copper connections, except the runs from the stages, are rare and used mostly for backup. It has made split world larger, more complicated, and more flexible. A welcome consequence of the change from copper to fiber has been a serious reduction in ground issues. And backaches.
Initially, all my jobs were programs made by or for networks. Anyone who paid attention to the Emmy Awards last year, knows that numerous non-network companies have become successful content providers, and are having a major effect on how people view programs. Even stalwart awards shows have been touched. The Golden Globes, after a long and interesting relationship with network television, was not televised this year. The Academy of Country Music Awards initially broadcast by ABC, then NBC, and more recently CBS, will only be available on Amazon Prime Video in 2022, and last year, longtime CBS presentation, The Tony Awards, streamed for two hours on Paramount+, then continued for two more hours on CBS. That was a long day.
The Four Questions
Are those 416's T or P?
Did you overbias 3 db for the 456?
Can I borrow Yibbox?
Ready for a rock on the AT?
Over the years, once common terms have become archaic, gone the way of Wrong Way Corrigan. If you know the answer to all these questions, you too might be on the back nine. If I remember, I'll reveal the answers at the end of the column.
At this fortieth parade, my last one, I took a trip down memory lane and tried to make a list of all the mixers. I came up with a baker's dozen. I'm grateful for the opportunity to have worked with so many terrific people. If I left anyone out, I am truly sorry.
• Jerry Pattison, a longtime KTLA sound engineer. Mixer on my first one.
• John Kennamer, KTLA staff sound mixer, before that, John worked for WTTW in Chicago at the beginning of stereo television
• Ken Becker, sound mixer, began his career at KTLA in 1952 and acted in four Elvis Presley films
• Monte Lee, KTLA staff mixer, and fairly famous midwestern musician
• Shawn Murphy … yes, that Shawn Murphy
• Ron Estes, worked at KTLA after a long career at NBC, he put The Tonight Show on the air in stereo
• Tom Ancell, audio director at KCET
• Leamon "Lee" Gamel, versatile mixer of entertainment and sports
• Carolyn Bowden, one-time ABC staff sound engineer, now has the job I aspire to have
• Russ Gary, had a long, successful career as a record mixer and an equally successful career mixing for television
• Sam Mollaun, current KTLA mixer, with many television credits
• Pete Damski, very busy, versatile sound mixer, then a second career as a valued educator
• Ish Garcia, mixed it this year, he's almost as old as me with a better attitude
My sincere thanks to each of you. To those who have passed, you are missed, we raised a glass to your memory at the post-parade meeting.
This column began as a look at longevity in entertainment television. Through forty Rose Parades and more than ten times that many award shows and specials, I can tell you without question that it isn't about numbers, it isn't about what people think of as "prestigious" shows, it isn't even about working in wonderful locations (that said, I recommend Town Park in Telluride if it is offered). It is entirely about the people.
That's my story and I'm sticking to it.
Oh yeah, the four answers.
P
Yes
Mine is broken
Ready