Nashville
by Anna Wilborn
When Joe Foglia rang me up to offer me a spot as the Utility Sound Tech on ABC's Nashville, I fell on the floor laughing. Move to Nashville? I had a new house, a new baby, a three-year-old and a husband who was neck deep besting a new VH1 show. I'd already heard the stories of ungodly hours, the daily multiple locations, the stake beds, the stairs, the tiny costumes, the non-soundstages, the lack of a great Thai restaurant … "I'm fine thanks," I chuckled to Joe, as I tossed my kid a toy. I got in my car and headed to Costco. Forty-five minutes later, I pulled in to the parking lot. It's a mile and a half away. Had to get some diapers at Target. That was another two-hour ordeal complete with honking and expletives (not from me of course!). Six weeks later, my whole house was packed up, boxes shipped, and I was bouncing my baby on my lap as my flight to Music City lifted up out of the smog.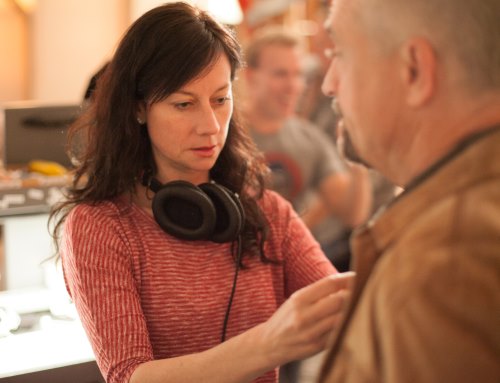 It had been over two years since I'd worked with Joe and, thankfully, nothing had changed. Except the recorder. And the monitors. And the sound reports. And the media. And some of the microphones. And the timecode boxes. And the IFBs. And the follow cart. I soon realized the only thing recognizable was Joe's smile. Even the boom guy, Scott Solan, was different. He hails from an Irish, hockey-playing borough of Syracuse, NY, with a long list of credits, including the new Star Trek features,Transformers: Dark of the Moon and Thor. Scott is a thoughtful perfectionist. He forgets nothing and leaves no stone unturned in his drive for a quiet, locked-up location. Scott has the unique ability to up everyone's game, both within and beyond our department. Our very first scene up on starting the new season was indicative of the next ten months to come: 6 earwigs, music playback, live stage microphones, PA system, 4 wires, 50 extras and 3 RED cameras. I suddenly yearned for a forty-five-minute drive to Costco with a toddler and a teething baby. I pondered the validity of the lease agreement just signed by my new tenants back in Los Angeles. I suppose I could get a lawyer … Joe just smiled and shrugged, "Welcome to Nashville!"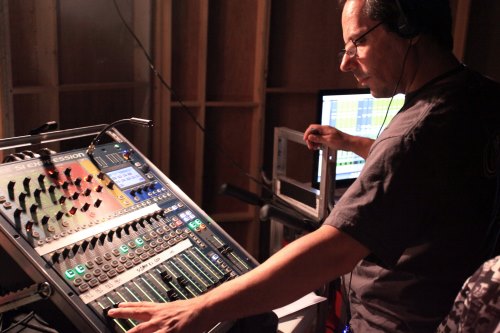 Matt Andrews is at the helm of our music playback. He is the Chief Engineer at Sound Emporium in Nashville and a bona fide Grammy Award winner (I know 'cause I kinda stole it off his mantle one night when we were shooting down the street from his house). Matt's credits include Playback Tech on Walk the Line and 2nd Studio Engineer for the O Brother, Where Art Thou? soundtrack. Joe and Matt are a match made in heaven. Watching them together is like a Martin and Lewis film. There's nothing better than seeing the two of them behind the racks, heads down in a flurry of cables and connectors, troubleshooting and finishing each other's sentences. They are the yin to each other's yang. Given that Joe spent his formative years at Criteria Recording Studios in Miami Beach, it's no surprise.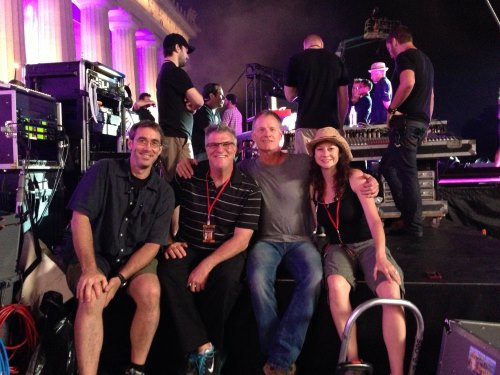 Each episode offers up four to five musical numbers with anywhere from one to a dozen performers. Matt's playback paraphernalia includes a Pro Tools 10 rig in a small, red, rolling rack, closely followed by Playback Utility Cassidi Spurlock, dragging The Biggest Pelican Case In The World. Seriously. If Nashville ever floods again, we can just ditch the cables and all hop in. He runs the Pro Tools via a Quad-core Mac Mini with a Focusrite Rednet 2 interface. He typically comes armed with twenty-four tracks of music all broken out in stereo pairs from vocals to cowbell. Matt is all about the Dante matrix system. Over the next few months, we plan to fully integrate Dante so both he and Joe can pull any track they choose out of a thin little Ethernet cable. It will also drastically cut down on the cabling which, in turn, will reduce the propensity to pick up hums and ground loops along the way, a typical nuisance of our large-scale music venue locations.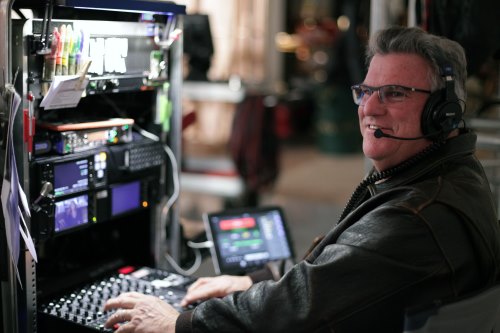 Six years ago, Joe looked at his shiny new eight-channel Sonosax mixer and thought, what am I going to do with all these inputs? Now he knows. Problem is the board is continually maxed out with all the live vocal microphones, booms, wires and music. An upgrade looms in the near future. For now, the new addition to the family is a Dante-compatible Soundcraft Si Expression digital mixer. It has fourteen faders with four layers for up to fifty-six tracks. "It's great," Matt says, "we just hit a button and the board instantly switches to a whole different mix." To it we input the Shure handheld wireless stage microphones and Matt's music and timecode tracks. It allows instant accessibility to all audio on Matt's playback rig as well as all live stage microphones. From there we feed customizable mixes to the QSC PA and the actors' Ultimate Ears custom molded in-ear monitors. Our actors sing aloud to their pre-records, and are then recorded by Joe. (Y'all following this? There will be a quiz at the end.) This gives our Music Editor, a more precise way to sync, rather than relying solely on timecode.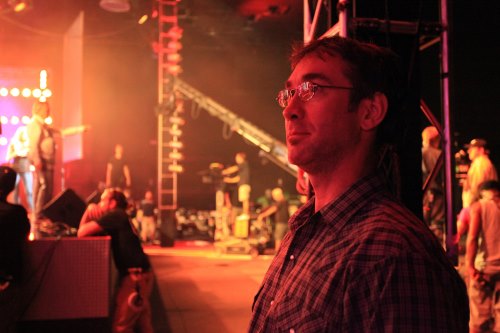 Joe's primary recorder is the Sound Devices Pix 260i. It is capable of up to thirty-two channels and is also Dante compatible. It carries a 250 gigabyte solid-state hard drive and a compact flash card which gets turned in for dailies. He backs up to a Sound Devices 788T which simultaneously mirrors to a one TB hard drive. We mostly use Sanken COS-11 wires with Lectrosonics SMV and SMQV transmitters, matched to a six-channel Lectrosonics Venue receiver. Schoeps CMIT shotguns are used with Cinela mounts, K-Tek boom poles and Lectrosonic HM plug-on transmitters. Scott and I use Shure P9RA receivers to listen to Joe's mix. The clarity is remarkable and the channels are mixable so we can have boom in one ear and wires in the other if we choose. These are the same receivers we use on our actors for their in-ear monitoring.
In the early days of Season One, the performance playback music was fed only to the actors via in-ears, Phonak earwigs, or small stage monitors. Famed music producer T-Bone Burnett noticed during a performance shoot that the audience wasn't getting as excited about the music as they could be. He wanted speakers blasting the crowd with music. Joe then contacted Ray Van Straten at the speaker company QSC in Costa Mesa, CA, about a possible relationship. A love affair was born. We now receive both practical and mock-up KW series speaker arrays to pump music to the crowd for a real concert look and feel.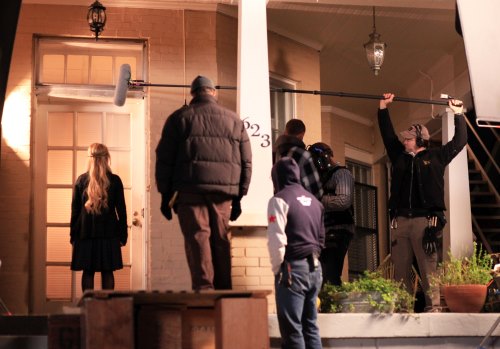 Normally, being this far away from Los Angeles would spell the usual equipment and expendables headaches. Thankfully, in Nashville we have Trew Audio right in our backyard. When Joe arrived in town, he wheeled the carts right into the middle of the shop like a sound pit stop. Software updates, new cables, batteries, fluids, tires pumped up, and we were off and running. Rob Milner has been a big part of our crew and it goes something like this: "Hey Rob, I need a sevenfoot cable to run from the Zaxcom wireless to a split XLR with a four-pin." An hour later, we send the drivers. Having them here has made the transition to the South seamless. Glen Trew was the Sound Mixer on the pilot and the first three episodes before Joe took over. He still comes in from wherever he is around the world (last time it was Amsterdam) to do our 2nd unit days. He's like a rock star around here. It takes him a half-hour to get from crafty to the cart with all the hugs and handshakes in his way.
Nashville has been the best thing to happen to my little world in quite some time. We're having a blast both on-set and off. Our hours are sane, the people are jaw-droppingly friendly and there's never a lack of fun things to do with festivals and concerts every weekend. I can say the road signs are more confusing than anything I've ever seen (even the locals admit that), but when people actually let you merge with a friendly wave and a smile, all is forgiven. The other day, my husband found himself stranded in the rain with a dead car battery and a flat tire, and yes, two very disgruntled kids in the back seat. Before he could find his AAA card, someone had pulled over, jumped the car, fixed his flat (with a plug!) and bid him a good day. Don't you have a pretty picture of that happening in Los Angeles? Gotta love this sweet Southern country livin'! Viva La Nashville!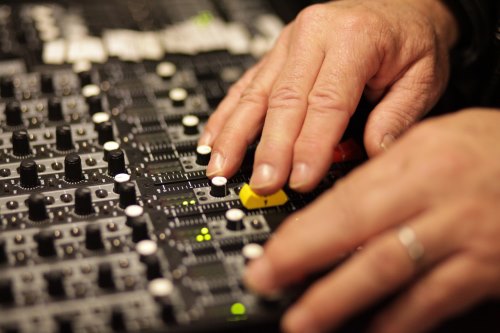 ---
Glossary of highlighted words
IFB Interruptible Fold Back: A system for supplying audio as it is being recorded to artists and technicians. The signal path from the microphones is "interrupted" before going to the recorder and "folded back" so it may be heard by the people involved in the process of making or supervising the recording.
Focusrite Rednet 2 The Rednet 2 system is the premium line of audio interfaces for network distribution over Ethernet cable manufactured by the Focusrite company.
Dante A system of hardware, software and network protocols for delivering digital audio through Ethernet cable.
QSC A manufacturer of speakers, amplifiers and signal processing equipment.
Ultimate Ears A manufacturer of speakers and custom-molded, in-ear monitors.