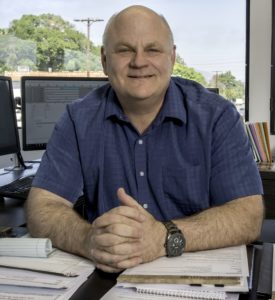 Happy holidays! Wishing all our Local 695 Sisters and Brothers and your families a wonderful holiday season. We have ratified the Basic Agreement with a return of thirty-nine percent of the ballots, which is four percent higher than the previous vote three years ago. I'm happy to see the increase in return ballots, but I encourage our members to be active not only in voting but attending meetings and getting involved in our many committees, and the Local's sponsored activities.
The new Basic Agreement has significant improvements and it's important that we take advantage of these new benefits.
So, what has changed? If your workday is more than fourteen hours in the Studio Zone or twelve hours in the Secondary Zone, the employer must provide you either a ride home from production and a ride back to work the following day or a hotel room for the evening when you request it. As part of your package, we suggest putting together an overnight bag with all the essentials. Our hope is that you never need to utilize this new contract requirement, and that productions generate efficient shooting schedules.
You also have an additional hour of turnaround when working in television and new media productions after the first season. This is a step in the right direction, and in the next round, we will propose the inclusion of pilots and first-season productions. We were successful in getting rid of the new media Roster, and the next goal will be to get rid of the term "New Media" altogether. It's all the same work just different 'broadcast' platforms. Mid-tier new media productions will now have an established set of wages and working conditions, completely removing the words "to be negotiated" from these contracts.
An across-the-board three percent pay raise is now in effect. Payments for back pay retroactive to August 1 will be sent to you if you haven't received by now. If you have questions about provisions in the new contract, just contact Joe or myself at the office.
Important: If you're traveled under a 695 contract outside of the state and are being paid through Cast & Crew, your disability insurance is not being sent to California. To receive proper credit for these hours, you can ask Cast & Crew for a form you can fill out to have your disability withholding sent to California.
We plan on addressing this with the CIC with the possibly of introducing a bill that would make it mandatory for the employer to send your disability insurance back to California. There are six states including California that have state disability insurance, they are New Jersey, New York, Hawaii, Road Island and Puerto Rico. If you work in one of these other states that have SDI you will not be able to have your SDI sent to California.
I'm very happy to announce a new addition to our team, Heidi Nakamura, with 18 years of experience representing IA members in Hollywood. Heidi will now be working in the Field alongside Joe Aredas. Welcome Heidi!
I wish you and your family a wonderful and prosperous 2019. If I can be any help, please, don't hesitate to give me a call or stop by the office. This is your union and I'm honored and proud to be your Business Representative.

In solidarity,
From the Business RepresentativeScott Bernard
scottb@local695.com
Business Representative