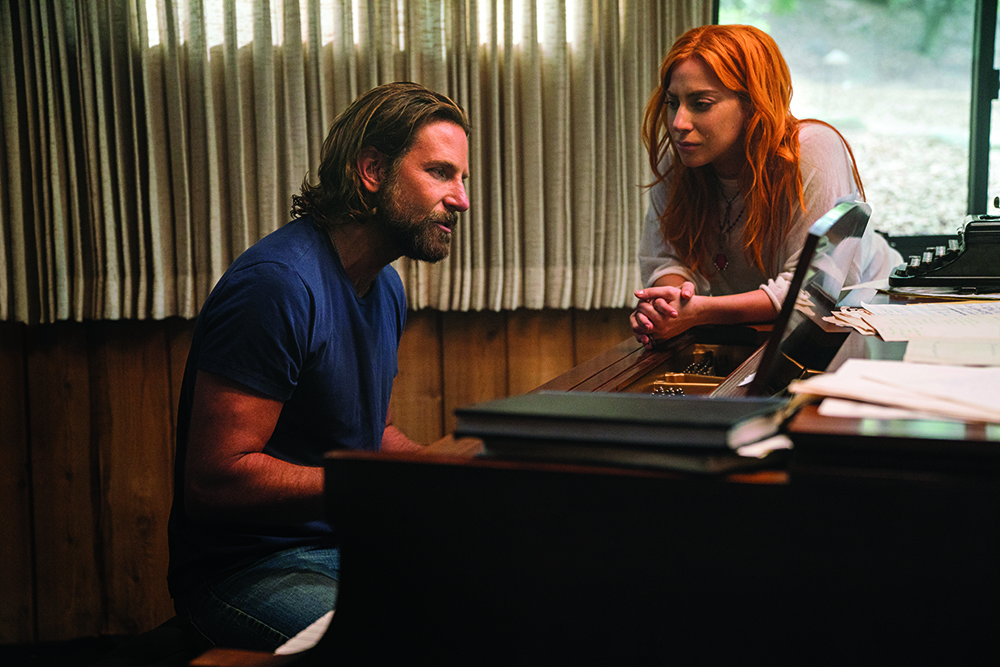 by Steve Morrow
From my very first meeting, it was obvious that Bradley Cooper knew he wanted A Star Is Born to feel real and immersive. He certainly achieved that in this film, with handheld camera work and live vocals, he leads us into a world that feels simultaneously epic and intimately authentic.
As a director, Cooper cultivated a great atmosphere on set that was familial and inspiring to work in. Communication and collaboration were paramount for him, which fostered an environment where every member of the cast and crew could perform at their best.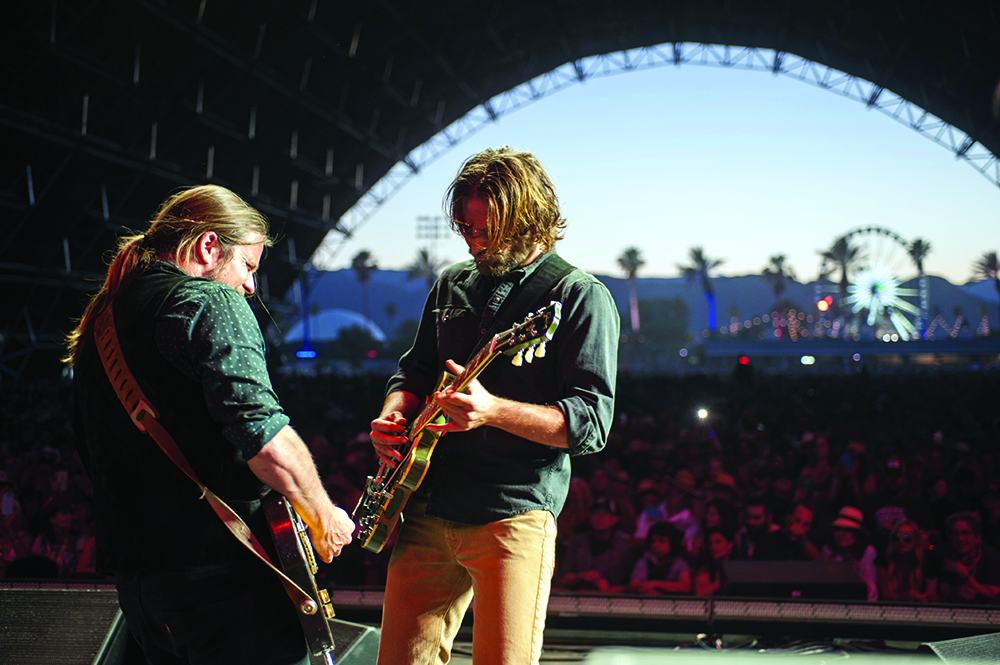 There was never any doubt that Bradley Cooper and Lady Gaga would be singing live. Neither of them wanted the film to feel like a traditional musical and there would be no lip-syncing to playback. For me, this was a dream come true, recording a music-based film and capturing the performances live, with the production sound being the vocal track instead of a studio recording.
For the next few months, I ran through different concept setups to figure out exactly how to get the best vocals and tracks possible for the various scenarios we would be shooting in. To ensure that we had the best system in place, we set up a mini-concert during prep to run through and test the concepts. We ultimately landed on having the band perform to playback with just the vocals being recorded live. Jason Ruder, Music Editor, and one of the re-recording mixers, did a quick mix of the prep mini-concert and with Warner Bros., Cooper, and Gaga happy it was clear that we had landed on the right method.
The movie opens on Jackson Maine's performance at Stagecoach, the entire scene was filmed live at Stagecoach in only eight minutes. We shot between two concert acts, Jamie Johnson and Willie Nelson. Moving only between their sets meant we got our gear up in the few minutes allotted before Johnson's set and then filmed and broke down in the minutes before Nelson's set. One of the biggest concerns to everyone was the potential of music being leaked while filming at these venues with live crowds. To counter that, we came up with an earwig playback setup with no amplification. The performers could hear the music and the singing was recorded live, but the crowd couldn't hear the vocals or music beyond the first couple of rows. We modified this system for Glastonbury where we had to be super mobile, we were a skeleton crew with only four minutes to set up and shoot. We had the festival's monitor mixer put the instrument playback into Cooper's wedge at a low level, and he sang live (unamplified) in front of one hundred thousand festival goers. The crowds were always so fantastic and excited even though they couldn't hear much of anything. There were some fun headlines at the time about technical difficulties causing the lack of amplification, but it was all a part of the plan to keep the music as secret as possible.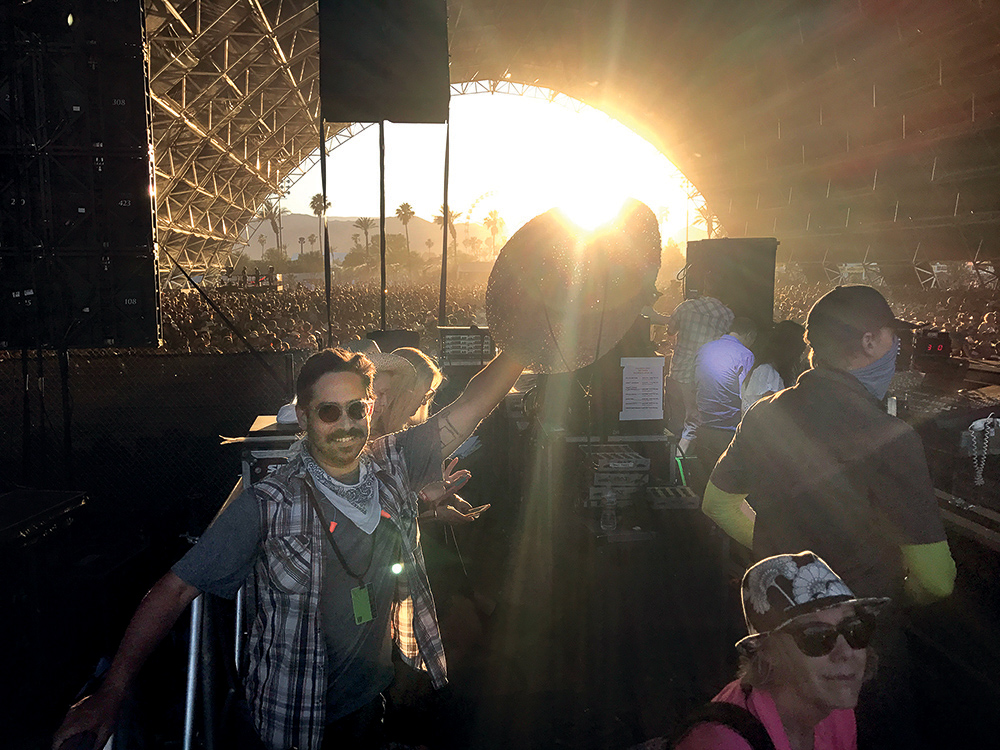 We shot performances all over, from Coachella and Stagecoach, to Glastonbury, the Shrine Auditorium, the Greek Theatre, the Orpheum, to the Palm Springs Convention Center, a few small nightclubs and a drag bar. We had to be prepared to record absolutely everything live, which meant up to sixty-one tracks of audio at any given time. I used two Midas M32R mixers with a digital stage snake, each mixer has thirty-two inputs and by combining them via Dante into the Sound Devices 970, I could record all the tracks needed. We muted the musicians' instruments through the amps but still recorded the feeds for post to use. To help capture the atmosphere, we used a DPA 5100 surround sound mic in the crowd and two shotgun mics, one at stage left and right, aimed at the crowd for their reactions. We created a room mapping whenever possible by recording an impulse response for post to be able to take the original studio instrument recordings and balance them to sound like they were recorded live with the vocals in each venue.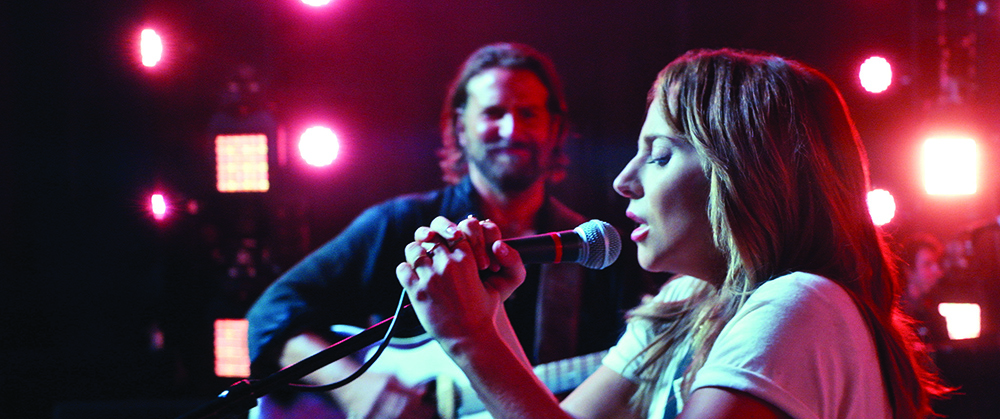 For the track "Always Remember Us This Way" (one of my favorites in this film), Gaga requested a digital grand piano so we could record the piano isolated from the vocals. We were able to take a stereo feed from the digital piano to track her playing, record the vocals cleanly, and keep the music from being heard by the crowd.
For regular production days, we were a three-man crew: myself, Craig Dollinger (Boom Operator), and Michael Kaleta (Sound Utility.) On music days, we had Nick Baxter on our team as our Pro Tools music editor and monitor mixer Antoine Arvizu. Each music day was like throwing a concert, and the whole team was needed to set up and break down the mics, cabling, stage snakes, in ears and earwigs. These days, we generally had a three-hour pre-call, to set up the wedges, mic all the instruments, and get everything patched to a Midas digital stage box. We used the stage box to split the signal of all the feeds, one to me at the cart and the other to a monitor mixer at the side of stage. The monitor mixer would control the reverb that was heard by Gaga and Cooper via Phonak Earwigs. We would also route the singing and music to the band through earwigs for the concerts with live crowds since the music and singing were not amplified. At the cart, I worked off of the two Midas M32R's recording to two Sound Devices 970's. I prepared for sixty-four tracks, our highest track count was sixty-one. We were also joined on set by Jason Ruder, there to observe our recording process during music performances to make handling all the tracks in post as easy as possible.
Music interacting with the script was so important to Cooper's vision of the film. He wanted the songs to be a character in the film and each word of the music there to propel and reflect the story. To help achieve this, multiple songs would often be performed in one setup so that he could have the options available when he went into editing. On our end, we built each Pro Tools session to include nearly all of the film's music so we could easily and quickly switch from song to song at a moment's notice, with some songs being added the day of shooting.
There's always a sense of fun on set when you do a music-driven film. In between setups, the band would jam out and occasionally, Matthew Libatique would grab a camera and start rolling on the action. I was often glued to my seat staring at the monitors as we could just start rolling at any minute. This film is one of the most rewarding I've worked on to date, filled with plenty of technical challenges and lots of fun. Bradley Cooper's directorial leadership always let you know you were an integral part of something special. It was an honor to work with both he and Lady Gaga, two incredibly talented and passionate artists.