by Richard Lightstone CAS AMPS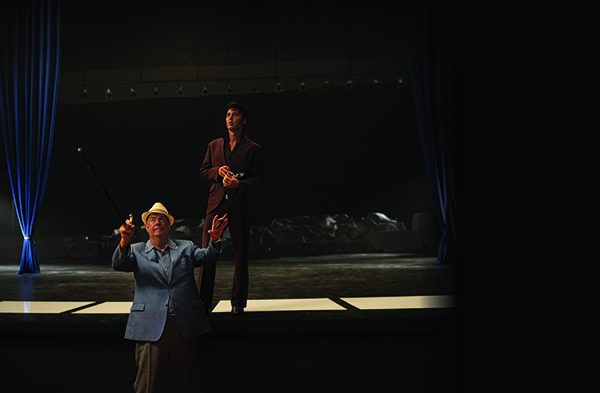 Australian Production Sound Mixer David Lee's credits include The Matrix (1999), which earned him an Oscar, a BAFTA, and a CAS Award, and Unbroken (2014), where he received both Oscar and CAS Award nominations.
We met up on Zoom to discuss his work on Elvis. "This is the first time I worked with Baz. I always wanted that experience and I got it," explained David.
Baz Luhrmann is known for his very creative approach to his projects from Romeo + Juliet, Strictly Ballroom and Moulin Rouge!, all with music being a large part of the storytelling.
The film was entirely shot in Australia with CGI used to create the Las Vegas Strip, the International Hotel and Graceland. Memphis's Beale Street was an exterior set on the Queensland Village Roadshow Studios lot where they occupied nine sound stages.
Beginning in 2019, David Lee's prep began in November and December with sound and technical rehearsals.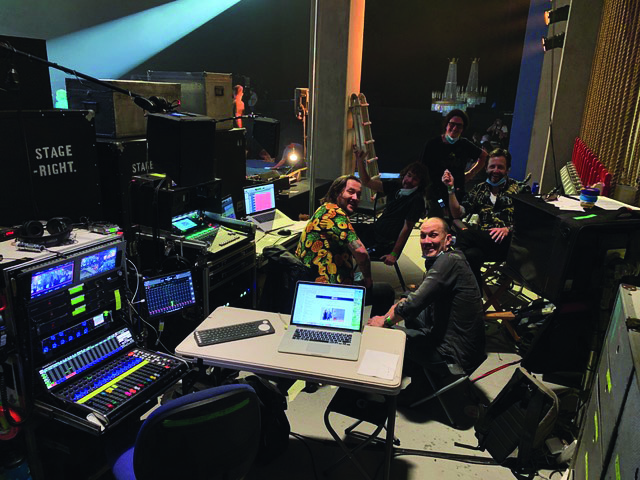 "In January 2020, we began 'practiced shooting,' as I call it. By that I mean that we were in pre-production and then the day before we'd get news or even the morning of that day. Baz wants to shoot something this afternoon." Everybody would just run around in a mad panic, and then we would end up on a stage shooting something. In one of the scenes, Elvis is just playing his acoustic guitar on the edge of a stage and got the rest of his band behind him. He's just jamming and riffing and that's in the film.
That was shot on one of those days," David continues.,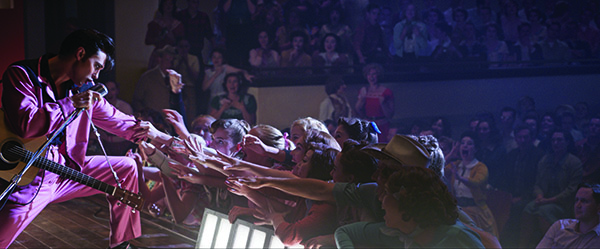 "As far as the initial sound testing was concerned, I just raised "As far as the initial sound testing was concerned, I just raised the flag and everybody agreed that with this new technology we needed to spend time with it. The earwigs and performances; we've gotta develop the techniques of how we're going to do it. The Music Department agreed, production agreed, everybody was on board for that two or three weeks in November and December of 2019.
"We were still practice shooting in 2020 through January, February, and March, and then we shut down at the end of March due to COVID. We had a meeting and said, 'We can't, we just can't push it anymore.' Then we picked it back up with another three weeks of pre-production and started shooting the end of September until Christmas, and continued through to the following February in 2021. Once we started principal photography, it was an 18-week schedule."
David approached every musical number with a plan to record all.
"Elvis had his handheld microphone and he was also wearing a lav and it's very hard to tell whether it's just the playback. I must say when we did do playback, Austin was so good at it, I could have the playback of Elvis in one ear and Austin in the other and it'd be a mirror. He sounded just like Elvis. Austin turned up every day prepared putting in one hundred ten percent and just a humble guy."
Ben Wyatt is David's Boom Operator, and Sophie Norfolk was hired as the Radio Microphone Technician. Sophie is from Western Australia and had experience and technical training working with wireless microphones in theater, film, and television in Melbourne. David and Ben met with Sophie, and booked her, describing that it worked out just wonderfully.
"The Music Department was extraordinary," David explains. "We had Elliott Wheeler as our Musical Director, Co-producer Jamieson Shaw, and Cameron Bruce. Wade Keighran was our wonderful Playback Operator, who's a musician and a record producer in his own right. They were just geniuses in their craft as there was a lot of backup. Baz would throw a lot of curveballs every day. They were vital to look after the Music Department, and they took care of that."
Wade Keighran worked with the Art Department to make all of the period microphones practical. "Elvis used the Electro-Voice RE15 and that was duplicated on set. There were many other practical mikes, so when the music stopped, we were still recording," describes David.
David prefers Lectrosonics wireless and the DPA 6060, 6061's. He explains, "The performance costumes that Austin wore had large collars, an open chest and chains, and we often exposed the tiny mic. We were never going to see it, and if they do, they can just paint it out."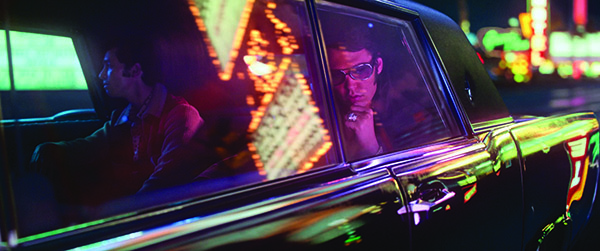 With all of the dialog and music tracks needed to be recorded, David purchased the Sound Devices Scorpio, and one of the earliest SL-16's in Australia at that time. David decided to utilize Dante between his desk and Wade's Allen & Heath SQ-5 after extensive testing during the sound rehearsals in November of 2019.
"I'd generate the timecode, and then I'd bring all his stuff in on Dante on one data cable. I used tracks one through sixteen for my dialog, and then seventeen through thirty-two for the playback tracks for all the vocals and instruments and his playback timecode." David continues, "My boom mic is the Schoeps CMIT. I used to have the longer 5U and then when the Mini CMIT came out, I got two of those. But right now, I've taken to the Schoeps MK 41 Super cardioid capsule and the CMC-U, the mini preamp, and with the Lectrosonic HMA's, yes, yes, yes!"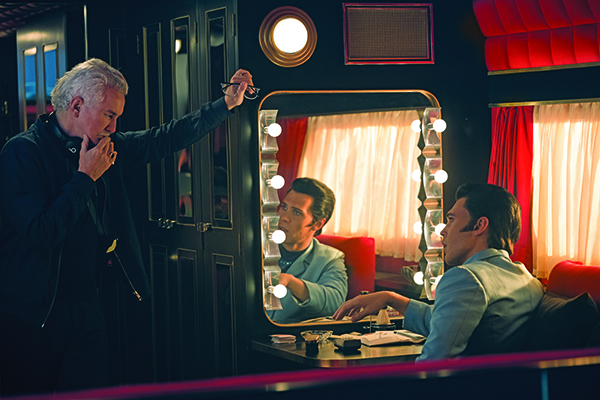 Changing topics, David explains, "The attention to detail was extraordinary and every single department was so good at their work. I describe filmmaking as a pyramid. You've got all the people making up all the crafts right down to the bottom; from the person that drives the cast, the Unit Department, extras casting, they're all there, and they all come together right up to the top of that pyramid, where the director calls action. All the musicians were ready to go, they knew their part. They've been rehearsing, everybody is rehearsed and it's extraordinary how all these details just come alive on, 'Action!' Wonderful stuff. Extraordinary."
Describing his working relationship with Director Baz Luhrmann, "You actually don't get too close to him. He's somewhat of an island, Baz comes in and then he is gone, busy, busy, busy. He challenges you. There's no question about that. Just a few words, an idea and then bang. Baz would work closely with Elliott Wheeler (Musical Director) and Jamison Shaw (Co-producer). They would bring that info to Wade, and me, and we would bring it together on set. We were allowed time to do what you needed to do.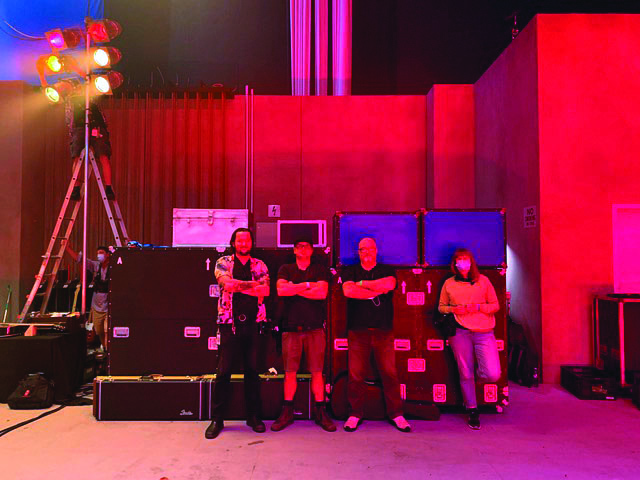 If there was a problem, you'd have to try to get Baz's attention. Baz's assistant would always find it entertaining when I'd come up and want to talk to Baz, because you have to duck and weave and wedge your way in between his thought patterns. Otherwise, he doesn't see you, he might be looking right at you, but he won't connect. But if you can duck in between a thought pattern and get your request in, he'll go, "Yes, I understand David, totally. Just let me get this one and we'll do another one for you.
"He is quite amazing; his focus is solid, he knows stuff down the track that you're not aware of. He's got three or four cameras on stuff and so sometimes even the cameras or lights and boom operators are in shot. Baz keeps on rolling. 'Okay, do it again, roll it again.' He doesn't cut the camera until finally, 'Okay, got that, we're moving on.' It's about the big performances, it's just fantastic.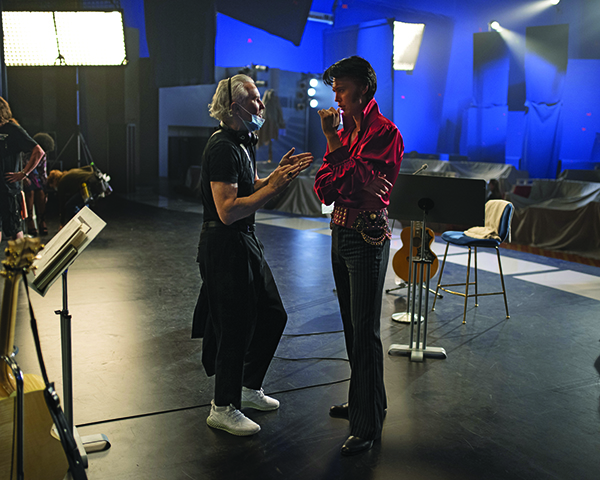 "One thing that always sticks with me is when we arrived to do the sound testing. We did all the technical stuff and got ready, and then a couple days into it, we had earwigs to test. Austin was in for some costume tests and then we did the whole thing; we did playback, we had our Elvis in front of us for the first time. That was mind-blowing, how dynamic, the energy that he had just on that rehearsal, dressed as Elvis was extraordinary. Once we cut, everybody just went, OH, and broke out in applause!"
Elvis was released in the United States on June 24, 2022, and to date has grossed $287 million worldwide. The film won "Best Sound" at the AACTA Awards (Australian Academy of Cinema and Television Arts) for Andy Nelson, Wayne Pashley, Michael Keller, and David Lee.