by Richard Lightstone CAS AMPS
There is a new buzzword, DANTE. It's a networking protocol and it is quickly being integrated into many Production Sound Mixers' workflow. Full disclosure, I am a Dante user, which I had to license by purchasing a Dante-enabled product.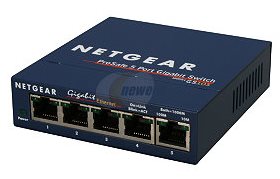 Dante is owned by Audinate, an Australian company, the seeds of which were sown by some former employees of the Motorola Research Labs, shuttered in 2003. Co-founder and Chief Technology Officer Aidan Williams explains. "I was constantly connecting my synth to a mixer, to a sound card, MIDI cables, all sorts of different connections," he recalls. "To me, it seemed like a networking problem. Why make all those different connections when you could integrate it into a single network?" In 2006, David Myers joined Williams to form Audinate
Bruce Jackson, Vice President of Dolby Labs' Live Division, an early advocate, made the Dolby Lake Processor the first Dante-equipped professional audio device to be used at a performance of Barbra Streisand in Washington, D.C., in 2008. That same year, Lee Elison joined the company, opening its US headquarters in Portland, Oregon.
Dante has played a role in numerous mission-critical events; from the 2010 Winter Olympics in Vancouver, the Pope's appearance at World Youth Day in Sydney, to hundreds of concerts by major music performers. There are more than 170 manufacturers who have partnered with Audinate, representing more than five hundred different products that are Dante-enabled.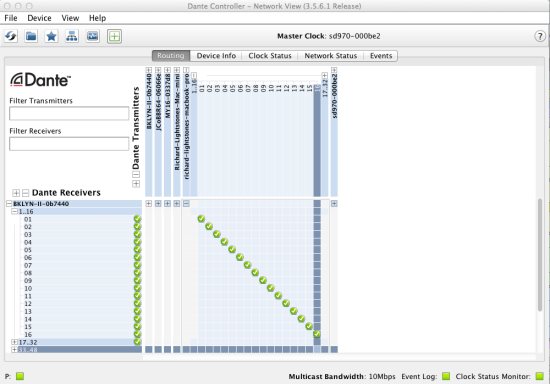 How Dante works?
In its simplest form, Dante is a protocol for communicating multiple audio channels over standard Ethernet and IP networks. Audio signals between Dante-enabled devices are routed using Dante Controller software. In the analog world, audio connections are point-to-point and individual copper cables representing each channel. In Dante, the physical connecting point is irrelevant as long as all the devices are connected to the same network, audio signals can be made available anywhere and everywhere. Patching and routing are configured in software and not over physical wired links. Depending on the application, Dante allows up to 512 bidirectional channels of audio to be sent and distributed over an Ethernet network, using CAT-5e or CAT-6 cable.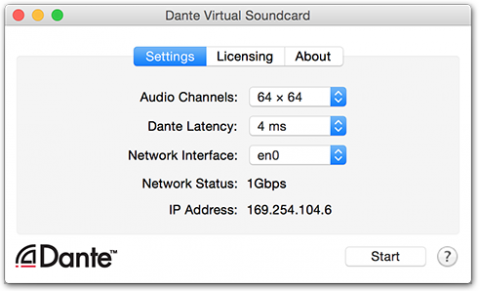 Dante was built to work on Gigabit Ethernet, so it already rides a fat pipe. Those 512 bidirectional channels can be sent on a 1Gb link, uncompressed, 48kHz, 24-bit audio. Latency can be as low as .25mS. One link can simultaneously carry audio with different sample rates and bit depths. You can also set up a system with multiple network zones, each with a different latency to match the needs of your equipment.
There are other AOE (Audio Over Ethernet) protocols available. The most popular are:
CobraNet
Peak Audio developed CobraNet in 1996. It accommodates up to sixty-four bidirectional channels of audio over a single CAT-5 or fiber-optic cable. You aren't going to get advanced features like self-configuration, bandwidth adaptation or error correction. Since it's a digital signal, equipment does have the ability to process the audio, but that's a function of the manufacturer's gear, not CobraNet itself.
MADI
MADI (Multichannel Audio Digital Interface) was an AES standard protocol, developed in 1991 and further improved by AMS Neve, Solid State Logic, Sony and Mitsubishi. It is a unidirectional (point-to-point) approach that allows up to sixty-four audio channels over coaxial or fiber-optic cables and less commonly CAT-5 from a few manufacturers.
How to use Dante?
Simply purchase a mixing console and recorder that has Audinate Dante available. Consoles such as the Yamaha 01V96 and 01V96i have a single-card slot to accommodate a Dante card. There are many other consoles that do the same; Behringer, Allen & Heath and the Soundcraft Expressions and Performer series to name a few. Many manufacturers have Dante built in like the Yamaha QL-1, the Sound Devices PIX 260i, the 970 and the Cantar X3.
Dante devices have a primary and secondary port for redundancy, meaning, there are two identical but separate networks providing a failsafe if one of the networks fails. You can disable Dante Redundancy Mode and use the second port to connect to another Dante-enabled device.
Daisy-chaining Dante devices can be done, with caution, but it is recommended to use a Gigabit Switch in a "star" topology to connect to multiple Dante devices.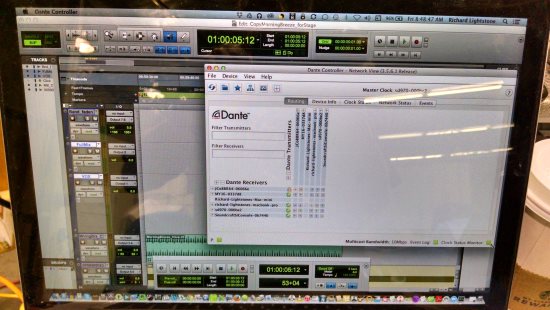 Gigabit Switches
Gigabit Switches are just that, multi-port switches that can handle high-speed audio traffic with excellent management, often called QoS or Quality of Service. Some of us are using simple 5-port switches, such as the Netgear GS105, which retails for around $40 and can be powered via 12 volts. Others prefer the Cisco brand, starting with eight ports and up. Whatever you purchase, make sure they are not EEE (Energy Efficient Ethernet), also known as Green Ethernet. These units will reduce power to individual switches during periods of low network traffic, resulting in poor synchronization and even signal dropouts!
Dante Controller will also work with other DAW software like Boom Recorder, Pro Tools (9 and up), Logic and Cubase up to sixty-four channels. This is achieved via Dante Virtual Soundcard software.
Dante networks are not restricted to digital consoles and peripherals. You can connect analog equipment to Dante interface boxes that do the A to D conversion.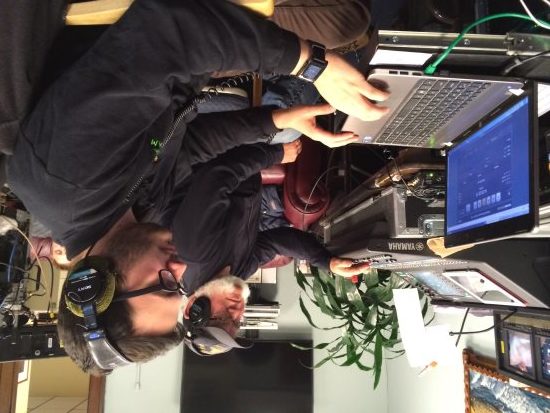 DANTE SETUPS
Brett Grant-Grierson CAS and Joe Foglia CAS
Production Mixers Brett Grant-Grierson CAS and Joe Foglia CAS have similar setups. With the Sonosax ST8D console along with his Sound Devices PIX 260i, Brett has the ability to record twenty-six channels on the PIX.
Brett uses the Lectrosonics BOB Dante interface as well as the Shure SCM820 8-channel IntelliMix automatic mixer. "The Lectrosonics BOB Dante interface gives me 8 I/O via Dante to the PIX 260i. The Shure SCM820 IntelliMix has two auto mix features, Shure's IntelliMix and the Dan Dugan automixer, both assignable to the A&B outputs. I use the Shure SCM820 for all the additional cast members and prioritize by the amount of dialog in a scene and then assign the cast with the least dialog to the Shure inputs. All the tracks are iso'd on the PIX 260i, including the auto mix outputs via Dante. I take one of the line outputs from the Shure into the Sonosax, and this gives me the ability to include the automixed cues into my production mix. I can have 26 tracks assigned on the PIX 260i; 8 from my Sonosax AES outs, 8 via Dante BOB and 10 outs from the Shure SCM820 (8+2 Mix)."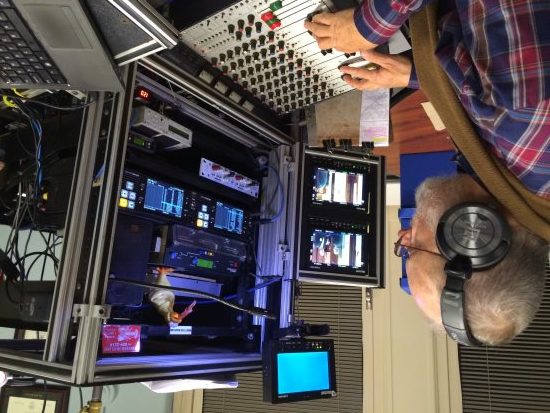 Frank Stettner CAS
The setup used on Show Me a Hero involved Frank Stettner's main cart and an additional sub-mix setup. This configura tion was used for all city council scenes. Frank's cart had an 8-channel Cooper CS 208D mixer feeding a Lectro BOB. The BOB then fed into two Sound Devices 970s. The sub-mix used a Yamaha QL-5 and a RIO1608 stage box.
Practical mics on camera fed into the RIO1608D off stage. The RIO fed the QL-5. Larry Provost, the sub-mixer, was able to create a sub-mix that fed into a single channel on Frank's Cooper. Frank was able to mix the single channel in for synching dailies. This was the only analog link between the two setups. All other interfacing between the two setups were done via Dante. The 970s on Frank's cart were able to record all iso's from both his Cooper and the QL-5.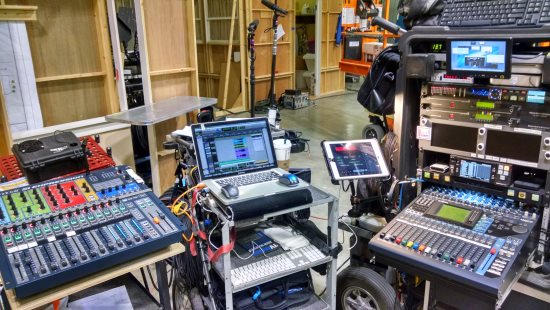 Richard Lightstone CAS AMPS
My Dante setup on my main cart is the Yamaha 01V96, the Sound Devices 970 and the JoeCo BBR Blackbox Recorder as backup. I use my cart-based Mac Mini to run Dante Controller and the Dante Virtual Soundcard to Boom Recorder, which is open but only as a failsafe recorder. I also have a Soundcraft Expressions 1 console with a Dante Card for music playback. I run Pro Tools on my MacBook Pro routing the outputs directly to the Soundcraft channels via Dante. The Soundcraft's Secondary Dante Port is connected to my main cart, where I can route any Pro Tools stem to my 970. Usually the Master Mix and Playback Timecode.
Here is an example of an interesting solution made simple by Dante Controller. I had a wireless connected to the output of an electric guitar for a scene. The wireless is routed to my Yamaha 01V. I was able to also route that signal to a channel on the Soundcraft, where it could be folded back and heard over the playback speakers. This is all done with two CAT-5e cables between the playback setup and my main cart. Elegance in simplicity.
The use of your Dante setup has multiple possibilities beyond the mix cart. Audio signals can be received or sent into different sets, rooms or floors. Audinate has new software they are just rolling out called Dante Via, which will allow different computers and their peripherals, whether it is audio devices or hard drives to all be connected as long as they are on the same network. The software works with Windows 7 (SP1) through 10 and Apple OS 10.9.5 through 10.11. Dante Via enables any USB or Firewire audio device with network connectivity, allowing you to easily expand your Dante system with hundreds of available products. Connect your device and check "Enable Dante" in the Dante Via interface, and it's ready to connect with your entire network, unrestrained by short cable runs. It will discover all connected audio devices and applications and give you intuitive drag & drop interface for connection management, including routing audio from different applications to different locations at once. Imagine sending your live ADR, voice-over or wild line session directly to the picture edit suite or the Mix stage?
Peter Schneider of Gotham Sound & Communications, Inc., says it best: "The ability to 'expand on demand' without fuss is a feature unique to Dante. Any traditional cart can be expanded to accommodate a great number of sources, but no system can do it across such a broad range of manufacturers as easily as Dante can with one CAT-5 cable."
I want to thank those who helped me in 2014 to set up Dante; Phil Palmer CAS and Scott Harber CAS, as well as Mike Paul of Location Sound Corp, who assisted me with background for the article.