by Eric Pierce, CAS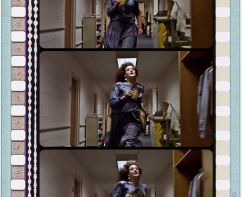 Remember the scene in the 1987 film Broadcast News, with Joan Cusack in a mad panic, risking life and limb as she runs frantically through the broadcast studio with a videotape in hand? With seconds ticking, that was the only way to get a videotape clip to the tape room in time for the live broadcast. Thankfully, "sneaker net" has now been replaced with high-speed networks, capable of delivering huge quantities of data where it's needed and when it's needed. In the fast-paced world of live and live-to-tape television production, speed is the key to success. Producers have turned to high-definition media servers, such as EVS and the Grass Valley K2, to maintain the pace.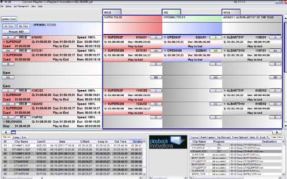 Local 695 video engineers and operators have been at the forefront of this technology, developing software and hardware interfaces to meet this need. Rick Edwards developed the ProQue system to control the import and export of clips, and to organize playbacks, including multiple playbacks in sync. Another media management system is Pi, www.playback innovations.com, developed by Local 695 member Jon Aroesty. The Pi system boasts that it can display an alert to the operator when files have been pushed, and generate multiple email updates to keep the post supervisor informed or even alert an onset producer that a clip has been delivered and is ready to roll Network servers are typically configured with multiple channels of high-definition video, each with four channels of 24 bit, 48k audio. An operator has immediate access to multiple sources that can be sent to a variety of destinations, such as multiple onset monitors, video set dressing and switcher feeds for integrating playbacks into the show. Large-scale awards productions like the Oscars, Grammys and Emmys, rely heavily on servers for set dressing and onset monitors, while also utilizing them for the instantaneous playback of multiple cued playbacks upon announcement of the winners. Previous to server playback, this was done with banks of individual tape machines all lined up and sitting at a cue. Originally, the correct tape machine would have to be rolled, and then later, when tape machines had RS-422 protocol, they would roll all tape machines, allowing enough time for them to get up to speed. The correct machine would then be selected at the switcher and pulled up at the sound board for mixing into the program. Imagine that with 10 nominees!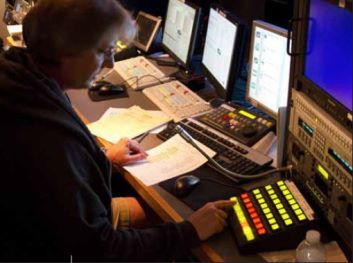 Data servers have the significant benefit of being able to connect to a high-speed Ethernet or fiber network for file transfers. This allows the operators to push elements from the stage to post-production, where Avid and Final Cut workstations have instant access to the files. And then post-production can push files right back to the stage from picture editorial or final mix. This is a clear advantage for live television, where very often packages are being edited right up to air time. Topical shows like Conan, Dr. Phil, The Doctors, Lopez Tonight, The Talk, etc., take advantage of networked servers to keep up with the pace these shows run. Clips and packages can be shipped from editorial and placed into a playback cue at the same time the show is being taped. In the case of Dr. Phil, the operator can record the program and save clips and, when Dr. Phil catches one of his subjects changing their story, he can say: "But earlier in the show, this is what you said!" and the clip is instantly played for all to see.
Using servers to ingest live feeds from the stage, then exporting them via network to the post-production servers, yields a huge time and cost savings. This gives editorial instant access to all the show elements which allows them to start cutting right away, making it possible to work on extraordinarily tight schedules that can sometimes allow only a matter of a few days from acquisition to delivery. Local 695 member Al Adams, one of the recordists working on Dr.Phil and The Doctors, tells us that once they complete the transition to full server acquisition, the show will save $20,000 to $30,000 each month in tape stock alone, not to mention the time saved and the creative choices made possible by using these advanced technologies.
And Joan Cusack? With high-speed servers delivering the content for her, that video clip would have made it to air and she'd still probably have time for a latte.