A Conversation with Willie Burton, Douglas Shamburger, and Rene Defrancesch
by Richard Lightstone CAS AMPS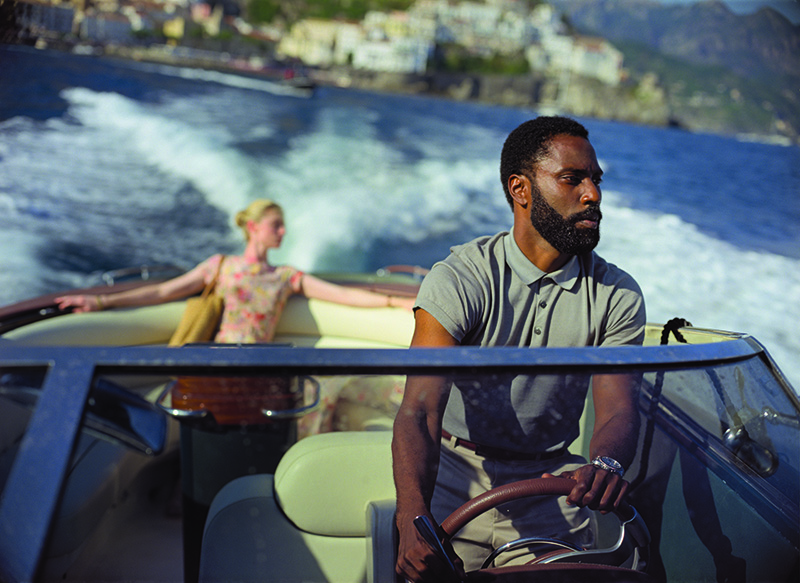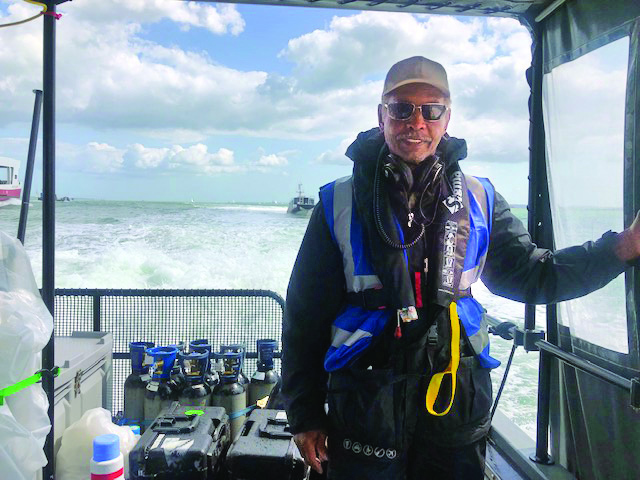 The release date of Christopher Nolan's Tenet was delayed three times due to the COVID-19 pandemic, and finally reached screen audiences in the United Kingdom on August 26 and the United States on September 3, in IMAX, 35mm, and 75mm. Tenet opened in over fifty territories worldwide and was available to about eighty percent of the screens in the U.S., among the forty-five states that permitted indoor viewing. Unfortunately, moviegoers in both New York City and Los Angeles were denied the opportunity. To date, the film has grossed three hundred and forty-one million dollars, which demonstrates the enthusiasm audiences have for a Christopher Nolan film.
I had the privilege of speaking with Production Sound Mixer Willie Burton, his longtime Boom Operator Doug Shamburger, and Utility Rene Defrancesch in Atlanta, New Mexico, and Glendale respectively.
Willie, Doug, and Rene began to describe the nearly five-month shooting schedule with the seven countries they filmed in. It went like this:
Rene: We started in Estonia. We went from Estonia to the Amalfi Coast in Italy, then to London, from London to Oslo, Norway, and from there to… Do you remember the name of the city in Denmark? I can't remember the name of that city.
Doug: Copenhagen.
Willie: We were in Southampton right before London.
Doug: Yeah, the Isle of Wight. We were shooting off the coast. And we forgot Mumbai, India, that was another…
Rene: And then, of course, Indio, California, and Victorville.
I counted over forty-three locations in all, basically it was Tenet—the World Tour. The initial interview with Chris Nolan went well for Willie as he explains, "I did say one thing, that I'm a little old school/new school, and I think he liked that because he likes the old school way." Doug picks up the conversation, "It was really bizarre. We were doing a scene on stage and I come out with the wireless boom, 'cause it's a dolly. We're dollying backward in the corridor with two actors walking and talking, and Chris looks down at me and doesn't see a cable, and says, "You're not hardline? I like to do hardline sound, I don't like the compression from wireless."
From that point onward, their department had microphone cables, lots of cable. Rene explains, "It's easy to get a cable in there, you're not worried about it too much. But there were a couple of takes in a couple different countries where we're in a big open space, and a ton of background, and crew members working, and we got hundreds of feet of cable out there, and just people dodging it."
Doug Shamburger continues, "While I'm back-pedaling, Rene is pulling my cable with two or three other PA's all trying to help, as we're doing a Steadicam shot. It was quite a feat." Willie adds, "Also there were times in long dolly shots that I had to dolly my sound cart, pulling the sound cart and mixing. Rene and a couple of other people are helping him out pulling cables, and I'm dollying at the same time. Chris Nolan looks around at me and he says, "That wheel on your dolly's makin' more noise than anything." "We did what we had to do, and there were times that I had to go portable, while doing three sixty shots. Doug and I, we're dancing around, I'm running with the recorder on my shoulder and Doug is getting the boom in there. We made it work because that's how we used to do that old school style. It was great, it sounded good."
Willie and his team often had to wrap the gear at the end of a long shooting day and get it ready to ship to the next location, usually another country. "We worked a lot of hours," says Willie, "we would be in one location sometimes just three days. I think, in Oslo, we were only there for a couple of days, we would finish shooting and we would have to wrap the equipment, and get it ready to ship that night. Then we would go out the next morning. It was a lot of hours spent packing, and unpacking equipment, getting ready to ship."
The entire schedule was not always like this. They spent six weeks in Estonia, filming in Linnahall, shooting a complicated car scene. Willie spent the bulk of that time in the chase vehicle with rooftop antennas, as well as a Deva Fusion in the picture car. The actors wore wires, as well as hard-wired mics in the vehicle. They also filmed in Tallinn, which doubled for the Opera House in Kiev. Then there was a three-week stint at the Amalfi Coast, in Italy filming on the luxury superyacht the Planet Nine measuring just over two hundred forty feet long, it has six decks and its own helicopter pad.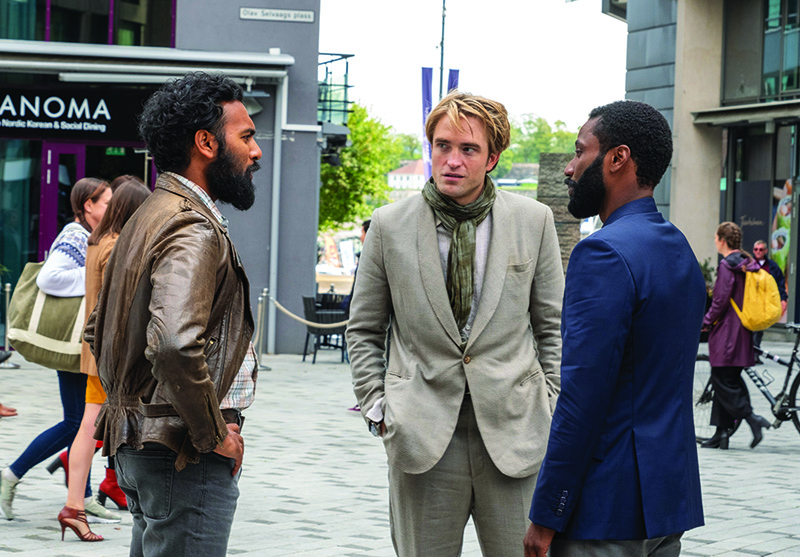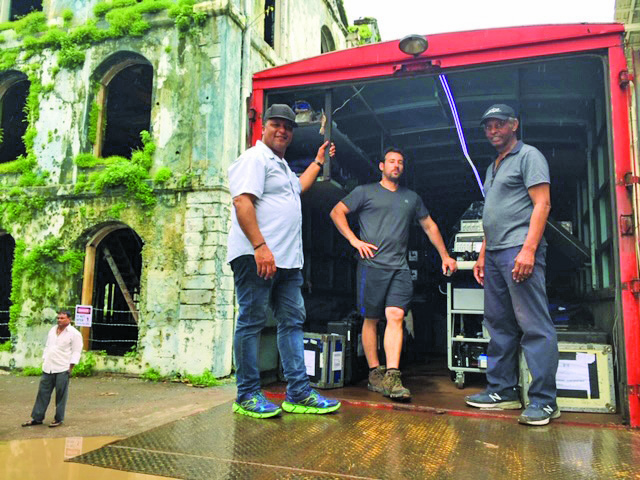 In South Hampton, England, they filmed a complicated speedboat race scene. Willie describes the challenges, "The boat had to be launched by seven o'clock. So Rene and I had to arrive at six to wire the race boat with my Deva 5.8, set it up, and test it out. We used a quarter-watt transmitter at the stern of the boat in order to transmit the sound to the chase boat that we would be on. I would turn on the recorder and from seven in the morning, it ran the whole time until the boat got back in. The Deva on the picture boat transmitted to the chase boat, where I was also recording the dialog. We used the headsets worn by the actors on the speedboat. The speedboat could go much faster than our chase boat, so sometimes they would take off and we'd be trying to catch up. There was so much wind and water hitting them, it was pretty incredible and very challenging. I think we did a really good job on that." They also had a mock-up of the hero speedboat attached to a picture boat, where Doug was able to boom the dialog, of course hardlined.
As in all Christopher Nolan films, the plot is complicated, with many scenes where the characters move forward and backward in time, as well as wearing breathing masks. Rene explains, "Because of the nature of the story, you needed a specific type of oxygen. Whenever you were in reverse mode, they had to have oxygen to breathe."
Fortunately, Willie and his crew had time to prepare how to mic the masks. Willie said, "We did research with Trew Audio and also Location Sound, and found that the Sennheiser lavalier was the one that had the lower sensitivity. There was a tube that came from the mask to their body, and we would mic the very end of the tube, it worked fine. This was based on all of us testing and testing." Rene adds, "It had to work with the masks, you couldn't hear the actors clearly with the boom. This is probably the only time Chris accepted the use of wires on his show."
Every few days in prep, Chris would have meetings called "results meetings," with every department attending. "The wardrobe department would let us have the mask and the helmets to take with us," explains Willie, "Rene and I would be doing tests, as Chris allowed us to work a couple of days testing while they were doing camera tests. It made it so much easier because without that, you start a shoot and you're cold. We had time to figure it out, which was really most important."
Nolan filmed with 70mm cameras and Willie and crew also assisted in engineering blimps for the IMAX camera. It knocked the camera noise down slightly, but Cinematographer/Operator Hoyte Van Hoytema would hoist the IMAX camera on his shoulder doing it handheld so the blimp proved too cumbersome. Doug Shamburger would have the actors re-enact their movement and dialog immediately after a successful shot to capture a clean performance, wild.
Willie Burton prefers the Zaxcom Deva, with a Fusion, two Deva 5.8's and a Mix-12. His wireless are Lectrosonics, with a varied mixture of microphones; Sennheiser MKH 50's, and the Schoeps CMIT 5U, whatever is best for the situation.
I asked them how it was working with Christopher Nolan. Their first comment is that Chris does rehearsals, which allowed them the opportunity to figure out how to boom the scene effectively.
Willie elaborates, "You just have to be prepared with Chris. Chris works hard, he's always there and you have to pay attention to what he's doing, 'cause he'll change things. Thanks to Doug and Rene, who were always there diving in. We could be shooting in one place, the next thing is, oh, we're over here. But we had everything that we needed. One thing I can thank Chris for is that he took me to scout on all the locations we were filming, all the department heads and now how cool is that!"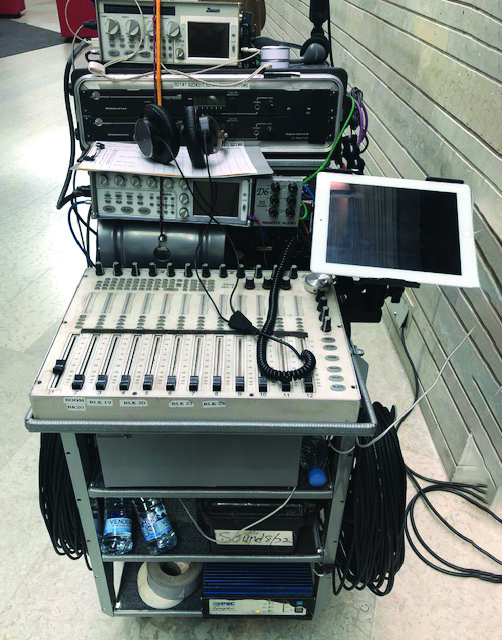 "I had this large sound cart, this huge sound cart," continues Willie, "but by being able to scout the locations, I sized down to a very small cart and now I would never go back to my large one. It's small and very simple, we could pick it up, move it around, it really paid off."
"There's no way you can't know what's going on 'cause you're standing right next to the man," explains Doug, "I'm talking rain, sun, he's standing, we're all in the rain, he's got his hood off and the rain is pouring down, while he's looking at these little monitors, these little Casio monitors—was the only video village to speak of, and that was around his neck. When you're right around camera, he's standing all day, so if anything, you feel like a soldier, and you're gonna stand right there next to him shoulder to shoulder with the dolly grip, the DP, a Camera Operator, the First AC, all the immediate people that are primarily involved. It's just an old school way of doing it, but it's quite effective. I felt that's the way movies should be made, not fifteen- to twenty-minute takes where no one can reset or adjust. Chris's takes run three minutes, four minutes, five minutes, and then we make our adjustments afterward, and improve upon the next take."
Rene continues, "There was no video feed, but Willie was often close enough that he could see the action." Doug jumps in, "There's a sense of camaraderie working on a Chris Nolan movie. He's a foot soldier, he's right in the trenches with you. There's just such teamwork. You're out there, you may be on a boat with a camera, the camera operator, focus puller, we're handing mags over to load the camera. We're all tugging on the same rope trying to make this quality project and it's just really a unique set of circumstances. Chris Nolan sees, he sees it all and he's watching how we all work collectively.
"No one's disconnected or looking at their phone," says Doug. "You're totally one hundred percent vested in every given moment throughout the course of a twelve- to thirteen-hour day. He's right there with you, and he's got a good sense of humor too. We laughed a lot. Throughout the course of the day, he's not uptight, but he's no nonsense. Chris jokes around, with a dry sense of humor, but he's still right there, making it. It was really an adventure."
Willie sums it up: "Obviously, it's a challenging film and when you're working with Chris, it's very challenging. But we all lived up to that. Some films are simple, you're mixing two or three faders and that's all you do. I like the challenge of figuring it out to get the best possible sound and I like the way Chris works. He's definitely demanding, but that's how it should be. I think as a department head, you go to work to give one hundred percent, that's how Chris works, he won't ask you to do anymore than he would do. You do a movie like this (unfortunately, I haven't seen it), but the end result is the most important thing that counts. For me, the performance is in the voice, and when it clicks, it's very musical."