by Ric Teller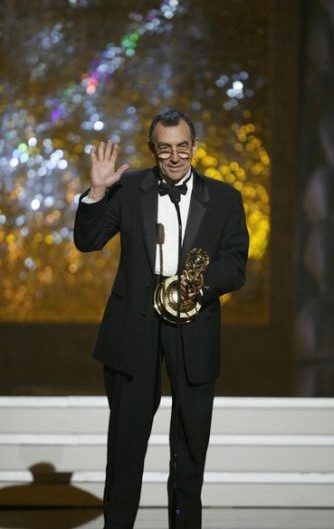 Ed Greene worked in the audio profession for more than sixty years. His many career accomplishments have been universally celebrated. Ed had a far-reaching influence as an audio engineer and had an even greater impact as a colleague and friend. I have asked some of those friends from the television community to share stories about the man whose life touched and affected so many of us.
After serving his country in the Army, Ed opened a recording studio in Washington, D.C. One of his achievements of that time was the seminal recording Jazz Samba, by Stan Getz and Charlie Byrd. In the early 1970s, the great recording engineer, Val Valentin, brought Ed in on what would be his first television mixing experience.
Here is a story from Jeffrey Fecteau:
I was very fortunate to be Ed's lead A2 on his first television show. I think it was 1972. He had just finished recording and mixing an album for Frank Sinatra announcing his coming out of retirement, called Ol' Blue Eyes Is Back. He was asked by Frank to oversee the music mix on a TV special with the same name. Another audio engineer had been hired to mix the music for the TV show. Ed was in a production meeting with Producer/Director Marty Pasetta and staff. When Marty was explaining to the TV audio engineer how he wanted the PA, Frank's monitors and the orchestra laid out, the other engineer told him it couldn't be done, which led to a heated debate. At this point, Marty turned to Ed and asked if it could be done. Ed said yes. Marty asked him if he would be willing to take over the show. Ed said yes. The other person was relieved of his duties. That was how Ed started his career in TV. And that was the beginning of a very long and blessed relationship between us. I worked with him on most of the major events and Emmy Award-winning shows that he mixed. He was a truly kind-hearted man and a great friend. He will be sorely missed.
In 1981, Ed helped to form Greene, Crowe & Company, the premier television mobile facilities provider of that time.
Charles Fernandez shares these kind words:
Our business has lost a true icon, a legend and a kind, quiet gentleman. Ed Greene was one of the finest men I've ever known. I will always remember him pulling his van up to the mobile unit to drop off gear or walking up the backstairs to the audio booth with a piece of equipment under his arm. His work ethic was like no other, something he has passed down to his kids.
I was one of the very few fortunate ones to have the pleasure of working at Greene, Crowe & Company for fifteen years. Ed always had a smile. We often enjoyed talking about our families.
His life was filled with some of the most incredible accomplishments. I loved to hear his stories and he had many. He was the master of his trade and will truly be missed. God bless you Ed. Off to a better place. When the trumpets sound off in heaven, no doubt Ed will be at the mixer. Love you, my friend.
Thoughts from longtime friend Murray Siegel: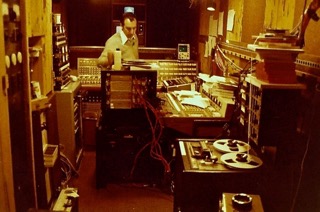 His embrace of new technology, new techniques and new ideas was an inspiration. He faced challenges with assurance and rarely failed to come out the other side with a smile.
But even more impressive was his willingness to share what he learned. Above and beyond equipment and tools, he didn't hesitate to take a chance on someone new. I was an elementary school teacher. With his kindness and help, I became a "sound guy."
Ed is defined by his curiosity and his generosity.
The way I think about production, the way I work, the man I am, all are informed by having worked with and watched Ed Greene.
This is his legacy.
He was a pioneer, a mentor, a colleague, a friend. Our lives are not diminished because he's gone. Our lives are richer because he is in them.
Some thirty-five years ago, I was working on a show mixed by another audio icon, Ken Becker. It was among the first live-music shows mixed in stereo at KTLA. To make sure things went well, the production company brought in Ed as an advisor. That was the first time I worked with him. Ken later remarked that it was like working with a lifelong friend he had just met. I wish I could go back to that audio booth and listen to the two of them tell stories.
Fred Tator relates this one that Ed told while they worked together at Complete Post.
Ed was in a small village in Eastern Europe shooting something or other. The people of the village were very kind. They fed the crew dinner and breakfast each day. In the morning, they had fresh eggs and bread. In the evening, they had some kind of meat that had a strange taste. Ed said he couldn't figure out what it might be. It wasn't quite beef or veal. It wasn't quite pork. So he called it "vork." The last evening there, the host asked if there was anything special the crew would like for dinner. They said some chicken would be nice. The interpreter told the hosts and the hosts gave them a weird look and then got to work preparing the dinner. The chicken was delicious. The next morning at breakfast, there was only bread. When asked why there were no eggs, the host gave them a look like you can't imagine. Apparently, those breakfast eggs came from the chickens they had eaten for dinner.
Fast-forward to our last visit with Ed in rehab. The TV was on and Ed said in a whisper that he was bored. I said I bet you'd like to get out and get something to eat. Again he whispered, "Mexican." I said, "How about some vork." With that, Ed gave us a nice big smile. We said our goodbyes. And that's my last image of Ed.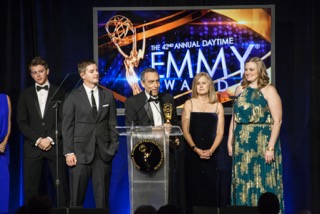 "Kennedy."
Everyone has great stories of working with Ed. Many are humorous. Some brief reminiscences are recorded on the rack room walls at the Shrine Auditorium in Los Angeles. My favorite, a quote from a PL conversation: "I can't talk! I can't talk! I can't even listen!" Even in chaos, there was humor.
Andy Strauber recounts these memories:
I will always remember two things about our Mr. Greene.
When we first met, sometime last century, I was always amazed by the fact that he never seemed to label his console. No matter what show it was, there were no Ed Greene labels on however many desks he was using for that particular show. If there were any labels at all, it was because the truck engineer had started patching the show based on the paperwork (from some other version of the same show) that Ed would produce.
The other thing was how we would end music. We never just cut it off. When the producer or director wanted the music to end, we always took it out as if there was a band playing. "Wait for it," Ed would say.
Most directors did not even notice what we were doing. They just wanted the music to end. But Ed wanted it right. And it made a difference.
Long hours, short turnarounds and red-eye flights were all part of Ed's work life. Mark Weber remembers:
In the eighties, we were doing a shoot for a week with sixteen-hour days. I was amazed to find that, even though I arrived a half-hour before the call, he had beaten me to work. He did the next two days as well. I remarked to Joe Kendall that I got in early to beat traffic, and no matter how early I came in, Ed always beat me to work. He said, "That's because he's sleeping underneath the console." I said, "Oh." That thought hadn't occurred to me.
Patrick Baltzell shares this story: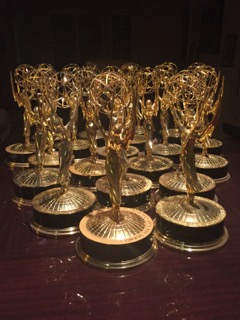 One of the many interesting projects that I did with Ed Greene was the Opening and Closing Ceremonies for the 1996 Summer Olympics in Atlanta. We were on site rehearsing and recording the musical elements for three weeks. These types of projects are primarily track playbacking, including the performances, underscores, announcements and voice-overs. The Opening Ceremony was four hours of continuous tracks. During the rehearsal process, dozens of edits are required to correct timings of cast movements, etc. Ed was using a brand-new Akai DR16 digital recorder for this project. The night before the Opening Ceremony, Ed was making some final edits and the Akai DR recorder failed. The memory limit had been reached and the music files overwrote the operating system files. No warning and no protection of the OS had been written into the software. Ed Greene and his assistant, Dave Farragher, stayed up all through the night to rebuild the four-hour show from the source reels and all of the edits and "pull ups" done from memory. The rest of us mortals would have written this off as a career ender. Not Ed Greene.
When I asked a few people to contribute these memories, it was clear that the personal relationships forged were deep and true.
From Debbie Fecteau:
Ed Greene: Mentor, Father figure, friend. Ed was a man who took a chance on me, and to him I owe my entire career. He taught me so very much and, at the same time, always had an ear to listen and give me not only professional advice, but personal life advice as well. Many long days at work, coupled by many laughs and many memories made. I will always be grateful for all he taught me in all aspects of life. Thank you, Eddie, for everything. And, a huge thank-you to his family for sharing him with us all these years. He will be missed very much by very many.
Sean McClintock reflects:
I've spent a lot of time thinking about Ed Greene since I heard of his illness, and really realized how important he was to me, both professionally and personally. I first worked with him almost thirty years ago and was told he was a legend in the TV audio business. I fully expected him to treat me like the wet-behind-ears, inexperienced, too-bigfor- my-own-britches kid I was. He didn't. He treated me with respect, kindness and generosity, as he did everybody I ever witnessed him interacting with. He always had time to answer a question, to tell a funny story or relate experiences from his remarkable life.
He essentially invented how entertainment TV audio is done, and none have ever done it better. Everyone who's ever worked with him has stories of him mixing incredibly complex shows with orchestras, pop bands and production elements by himself, with consoles stacked up around him and leaning up against the walls of the control room. And with frightening few notes and labeling!!! When he left the Capital Concerts, it literally took five people to replace him (no offense if you guys are reading this, he just really was that good!).
As great as he was professionally, he was an even better person. Always funny, always with a great story he told so well, and always genuine and sincere. Thanks, Ed, for all the great times, and all you taught me. It was a privilege to know you and work with you. All my love and thoughts…
Not long before Ed passed away, I was privileged to visit him. He was not in great shape; health issues were apparent, but he greeted me warmly, then asked, "Are you on hiatus, too?" Although his breathing was labored, we had a good conversation. The room was noisy with hospital machines and visitors; The Chew, a daytime talk show, was blaring from his television. After a few minutes, the segment was winding up, and one of the hosts threw to a break.
Now, I swear this next part is true. Without looking up, Ed's right foot flexed to press down on the applause pedal taking the show to commercial. I could only smile.
After about twenty minutes, he was getting tired, we said our goodbyes and he closed his eyes. I sat quietly until he fell asleep, then I thanked him for everything. I didn't think it would be our last visit, but I am very grateful for that brief time.
I can't tell you how many shows I worked with Mr. Greene. It was a lot.
And not enough.
Thank you, Ed. I will always be grateful for the way you shared your knowledge, making me better at my job. But even more, I will be forever grateful for having such a kind, gentle, decent friend. We all will.