ATSE Statement on Sexual Harassment
in the Entertainment Industry

As a labor union, we were founded upon equality, respect and fairness for all people. We commend the many who have courageously shared their stories of sexual abuse and harassment in the entertainment industry, and we absolutely support their right to speak out. Members are always encouraged to contact their union or the IATSE Safety Hotline (844 IA AWARE / 844-422-9273) if they are in a situation that feels wrong or unsafe.
This July, almost nine hundred Delegates elected to represent the IATSE membership convened for the IATSE International Convention, the highest legislative and judicial body in the IATSE. The Delegates unanimously voted to adopt the following:
RESOLUTION NO. 16
WHEREAS, The IATSE has acknowledged the safety and well-being of its members to be of the greatest concern;
WHEREAS, The IATSE Equality Statement reads in part "IATSE leaders and members must be vigilant in working, both with each other and with our employers, to promote an equal and welcoming environment for all people, through our actions, attitude and language";
WHEREAS, No human being should ever be subjected to any type of sexual or physical abuse in the workplace;
THEREFORE, BE IT RESOLVED, That the Delegates to the IATSE 68th Quadrennial Convention condemn sexual or other physical abuse perpetrated in the workplace; and
BE IT FURTHER RESOLVED, That efforts be made to support IATSE members who report workplace abuse; and
BE IT FURTHER RESOLVED That the Locals of the IATSE will work together to inform members that such actions will not be tolerated and that anyone responsible for workplace abuse will be held accountable.
Convention Action: The Delegates adopted this Resolution. As required, the IATSE hereby reminds all local unions that the IATSE encourages and advocates for respectful work environments and adheres to antiharassment, anti-discrimination and anti-bullying workplaces. It further reminds Locals that the IATSE Equality Statement can be found on the International's website at www.IATSE.net/equality [2].
We recognize that sexual harassment in the entertainment industry is not a one-time issue to confront. IATSE leaders and members are continuing to actively work together and with the larger entertainment industry to advocate for safer work environments for everyone.
---
Social Media Committee Boom Operators Master Class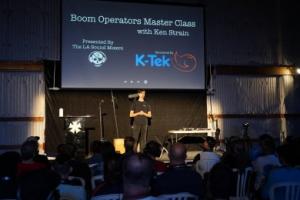 On August 6, 2017, the Boom Operators Master Class, which was presented by the LA Sound Mixers, sponsored by K-Tek and masterfully taught by veteran Boom Op Ken Strain, took place at the Local 80 Sound Stage in Burbank, CA.
---
Safety Pass Refresher Training Deadline Has Passed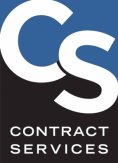 In order to remain eligible for work on the Industry Experience Roster, members are required to have taken two refresher courses by November 30, 2017. Beginning December 1, 2017, employers may refuse to hire individuals who have not completed the required safety refresher training:
• "A" – General Safety
• "A2" – Environmental Safety
If you took these classes AFTER July 1, 2015, you are NOT required to repeat the training at this time.
Both classes can be taken online or at Contract Services.
Info about Contract Services: www.csatf.org
Info about Safety Passport: www.csatf.org/safety.shtml
Online registration: https://portal.csatf.org/auth/login
Refresher Training FAQ: https://csatf.org/refresher_ training_faq.pdf
Call Contract Services: 818.847.0040 ext.1200
---
Welcome Local 695 New Members
Santiago Garcia Y-4
Erin Fitzgerald Y-8
Derek Mocarski Y-1
Eduardo Eguia Y-4
Peter Baigent A2
Nick Rumancki Y-1
Michael Sena A2
Kevin Culligan Y-7A
David Cook Y-1
Frederick Babson A2
Jesse Parker Y-1
Mateo Silverman Y-4
Chris Dwinell Y-4
Ben Kamm Y-1
Jimmy Xiloj A2
Thomas Fry Y-4
Samuel Tazartes Y-7
Zachary Alexander Y-4
Josh Gerson Y-1
Christopher Claypool Y-7A
Kevin Vermeersch Y-7
Herman Leijte Y-1
Jesse Dunham A2
---
Summer Mixer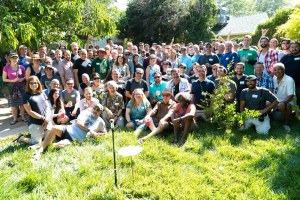 On Sunday, July 23, Chris Howland, Devendra Cleary and Steve Morantz hosted their annual Summer Mixer at Beau Baker's house. More than 150 of Los Angeles' production sound and video professionals converged on Baker's backyard for the biggest mixer west of the Rockies!
---
In Memoriam
CAROL TIPTON, Projectionist
December 25, 1952 – May 24, 2017
DON SHARPLESS, Y-1
January 8, 1933 – August 2, 2017