DARON JAMES
Daron James is a veteran journalist having written about the film and television industry for more than a decade. He's currently seeking the best sope in Los Angeles, California.

RICHARD LIGHTSTONE CAS AMPS
Richard began his career in Montreal, and continues to mix in Los Angeles. He is currently on the Executive Board of Local 695, a Co-editor of Production Sound & Video and former President of the Cinema Audio Society.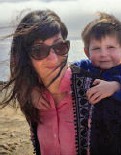 EVA RISMANFOROUSH
Eva began working in sound while attending college in Northern California. Shortly after graduation, she joined Local 695 and is working as a Utility Sound Technician in Los Angeles. She has been the Co-chair of the Young Workers Committee since 2014.

RIC TELLER
Ric Teller started in television at KTLA in the seventies and has been a freelance TV audio guy since 1985. He also is a pretty damn good baker. Here he is visiting the Hoover Dam.