News & Announcements
Local 695 Open House
In October 2016, Business Representative Scott Bernard and the entire staff at the office hosted representatives from the IA's West Coast office, Hollywood IA Locals, Contract Services and Labor Relations representatives from all major studios. The purpose of this invitational was to unveil the newly renovated building and showcase Local 695's continuous progress.
"The reception was a considerable success and a vital element in strengthening our working relationships in the industry." –Scott Bernard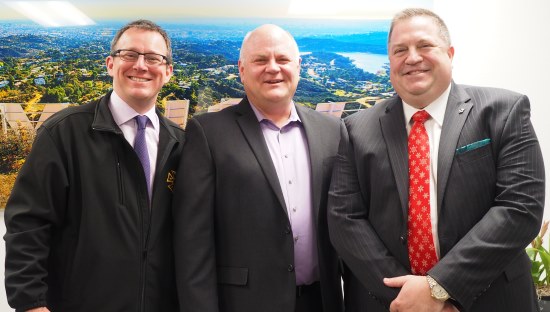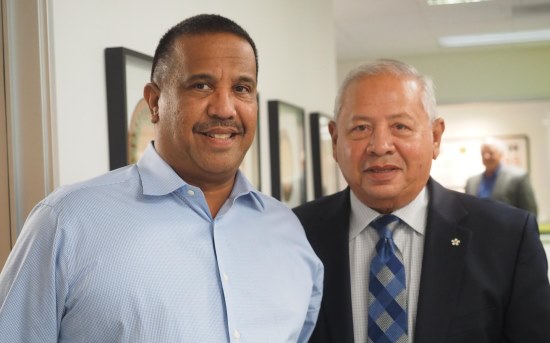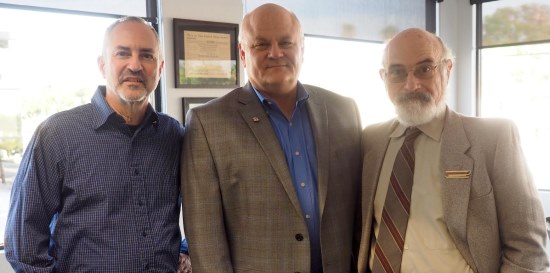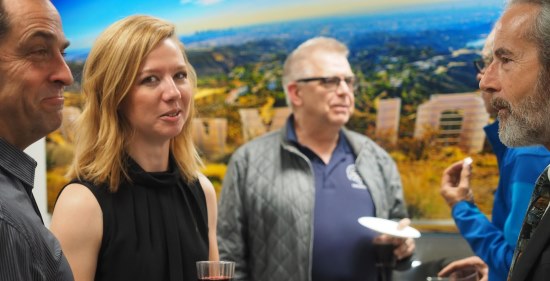 ---
Young Workers Committee
The Young Workers Committee invites you to join us on our Spring Hike on Sunday, March 12, 2017. All current & prospective members and their families are invited. It's a fairly easy hike with a beautiful flora and some stunning views. We'll meet at the Topanga State Park entrance, 20828 Entrada Road, Topanga, CA, at 9 a.m. For more information, contact ywc@local695.com.
---
Welcome New Members
Josue Pena Y-1
Jacques Pienaar Y-8
Brandon Walz Y-8
Chad Sonenberg Y-1
Garett Martocello Y-1
Johnny Camilo Y-1
Peter Beer Y-1
Daniel Kloch Y-8
Armen Allen Y-4
Kalo Tovar Y-7/SB
Janna Lopez Y-7A
Al-Zahir Born Y-7
Louis Molnar Y-4
Cody Peterson Y-1
Damien Tinsley Y-7
Sefer Turk Y-7
Olivia Arthur Y-1
Greg Mueth Y-4
Thomas Winch Y-1
---
Job Reporting
Job reporting helps us organize, and organizing creates more union jobs with the potential for:
• More opportunities to earn healthcare hours.
• More contributions made to fund our health plan.
• Higher monthly retirement pension.
• Bigger IAP (Individual Account Plan) retirement cash payout.
• Better work conditions.
• A safer workplace.
By adding your job information to our database, we get a more accurate picture of the workplace. We cross-reference member-submitted information with the contracts we have on file and with data provided by the IA. This helps us resolve problems you may have at work. It strengthens our position when dealing with Producers, and it provides crucially important information when the time comes to organize. The Local 695 Constitution & Bylaws require that all members report all jobs: IA shows and non-IA shows, longterm assignments and day-calls, theatrical and TV productions, sports, commercials, music videos … everything. https://www.local695.com/mbr/jobreport.php
---
Holiday Brunch & Brews
The annual Holiday Brunch & Brews event, hosted by Chris Howland, Steve Morantz and Devendra Cleary, took place on Dec. 4, 2016. One hundred and fifty-two sound & video professionals, many of them members of Local 695 from the Los Angeles area, participated in the four-hour-long mixer, which concluded in a manufacturers-sponsored raffle. New friendships were formed and existing ones rekindled at Golden Road Brewery in Glendale, CA.
"In light of the growing pace of virtual interaction, it is important to make time for face-to-face conversations with the people that truly understand your pursuits and passions. Thank you to everyone who showed up to help make a group of people into a community. And a big thanks to our raffle sponsors." –Chris Howland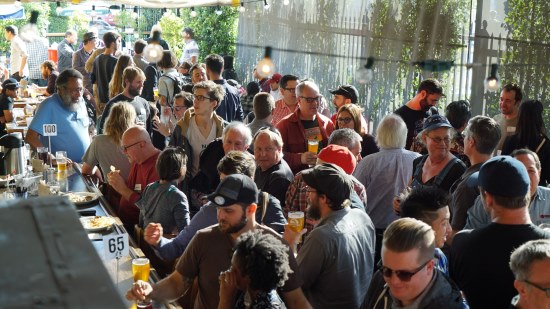 ​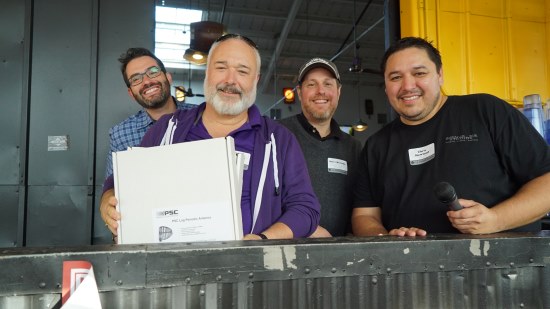 ---
In Memoriam
DONALD "DON" PAUL PERRY
Projectionist
October 16, 1925 – August 20, 2016
JOHNNY M. MEDEIROS
Y-4
January 14, 1976 – January 9, 2017
LES LAZAROWITZ
Y-1
October 2, 1941 – January 6, 2017
JOHN WOODS JR.
Y-8
February 27, 1960 – January 19, 2017
RICHARD PORTMAN
Y-1
April 22, 1934 – January 28, 2017å