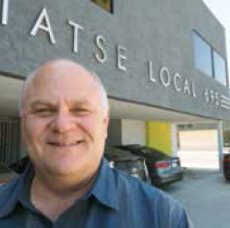 I hope everybody had a nice holiday season with family and friends. Looking back on 2016, I'm happy to report that production was up both in California and Hollywood. Hours reported to the Motion Picture Pension and Health Plan on behalf of Local 695 members were up five percent from the previous year. The importance of these numbers is that it reflects directly on the contributions made by the Producers into our Pension and Health plans. 2016 was also the first full year of California's new tax incentive program, which has kept many projects in the state that might have shot elsewhere. In January, I will be in Sacramento with the CIC (California IATSE Council) to thank the legislators for their past support, and show that the current data substantiates the success of the FROM THE BUSINESS REPRESENTATIVE tax incentives. I will also recommend that we need their continued support and to extend the current program in the coming years.
Local 695 will continue to work closely with Contract Services in 2017, offering our advanced training classes and we plan to keep adding new classes as new technology is introduced. While we do offer training, it's up to our members to stay on top of the latest gear, and if you see or hear about a new piece of equipment, let our Education Coordinator know, so we can set up a training program. Over the coming year, our Social Media Committee will be putting together more events for our members. On March 12, our Young Workers Committee has planned a Spring Hike at Topanga State Park for all members and their families. So watch for details and come join us for the day.
One very important note for our members; if you experience unsafe working conditions on production, we need to hear from you. When safety concerns arise on production, it is imperative that you call the IA's Safety Hotline (844-422-9273) or the Local right away, so we can assist the crew. This is what being a member of a union means, supporting and looking out for your fellow sisters and brothers. Standing together is more important now than years past. Our new President and many in the Congress have expressed clear intentions to attack union families and the middle class. We will stay strong and united to ensure that your wages, your working conditions and your hardearned benefits will be there for you when you need them.
Union Strong!!!!
Scott Bernard
Business Representative