On My Journey With Obesity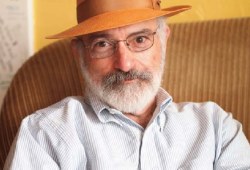 I thought I'd touch on my own journey with obesity.
In our kind of work it is very common for us to become so absorbed in our work that we disconnect from our physical selves.
Years can pass without us being aware of the progression and changes to our bodies as we move along in our lives and careers.
I look back on decades as an obese person and realize that I had literally built a "fortress" around myself. This was a fortress of pushing constantly, not stopping and noticing the present, obsessively multi-tasking and just trying to be ahead of the curve, missing the forest right in front of me, the trees perfectly blocking the view.
I'd always begin some program, some diet, some magicbullet solution, ultimately falling apart as schedules shifted wildly and life's apparent pressures inevitably gave me a "reason" why I couldn't keep it together.
Eventually, I grew to become a 285-lb man on a 5' 7" frame. Everything was affected by this slow motion, inadvertent suicide.
I'd always positioned it as a logistical or technical issue, something on the "to do" list, to be scheduled, to be gotten to when I could pay full attention. Years passed as I failed to confront the essential nature of taking care of myself. Then, I had the very good fortune of a couple of "2 x 4"s hitting me upside my head. We had a major health scare with my wife and simultaneously my annual physical revealed that my liver was in severe decline, infested with fat from years of abuse. Although never a drinker or smoker, it was as if I had been a severe alcoholic and had foolishly treated my body like an endlessly renewable resource.
The fecal matter was hitting the ventilation system in spades. I looked up and saw my kids, my wife and said to myself this is it. Everything else is off the table. I withdrew from the project I had committed to so I could remain home during the journey of my wife's surgery, and took stock of what I was doing and what I wanted the future to look like. More importantly, I recognized that it was time to start living in the present.
So I stopped beating myself up and threw the switch, the emotional switch that made it possible to change my behavior. Eating less, moving more…
No angel, I. It has been a process of two steps forward, one back, but I changed this. It took more than four years but I am currently 172 pounds, I run three miles 4 to 5 times a week. I started training for mini-triathalon and learning how to use Russian Kettle Bell for core strength.
"Failure cannot cope
with persistence."
This is a day-by-day thing. I try to not let how I feel about any given day affect my behavior regarding the program. Some days I feel terrific and some not so much, but when I miss a run or eat inappropriately, I feel it almost immediately and realize I can't go back…
Only forward.
We were very lucky. My wife is well. My blood chemistry is the best it's been in 30 years. People can improve, make it better, get past their own crap. Failure cannot cope with persistence.
No one is perfect, certainly not me. But stopping and noticing, living in the present, facing into the things most challenging in our lives, has the greatest value. You gotta have a system.
Warm regards,
Mark Ulano President, IATSE Local 695