by Richard Lightstone CAS AMPS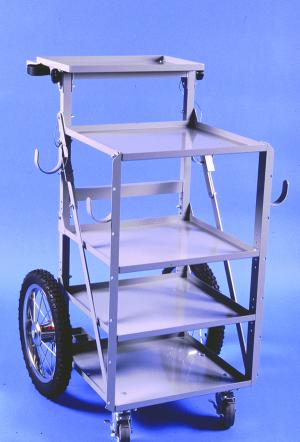 Sound carts have evolved over the last four decades in form and function.
Today, there are numerous variations of sound carts to meet just about every mixer's needs. When I began mixing in Montreal back in the '70s, there were no film sound equipment suppliers or professional sound carts sold in Canada. On a Walt Disney show in Alberta in 1974, its sound cart was a modified golf bag trolley with shelves holding a Perfectone mixer and a Nagra IV, with hooks for microphone cables.
During the Montreal Olympics in 1976, I worked for ABC Television's Wide World of Sports and they used a modified hand truck with welded cages for the Sony video deck, Sony camera, microphones, and cables. It inspired me to build my first cart in 1980 on the same principle. It was a large 'Anvil-style' shipping case; with shelves and drawers bolted to a hand truck and it served me well for more than twenty years.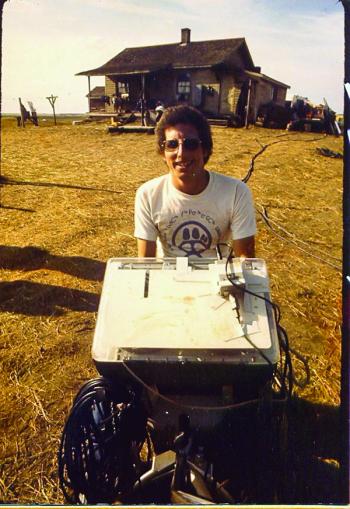 RL Disney cart 1974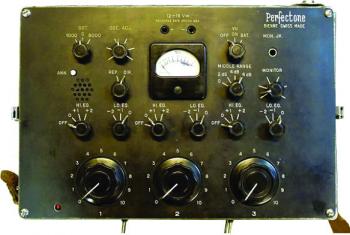 Perfectone mixer
Jeff Wexler started building his own sound carts in 1970, first using a Sears TV stand and then moving on to more customization by modifying a produce cart. Jeff explains, "When I saw the cart that Michael Evje had built, an upright vertical cart with an aluminum frame and sliding shelves, I settled in to building that new style of sound cart. At first, I had to rely on fabricators with metal-arc equipment and the skills to make the frames. Later, I discovered the professional erector set of aluminum profiles from the company 80/20. I could assemble and bolt them together myself, not having to rely on outside fabricators. The last two carts I built before retiring used 80/20 materials."
"The only commercially available cart was made by a company called Wheelit," says Ron Meyer of Professional Sound Corporation (PSC). "These carts were designed to be used for AV equipment such as film projectors and other classroom and corporate equipment. The Wheelit carts had two folding shelves made out of white melamine-laminated particle board and were very heavy at about sixty-five pounds. Audio Services Corp. (ASC) had some custom shelves made from aircraft aluminum to lighten the cart by twenty pounds or more."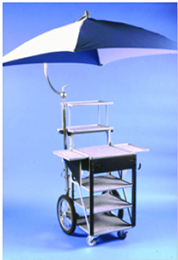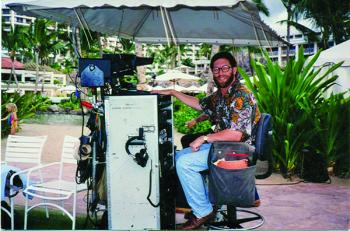 In 1984, ASC decided to produce its sound cart, the SC-4. Ron believes that the design was based on a similar smaller cart made by Wilcox Sound.
That style of cart served our needs as we were using Nagra recorders, Sela or Nagra mixers, cabled microphones and very few wireless. As equipment requirements grew, the next progression was to the Magliner with custom shelves and attachments, introduced by Backstage Equipment, Inc.
There are many mixers still using the PSC upright and Magliner sound carts more than four decades later.
Several sound mixers began designing their own customized carts and offering them for sale, Brett Grant Grierson, Matthew Bacon, Gene Martin, Rob Stalder, Devendra Cleary, Eric Ballew, and of course, the late Chinhda Khommarath.
Expert Audio Recording Services, Inc.
For almost two decades, Brett Grant Grierson began by modifying Magliners with custom welded parts to hold SKB upright rack cases. Brett continues to evolve new designs, whether it is a custom 80/20 cart, special brackets, or cheese plates on a rolling stand. I must disclose that I have had four carts built by Brett over the last eight years.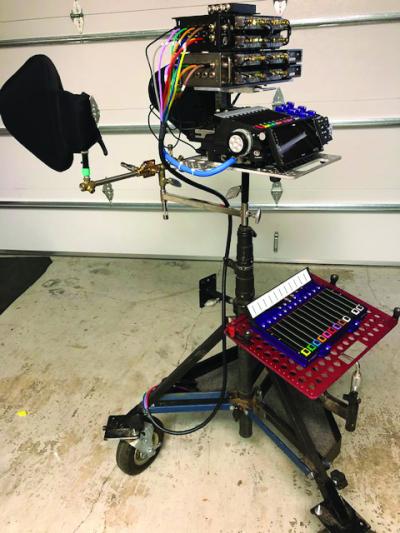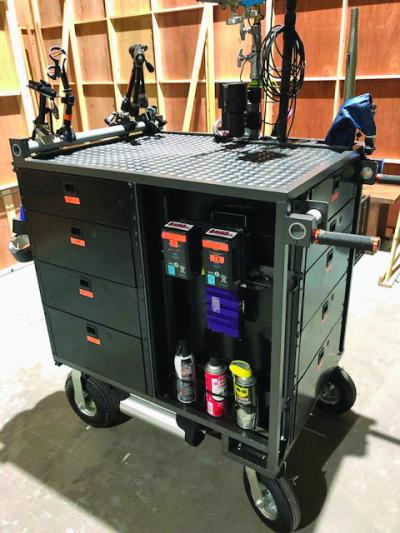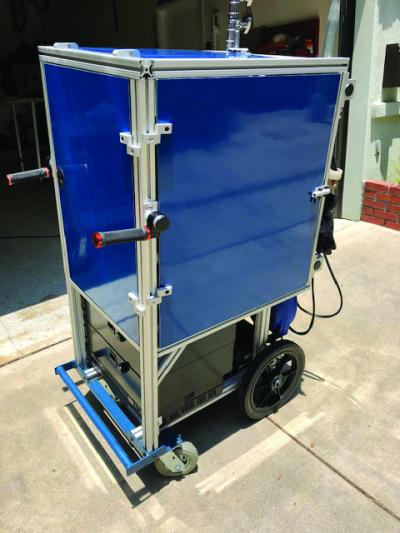 Rastorder, PTY
Sound Mixer Rob Stalder of Australia took a break and worked in sales. Inspired by the Backstage modified Magliner, Rob made a completely new design he called the 2g and his company Rastorder, PTY was born. Rob learned to weld steel in his early years. He remembers building a canopy for his Landcruiser and a tri-bike trailer for his dirt bikes. Rob's design of choice was the upright cart, the SU was the first built with welded aluminum. "The SU was big. It has split modules because not everyone doing drama had a van, but nearly everyone had a larger analog mixer," says Rob. "It's interesting to note that the SU has morphed along with everyone else, finding a following with those large digital mixers." Rob continues, "The Foldup came next, perhaps my best seller, one hundred and forty to date. Yes, it's similar to the PSC folding cart. But I wanted a different configuration, a different size, and some different assembly techniques."
Rob joined the move in building smaller carts and has a new prototype, which will go into production later this year. It offers more flexibility and inter-changeability. Rob concludes, "My challenge has always been freight cost, I am now located further inland in Australia. This is offset by the low Australian dollar, currently one Australian dollar is worth 77 cents US.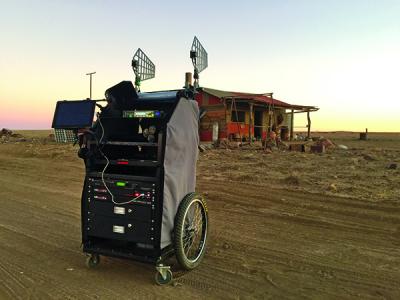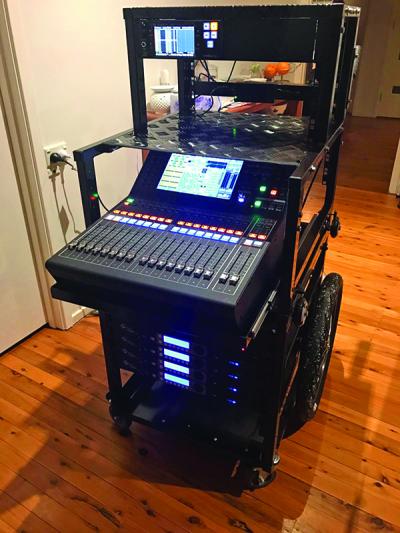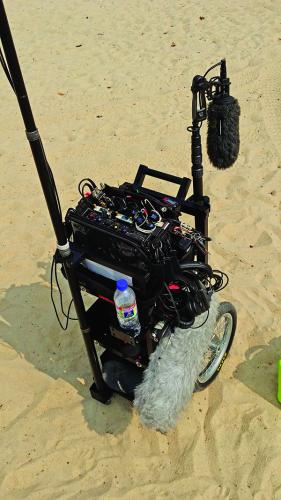 DC Audio & Music
Devendra Cleary's interest in cart building began simply in building a cart for himself in 2013. Eventually, he took the leap in what he admits is a crowded market to have a side business and thus, DC Audio was born. Devendra posits, "The concept was to design an affordable sound cart made of 'off-the-shelf" items. I wanted to take industrial and consumer pieces and find a way to snap them together without the need for fabrication." The DC Intro cart included an all-weather cover designed and manufactured by Susan Ottalini of MTO.
Devendra built two more versions until he arrived at the DC-TRM. Enlisting the collaboration of Sig Guzman at Backstage Equipment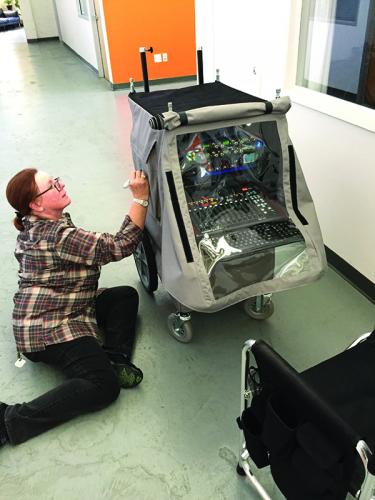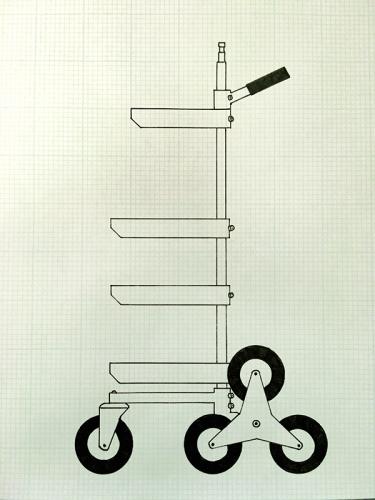 "I gave Sig my pencil drawings of the cart with the idea that the base supported the rear axles with Trionic wheels and six-inch front casters, designed around a new extended size 'Nagra Shelf.' Simple 1×1 steel posts served as the spines and have baby pins on top. This design includes many Backstage accessories like handles and a crossbar with a baby pin in the center."
Devendra field-tested the prototype loaded to the max on eighty days of production of the Mayans M.C., a very heavy location episodic. Devendra concludes, "I'm someone who is a sound cart user and enthusiast and contributing my design to the market. In the end, the customer base wins with DC carts and many other choices."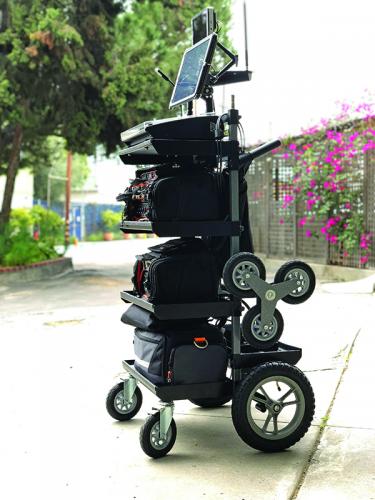 Backstage Equipment
Sig Guzman has assisted many sound mixers in finding accessory parts, as well as the fabrication of sound carts. Backstage is a family-owned business run by Cary Griffith. In the '70s, Mr. Griffith designed a grip truck, as well as grip, electric, and 4×4 carts. Backstage now manufactures more than one hundred and fifty specialized carts for virtually every craft, including lighting, grip, camera, video, sound, photography, Steadicam, DIT, basecamp, and props. Sig explains, "We continuously work on new products that we hope will become useful, and this is the best part of the job. You think of an idea, you draw it on a napkin, design it on a computer CAD system. Then you build a prototype, and have technicians test it and give you feedback. When you finish the product and see it being used around the world, that's job satisfaction. We build everything in house with a few exceptions such as laser cutting, water jet, CNC, and finishing (paint, chrome, nickel plating), the most common materials we use for manufacturing are steel, as well as aluminum, depending on the product we are dealing with. All products are assembled, packed, and shipped from our location in North Hollywood."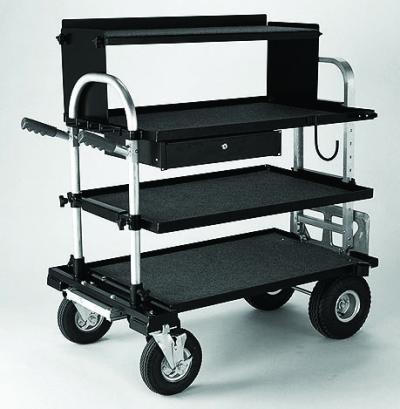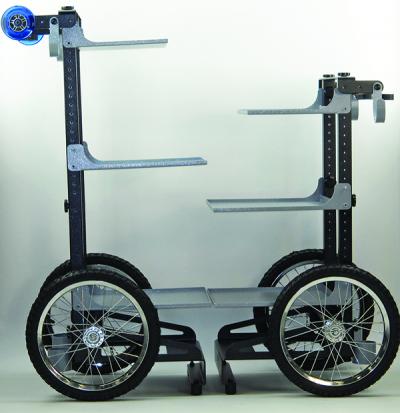 Professional Sound Corporation
Professional Sound Corporation and Ron Meyer have been building sound carts for more than three decades. When the owners of ASC formed Professional Sound Corp. in 1986, it took over production of the SC-4 sound cart. Since that time, there have been several new features added, these include rack mount rails and various other options such as sun umbrellas, boom pole mounts, and rack mount drawers. Ron says, "Since I became the owner of PSC in 1996, Professional Sound Corporation has worked hard to make sure any new option we offered over the years is backward-compatible with all existing SC-4 sound carts. I never want to leave an existing customer behind."
As equipment manufacturers began further miniaturization of the sound equipment, in 2014, PSC designed its EuroCart for this new, smaller world. The PSC EuroCart was not only a smaller, more convenient-sized sound cart, but also fit into smaller vehicles now commonly used by sound mixers worldwide. The PSC EuroCart can be assembled without the use of tools as it uses only "thumb" screws for all of its assembly. The EuroCart can also be split in half from top to bottom. This allows for easy storage and travel in the trunk of a car. The top half can also be used by itself for a small insert car sound package.
Audio Department, LLC
At the Audio Department, Gene and Drew Martin started designing and building carts from the ground up in 2016. Before that, they mostly did customization and modifications on Magliners. Gene says, "Drew and I collaborate on every project. We wanted a vertical design for our main cart that was modular, allowing for different options based on the equipment being used. The majority of our carts have a 16-rack-space bottom unit that allows for a variety of different size (or custom) top sections to be bolted on. This gives the customer the opportunity to change the use of the cart if ever needed."
They strive for the carts to be as light as possible, but still have strength so the majority of their projects are made from one-eighth-inch aluminum, small steel tubing, or 80/20 aluminum if it's better for the job. Gene and Drew do all of the design, assembly, and small machining. They credit more than thirty carts built so far for a wide range of sound mixers.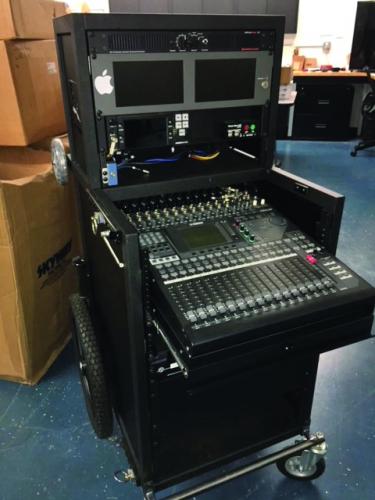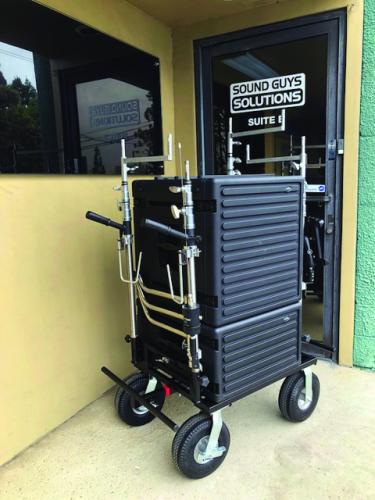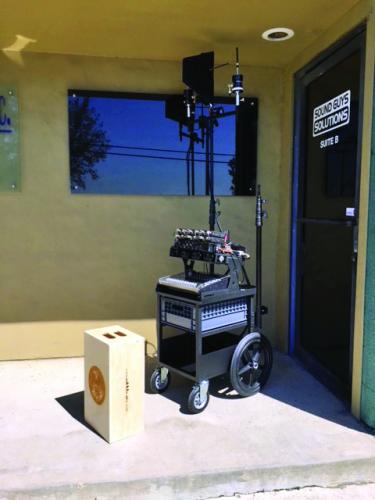 SOUNDCART.audio
Matthew Bacon founded SOUNDCART.audio in the UK. The selection of sound carts was extremely limited in the UK twenty years ago; they were rarely seen on anything that wasn't a scripted drama or a feature film. Just like Jeff Wexler, Matthew's first cart was a homemade adaption of an existing industrial trolley, a BEKVÄM Kitchen trolley from IKEA. As his career progressed, his need for a solid sound cart became imperative so he set about designing one using the popular 80/20 material.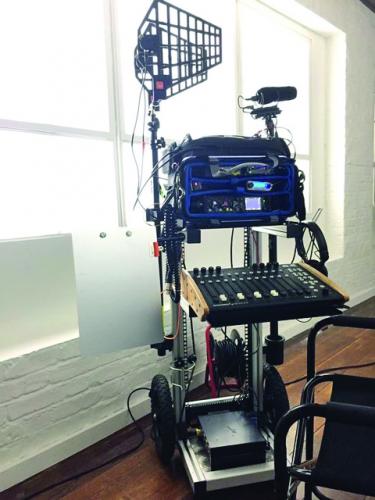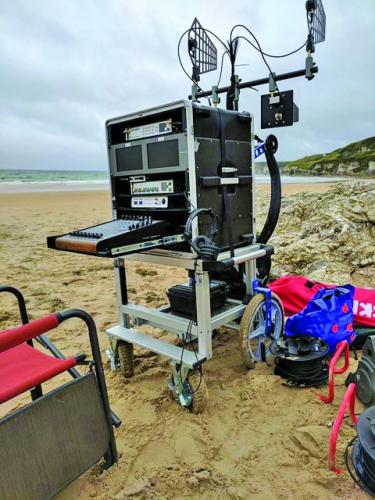 "Other mixers began expressing interest in either buying my cart or having me build one for them." Matthew continues, "One thing led to another and after some R&D time, he launched SOUNDCART.audio in March of 2016. Following the success of the production sound cart, demand for other models soon followed. In particular, there was interest in a smaller, more compact design, thus the MiniCart was born!" The approach to designing the MiniCart was similar to that taken with the production sound cart, to design a cart that was functional, flexible, and easily configurable to allow mixers to work in the way they wanted. Matthew explains, "No two mixers work the same even with the same equipment. For example, some prefer to sit or stand, position their monitors high or low, fix their boom poles to the side or rear of the cart, use adjustable feet or small or large caster wheels, etc."
Matthew offers design services to customize his sound carts to the needs of his fellow mixers. His newest entry is the Explorer sound cart, which is a self-assembly design.

Cannibal Industries
Eric Ballew and his Cannibal Industries is the newest entrant in the sound cart-building business. While doing early mixing projects in 2010 in Los Angeles, he supported his career by working with stunt crews in designing rigging and emergency braking systems. It wasn't until 2017 that Eric decided to collaborate with a machinist and partner with Sound Mixer Daniel S. McCoy.
Eric says, "Daniel asked me if modifying a Zuca cart for sound work was possible. In comparison to the complexities and mechanics of the cart I built for Michael Hoffman CAS, adapting a generic Zuca cart for sound was a simple and straightforward venture. I took the Zuca to my machinist who has been my mentor. I completely disassembled it and began drawing pictures of brackets and support pieces. We milled the parts out on the CNC machine and Bridgeport mills. Each piece was made to very tight tolerances; the result was an incredibly ridged and lightweight rig. To add some flair, I machined some very specific quick-release hooks for a Sonosax/Orca bag Daniel owns."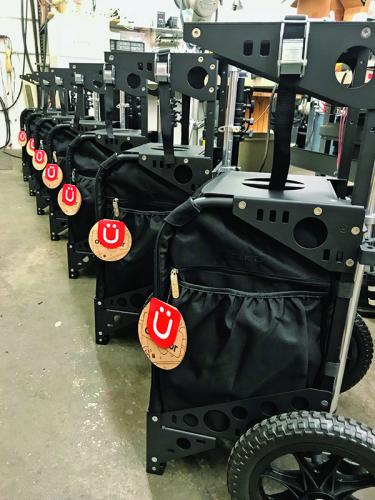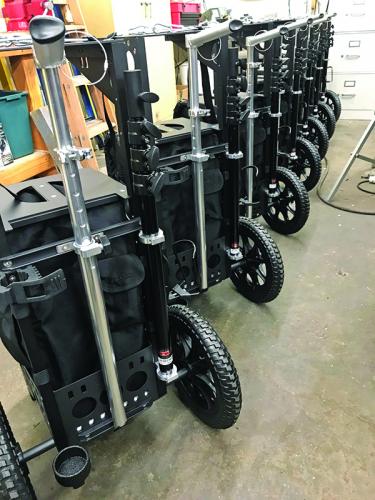 After posting the build photos to social media and on several sound mixing forums, voila, it gained enough orders to mass-produce an initial twenty-five of their Super Zucas. Eric continues, "The Super Zuca is the smallest and most lightweight professional sound cart ever designed for our industry. We use CNC-machined solid aluminum supports, stainless steel fasteners, and industrial-grade coatings, including both Cardinal Powder Coat and LineX. Because the footprint of our cart is so small, we did not compromise structural integrity with collapsibility. This results in a remarkably stout mobile platform."
Eric is now retrofitting some Chinhda carts and also does custom fabrication and builds.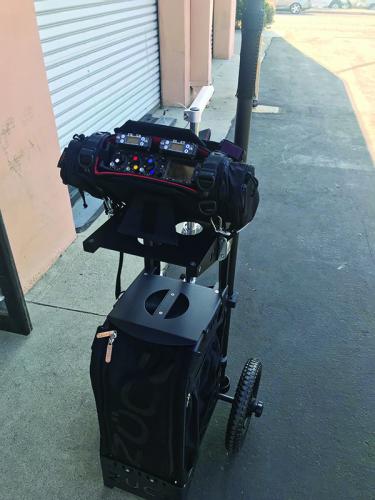 Coda
Ron Meyer, who has been building sound carts the longest, has a cautionary question to the many independent vendors. "Most of them build small batches of carts. Then they completely change their designs and build another small number of units. Are they stocking any extra replacement parts and standing by their earlier iterations?"