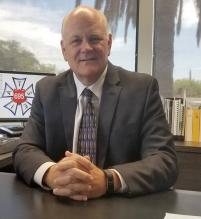 In the March 1953 issue of Local 695's International Sound Technician magazine, Local 695 Video Engineer Murray Jarvis wrote, "While the video magnetic recording process is still in the experimental stage, great progress is being made toward its perfection by its enthusiastic developers. And while the resolution of the visual image produced by this process in its present form has restrictions, the industry is watching this with anxious interest for it has the potential to revolutionize the entire motion picture technique as we know it." I wonder if Murray had any idea how prophetic his words would prove to be. Indeed, the industry and Local 695 continue to watch with interest as new techniques continue to be developed. One of the most interesting things we're seeing now is a remake of the old process shot … the front- or rear-screen projection techniques that go all the way back to the 1930s.
However this time, Local 695 Video Projection Engineers are adding a few tricks. This new process is called "The Volume," which is a 360-degree display created out of a huge array of video screens. Because the images are so good and so bright, we can now display a moving image that looks like you're on location and not just shooting on stage. 695 Video Engineers are currently developing the software needed to allow these moving backgrounds, whether filmed images or computer-generated 3D renderings to travel in sync with the camera movement so as to perfectly recreate, and go far beyond, anything that can be shot on location. It's exciting to see this amazing new process work in action and to see the new job opportunities it will offer to the Video Engineers of Local 695 and our sister Studio Mechanics Locals. You can read more about this new technology in the second quarter 2019 IATSE bulletin you received in July.
The March Video Caucus was an opportunity to discuss the new work opportunities arising from these enhancements in video playback techniques. On July 13, we held a craft meeting for all 695 members working on commercials.
We will continue to hold these meetings to stay in touch with issues unique to the type of production you work on. Watch for the emails about future meeting dates and times. I encourage you to come to these craft meetings to participate and bring your personal experience and expertise to share with your sisters and brothers.
Fraternally yours,
Scott Bernard
scottb@local695.com
Business Representative