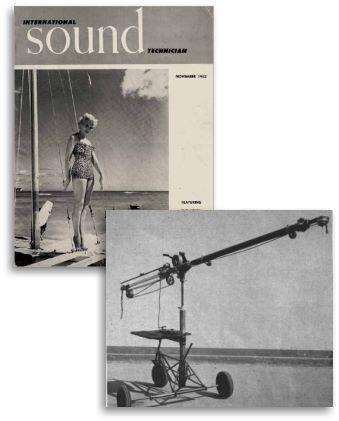 Evolution of the "MIKE" Boom
by William R. Edmondson (M.G.M.)
Read the complete original November 1953 article here.
In this issue of the 695 Quarterly, we take another look at the technology that helped form the basis of film sound recording as we know it today.
While today's microphones are smaller and lighter compared to the monster ribbon and condenser mikes used during the early years of film sound recording, the issue of how to get those mikes where they need to be is one that still vexes us. With this in mind, it is interesting to take a look back at an article authored by William R. Edmonson of M.G.M., titled "Evolution of the 'Mike' Boom," excerpted from the November 1953 issue of the International Sound Technician (the forerunner of the current Quarterly). In this article, the author outlines the daunting task faced by studio sound engineers in their quest to respond to the needs of film production, which required microphone booms and rigging systems designed to follow the actors on set.
In this fascinating look at the early attempts made by studio sound technicians, you will find photos and references to the early boom designs that later became the basis for the Mole-Richardson Model 103B studio boom, as well as the amazingly lightweight (for 1953!) J.L. Fisher Model 2 location boom, designed by James Fisher while he was on staff at the Republic Studios sound department in the early 1950s.
Sixty years later, many of these booms (with some modifications and upgrades) are still in daily use on soundstages around the world, a testament to the skill of their designers. While not as prevalent as they once were during the early years of film and television production, when a scene calls for a mike that can be moved easily around a set and rotated on a continuous 360-degree axis, there is nothing that can substitute for a perambulator boom with a good operator.
Read the complete original November 1953 article here.
–Scott D. Smith, CAS