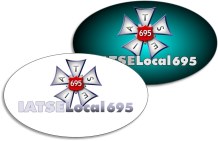 Do you want to cruise previous issues of the Local 695 Quarterly? Send a link to an article to a friend or read the current issue on set? All issues of the Local 695 Quarterly are online at www.local695.com. The entire catalogue of the 695 Quarterly is available in a PDF format whenever you want it.
While you're there, click on the "695 Gear" tab to see all the cool swag available. New items are added continuously, so check back often. The latest additions are 10 packs of "Local 695" stickers.
---
Southern Hospitality
Whit Norris held a gathering with Local 695 members from Los Angeles and Atlanta's sound crews at his home in Atlanta, Georgia, on Sunday, November 6. Sound and video crews represented by Locals 695 and 479 enjoyed barbecue and beverages together on a pleasant Georgia afternoon.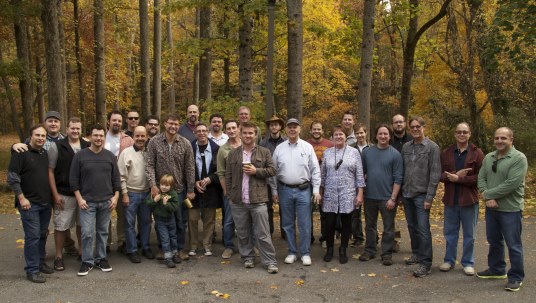 CLICK TO ENLARGE
Front row: (l-r) Aron Siegal L479, Allen Williams L479, Paul Sorohan L479, Jim Hawkins L695-479, Chris Durfy L479 and son Devon, Richard Lightstone L695, Whit Norris L695-479, Bartek Swiatek L695-479, Jeff Wexler L695, Mary Ellis L695-479, Alex Lowe L479, Don Coufal L695, Bill Kaplan L695, Tommy Giordano L695 2nd row: (l-r) Hank Martin L479, Michael Clark L479, Bob Branam L695, David Goldstein L695, Glen Valentino L479, Matt Robinson L479, Eric Pierce L695, John Tendrich L695, Jorge Delvalle L479, Michael Wynn, Kevin Raser L479, Matt Durber L479
---
​In Remembrance: Alan F. Bernard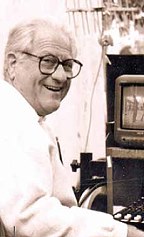 Local 695 Production Sound Mixer Alan Bernard passed away in the presence of his family on December 11, 2011. He leaves behind his wife Linda, daughter Cindy and sons Scott and David, both members of Local 695, and four grandchildren. Alan was a member of Local 695 for more than 50 years, and was an IATSE Gold Card member. Much of his time was devoted to the service of Local 695, volunteering for many committees and holding elected office. Alan was profiled in the fall 2011 edition of the 695 Quarterly, and can be read online at www.local695.com/Quarterly. A "Celebration of Life" for Alan was held on February 12 at Local 80 in Burbank.
---
Production Tracking Database
The Local 695 Production Tracking Database has been proving to be a great tool to help the office answer member's questions about contracts and conditions on various productions. Keep filling out your job reports at www.local695.com/mbr/jobreport.php
---
Building the Buy Union!
LA Labor 411 is committed to empowering American consumers to buy quality products that are safe, made here in the U.S., and at a price point that means value. Union-made products enhance our community and build the cornerstone of our society—the middle class. Each one of us can make a difference every time we shop by choosing American-made, union-made products. Visit www.LALabor411.org for more information, and to use their online directory.
---
Stand Up To Content Theft

"Creative America continues to look for ways to eliminate the threat of digital content theft by rogue offshore websites. Recent debate on the issue is leading legislators toward solutions that effectively protect the rights and interests of all involved. Creative America is the grass-roots coalition formed by labor unions, guilds, studios and networks to look for ways to protect the jobs of more than 2 million Americans whose livelihoods are supported by the film and television industry. Visit www.creativeamerica.org to learn more about the impact of content theft on jobs, benefits and future work opportunities and to find out how you can help put an end to piracy."
---
In Memoriam
DEAN G. HODGES
Production Sound Mixer
May 14, 1926 – Jan. 4, 2012
ALAN BERNARD
Production Sound Mixer
Jan. 30, 1934 – Dec. 11, 2011
FRANK A. RAINEY
Maintenance Engineer
Feb. 2, 1954 – Nov. 9, 2011
ALBERT AQUINO
Microphone Boom Operator
Aug. 7, 1957 – Jan. 9, 2012