by Laurence B. Abrams
Deadline Passed for Safety Pass Class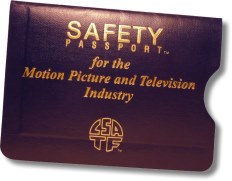 Most of our members have already completed the required "A-2 Environmental Safety" course, which is the most recently added course in the Safety Pass Training Program, but there may still be some who have not yet attended this class. Be aware that Contract Services has announced that individuals who do not complete all required classes will be suspended from the Industry Experience Roster and may be considered ineligible for employment. For those who haven't yet taken it, the 3-hour "A-2" class is offered daily, Monday through Saturday, and provides a great deal of information that relates to the work we do. For details about this training and easy online registration, see www.csatf.org/safety.shtml. If you have questions about the Safety Pass Program, you can call Contract Services directly at 818.565.0550 ext. 1100.
Fisher Microphone Boom Training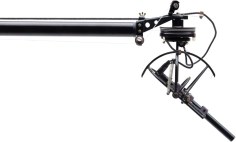 Once the tool of choice for nearly every motion picture and television production sound team, the Fisher Microphone Boom has seen much less use in recent years. Nonetheless, it is a hugely valuable tool that becomes more relevant today, as multi-camera HD shoots place impossible demands on the boom operator with a fishpole. Local 695's Fisher Microphone Boom: One-on-One Intensive Training is a unique and important training opportunity that is exclusive for Local 695 members and cannot be found anywhere else. Microphone Boom Operators, Utility Sound Technicians and also Production Sound Mixers are strongly encouraged to attend this ongoing program that provides personalized hands-on instruction for the Model 2 and Model 7 Fisher microphone boom arms and the Model 3 and Model 6E Fisher boom bases. HD cameras and long shooting takes have changed the way we do our work and have given you good reason to be fully trained on the use of a Fisher. The AMPTP's endorsement of the "Safety Bulletin on Extended and Successive Shooting Takes" (see www.local695.com/html/long-takes.php) makes it clear that your Producers are aware of the significant health and safety issues associated with long shooting takes and that they are on your side, ready to provide a Fisher Boom when one is needed. Local 695's Fisher Boom training is free to all 695 members, is entirely supported by the Local and is independent of the CSATTF training requirements. For details on how to schedule one of these appointment-only Fisher Boom training sessions, visit www.local695.com/mbr/edu-fbt.php.
Pro Tools Training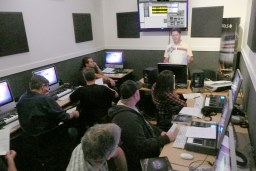 In coordination with Contract Services Administrative Training Trust Fund's skills training program, Local 695 members just completed a 4-day Pro Tools class at the Guitar Center Studios training facility in Woodland Hills. The Avid-certified PT-101 class conducted during January 2012 covered all functionalities of the software, with emphasis on location recording and playback. This training was free to members qualified for the Contract Services skills training grant. If the grant is approved for the year starting February 2012, we anticipate additional PT-101 classes as well as expanding to include the advanced PT-110 class. This training is free for Local 695 members who meet these CSATTF training requirements:
Software Tutorials

Members of Local 695 still have the opportunity to take advantage of free access to over 1,000 comprehensive online software tutorials. The list of courses grows continually as new software and versions are released. These self-paced online tutorials allow you to stop and start and review as needed. And since you can keep multiple windows open, it's easy to switch back and forth and experiment with the actual software while the tutorial progresses. The list of available courses covers an enormous variety of topics, including Avid Pro Tools, Apple Logic, FL Studio, Steinberg WaveLab, Adobe Audition, Adobe Soundbooth, Apple Soundtrack Pro, Cubase, Sony Sound Forge, Adobe Premiere, Apple Final Cut Pro X, Adobe After Effects, Sony Vegas Pro 10, NewTek LightWave, Adobe Flash, Adobe Director, Adobe Dreamweaver, Adobe Photoshop, Apple Shake, Cleaner Pro, Adobe Fireworks, networking, databases, digital photography, website design and much more. This training is completely free to all 695 members, is paid for by the Local and is totally independent of the CSATTF training requirements. Take advantage of this free training while it remains available. Further details and information about signing up for access to this training is at www.local695.com/mbr/edu-vtc.php.
For members who aren't already registered on the Local 695 website with a current email address, you may want to do that now. The most effective way for you to stay informed about educational resources, upcoming training announcements, updates and news about the Local is via email and the Local 695 website. If you haven't done so in a while, please log onto the website at www.local695.com to make sure that you are registered and that your email address is correct.