Training for Local 695 Video Engineers: MEDIA MANAGEMENT
Digital downloading, data backup and QC, transcoding and digital dailies … This continually evolving area of our work is the topic of a series of training sessions Local 695 offers our Video Engineers. Recent classes have covered software solutions such as Pomfort Silverstack, ShotPut Pro, Pronology, Codex Production Suite and more. These training sessions will be repeated and new classes will be added soon, including special training customized for Local 695 at Sony's Digital Motion Picture Center in Culver City.
Many of these classes have been developed in coordination with Contract Services Administration Training Trust Fund with the help of Ingrid Lohne, Jason Schomas and Debbie Garcia, and are either free to qualified Local 695 members or eligible for a two-third's reimbursement of the training cost. See complete details about qualification at www.local695.com /mbr/edu-csatfrmb.html
Watch your email for announcements about upcoming classes and take advantage of this chance to develop your skills and expand your work opportunities. For more information about this and other 695 training, see www.local695.com or contact Laurence B. Abrams at edu@local695.com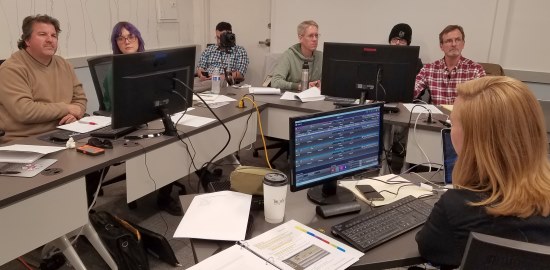 Local 695 Video Engineer Jillian Arnold conducts Pronology training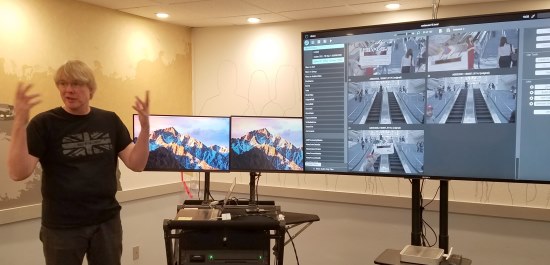 Codex's Brian Gaffney conducts training for Codex Production Suite
---
IA Delegation Successfully Lobbies to Stop Escalating Drug Prices
On June 27, 2017, a delegation of IA members, including Joe Aredas, Jr., spoke before the California Assembly in favor of SB-17, a bill that addresses current escalating pharmaceutical drug prices, which have a direct impact on MPI members. SB-17 was successfully passed by 11 to 4 votes in favor, a larger margin than previously expected. The Local 80 leadership expressed a special thank-you to Joe Aredas & Sue Cabral-Ebert for taking great initiative in this matter and sharing their research with the delegation.
The California IATSE Coalition (CIC) Delegation in Sacramento:
Joe Aredas, Jr., Local 695
Doug Boney, Local 871 and Local 884
Sue Cabral-Ebert, Local 706
Thom Davis, Local 80
Kedra Dawkins, Local 800
Bob Denne, Local 729
Joanne Desmond, Local 17
dooner, Local 800
Lesli Lytle, Local 871 and Local 44
Victor Reyes, Local 44
---
Upcoming Sound & Video Social Events
August 6: Boom Operators Master Class – Sponsored by K-Tek
August 12: Dodger Day – (6:10 pm vs. the Padres)
For more information & RSVP links, please visit the Local 695 Facebook forum.
---
Welcome New Members
Meghan Underwood Y-1
Delroy L. Cornick, Jr. Y-1
Matt Furman Y-3
Erik Mahoney Y-6
Duane A. Johnson Y-1
David Beede Y-1
Frank Thomas Kowalczyk Y-4
Evan Scheckwitz Y-7
Allan Hessler A2
Marisa Garcia A2
James Mullen Y-4
Devin Owens Y-6
Shaun Sebastian Y-1
Kristal Ramin Smith Y-1
Ian Wellman Y-1
Nathaniel Bell Y-3
Nick Kleissas Y-7A
Zlatan Cabaravdic Y-4
Rob Fillmore Y-1
---
Young Workers Committee
The YWC (Young Workers Committee) would like to thank everyone who came out to the river cleanup on Earth Day! Together, Friends of the Los Angeles River, members of Local 695 and nearly eight thousand more Angelinos removed an estimated ninety-six tons of trash from our river in less than two days.
---
Social Media Committee
On Saturday, April 29, a small subset of the L.A. Sound Mixers went to the Dodgers vs. Phillies game. We sat in the Executive Club Level, where the waiters kept the food and drinks coming while we (Well, most of us anyway) enjoyed the Dodgers four-run ninth inning to win the game in a walk-off. Huge thanks to Joshua Cumming for helping to make this possible.
---
IN MEMORIAM
ROBERT E. SHERIDAN, Y-1
April 15, 1928 – June 22, 2017
HAROLD "HAL" LANDAKER, Y-4
October 5, 1924 – June 2, 2017