The Playback Company That's Also a Software Developer
by Dave Henri
At Modern Motion Pictures, a boutique playback/graphics company run by three Local 695 Playback Supervisors (Chris Cundey, Matt Brucell, and myself), we were as busy as we'd ever been—supervising video playback on The Morning Show, For All Mankind, Black-ish, How to Get Away with Murder, and several other shows. On top of that, I was preparing to fly to London to look into opening our first office outside of the U.S. At the same time, we were also expanding the capabilities of the software tools we had created for our team in-house.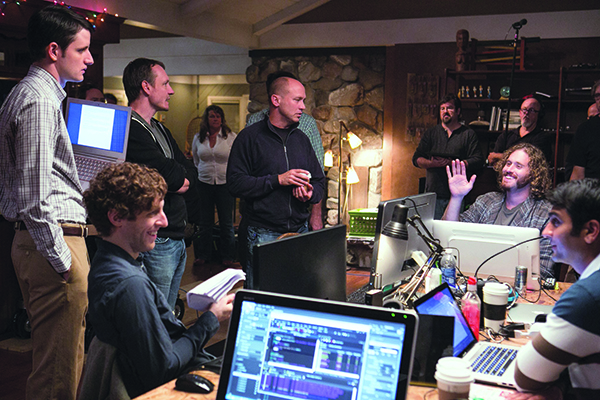 The company had grown significantly since I founded it in 2009 as a way to invoice the occasional graphic I designed while working as a Playback Engineer on set for supervisors like Matt Morrissey and Dan Dobson. I had only been in the union for a few years at that point, having started my career as an assistant to directors such as Rob Cohen and Nancy Meyers. As I gained experience on the set, I was also drawn to creating the content that we played back on so many TVs and computer monitors. The company was an outlet that allowed me to do that without giving up my time on set—time which I really loved. Within a few years, Modern Motion Pictures grew, especially as I began supervising shows of my own. It soon became unfeasible to operate as a one-man show, which is when I turned to my good friend Chris Cundey to join as a full partner.
Chris grew up in a film business family (his father is DP Dean Cundey) and had spent several years running his own video assist company, Graphic Nature; which also created graphics for on-set use and post-production visual effects. When Chris joined Modern Motion Pictures, things really took off. We had complementary skill sets and worked really well together. We would tackle large shows such as the third season of HBO's The Newsroom together (a massive video show, which was originally supervised by Matt Morrissey before schedule conflicts took him to other projects; Steve Irwin was also instrumental to the show's success as Lead Engineer), and assist each other as we ran some shows more or less individually. For example, Chris would run Silicon Valley while I would work on several projects with Director Steven Soderbergh, such as Contagion and Magic Mike.
As things continued to progress, we added a full-time staff of coordinators, graphic artists, and coders.
In 2018, when we were asked to supervise video for The Morning Show and For All Mankind for Apple's new streaming service, we knew that we would need even more help and approached another old friend, Matt Brucell, who had recently won his third Emmy Award for broadcast graphic design while he was at ESPN. Matt had been the playback department PA on The Hulk when I was a Graphics Coordinator, and he and I had stayed in touch in the years since, even after he moved to broadcast television graphic design. We knew The Morning Show was going to need a lot of realistic broadcast graphics, and that Matt had the proper background to understand the specific needs of playback. Matt joined Local 695 as a Playback Specialist and Modern Motion Pictures as our third partner. The Morning Show, much like The Newsroom, was massively complicated to get off the ground. We leaned heavily on the mad skills of Playback Engineers Justin Edgerly and Justin White, and the close coordination with Sound Mixer Bill Kaplan and Utility (and "Master of Comms") Tommy Giordano, as well as dozens of other video and sound professions each season.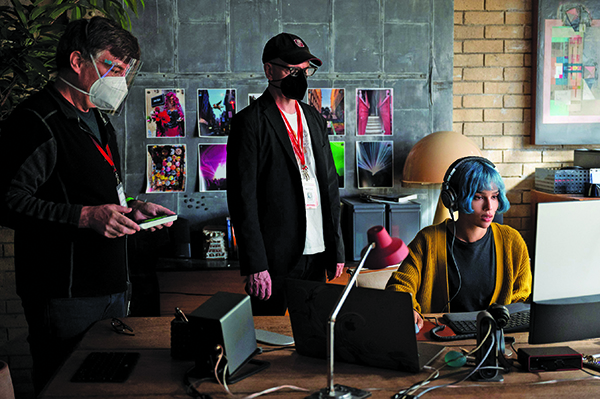 As our company continued to expand, we began to look for ways to streamline our on-set workflows. For example, many Playback Operators use off-the-shelf tools such as Keynote or ProtoPie for creating and cueing phone graphics during a scene. However, we found that both of these programs had serious limitations, both in their capabilities and the time it took to program and design individual graphics. A custom solution was needed by 2020. Chris Cundey had already spent several years developing our proprietary programs, Magic Phone and Scene Builder. This allowed us to effortlessly recreate common smartphone actions so that they could be easily cued in an on-set environment. With these two applications, we could create simple phone calls and texting gags in just a few minutes. Even more complicated actions, like posting a live photo to Instagram or scrolling through Twitter, became straightforward to build and easy for an actor on set to operate under the guidance of a Video Playback Engineer. In fact, the accuracy of the graphics was noticed by phone manufacturers and Magic Phone quickly became a preferred program amongst product placement teams in order to ensure the proper look and feel of the most popular smartphone brands. We made plans to license Scene Builder and Magic Phone to other Playback Engineers and companies, but our commitments to film and television clients kept us too busy to devote the necessary resources beyond sending alpha versions of the programs to a few friends.
And then COVID hit.
Like everyone else, we were stunned by how quickly everything shut down. Between Wednesday, March 11 and Friday, March 13 all of our shows pulled the plug. My trip to London was canceled and no one knew what was coming next. Once we realized things were going to be locked down for more than "just a few weeks," we pivoted to the very large list of tasks on our internal project board. Adding functionality and flexibility to Magic Phone and Scene Builder was Item #1 on our list.
A few months into lockdown, we got an interesting call from Josh Levy, a Video Assist/Video Playback Engineer, with whom we've worked many times over the years. He had been contacted by an HBO project called Coastal Elites, which was going to shoot a series of remote sets with actors in their homes. They were looking for a solution which would allow them to stream secure high-quality video from location to the director and other stakeholders in real time. Josh knew we had been developing a remote camera software (which would allow remote control over certain camera functionality in addition to the standard video feed) and wanted to know if it could be modified to work for this use case.
After several meetings with Josh and DP Jim Denault, we created SetLink Live, which securely streamed an extremely high-quality video feed with sound to the production team with a 200ms–300ms latency, or approximately the same lag you'd experience on a cellphone call. Additionally, Josh was able to record the feed on his QTAKE system and play either live or recording for the director.
(It is worth noting that QTAKE has since added similar functionality to their software.)
The shoot was extremely successful, and we realized that once production came back, a similar service would be needed. We revised the software, added the ability to stream from cameras, and were ready to meet the demand when production returned in the fall of 2020. As expected, there was a huge need for streaming from the set. SetLink Live went on to be used on multiple shows, such as The Morning Show, Black-ish, and Insecure. Even today, nearly two years later, this application continues to see daily use on several shows; often with two Local 695 Engineers running both the software and the safety cameras. It remains a valuable tool that can be used either standalone or in conjunction with video assist tools like QTAKE. Additionally, it can be used for custom remote video playback feeds (such as scripted Video Chats), whether from one stage to another; or from one side of the world to another.
Streaming video from set has become an integral component of production in the post-COVID world and we're pleased with the adoption of SetLink Live and the opportunity to expand the skill sets of fellow Local 695 members who are now working as full-time streaming engineers. The program is available for license to Video Assist Engineers, Playback Engineers, and directly to productions (where we can provide 695 Engineers).
Our success in the past two years led to the development of several additional programs to make on-set life easier and more productive in the ever-expanding world of the Video Playback Engineer. Modern Gamma is a color-temperature control program used to handle multiple displays, powered by either Intel or Apple Silicon processors. Modern Chroma, our green screen generator, allows the operator to quickly dial in a preferred hue and brightness level, place or remove tracking marks, and even using various effects when the camera is shooting over the monitor toward an actor. It can also cue between various colors/effects, allowing an operator to start with a green image at the start of a camera move and then automatically change it to gray once the monitor is no longer blocked and then change again to another effect once the screen is no longer being photographed. Simple Cues, our QuickTime control program, allows a user to quickly jump between multiple clips and then set separate loop, pause, and advance rules for each one. All three of these programs are available to license monthly as part of a package with Scene Builder and Magic Phone.
Additionally, we have also developed Vitals, an easy-to-control heart rate monitor program for hospital and EMT sets. The program can run multiple custom cues, including various heart rates, blood pressure, temperature, etc. It has multiple looks and can run on monitors of nearly any aspect ratio. Vitals is available as part of a standalone package, which can be licensed on a monthly or per-show basis.
We're excited to be able to offer the tools we've been using for years to our fellow supervisors and engineers. All of our product licenses are priced to be affordable to operators so as to be sustainable within the industry. As for that canceled trip to London, well, we ended up changing plans slightly and have just opened a new office in Berlin to cover European and UK productions. Europe tends to shoot most screens as green screen on set. We're hoping to introduce productions there to a workflow where skilled engineers can provide a better experience on set for a better price than constantly relying on a burn-in. Two years after the initial COVID shutdown, it's fascinating to see how our industry evolves and adapts. And it's exciting for us at Modern Motion Pictures to be a small part of that change.