by Paul Ledford CAS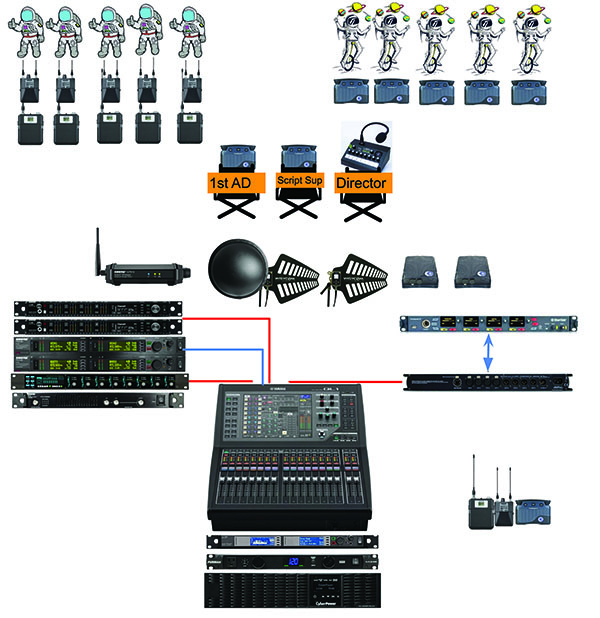 You get the phone call to do a space movie and after the first rush of excitement, the mind conjures the thought that a space movie on the moon means ten spacesuits on stages. Spacesuits mean helmets, and the need for a no-fail two-way communication across all actors, stunt actors, and many key positions on set. It is a must for safety, a must for the workflow to make our day, and then there is the sound capture thing. The basic concept is not new here, but every year, we have new equipment with new techniques to bring forward to fulfill the needs while working around new equipment from other departments that also need to be factored in or resolved. I have had my share of good turns at single- and double-billed shows with spacesuits, along with a most disastrous project of multi-crew spacesuits that proved to be two weeks plus of pure stomach aching hell. That toxic trial provided many lessons and I was a bit reluctant to repeat that same experience given this Disney production of Crater had the bulk of days in spacesuits with five teenagers and lots of wire work in the air. While not a huge cast count by most production standards, this could not be a show up, hook up, and go project. It gets complicated quick and the charting of signal flow starts to cross over the lines early on.
There has to be supported homework.
After lots of war stories about past projects facing these same issues and recommendations about possible solutions, production did the homework of speaking with folks I had pointed to. With the support of Linda Borgeson of Disney Post Production, and Producer John Scotti, they agreed to move forward with adequate support for homework, extra gear rental, and hard targets on testing before shooting was to commence. The concept of safety was the lead path in all decisions.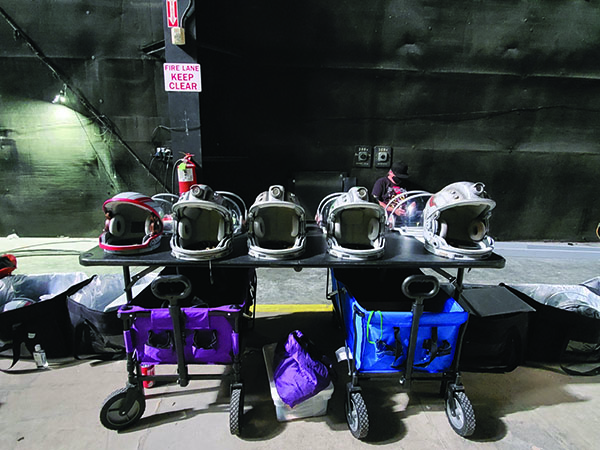 I was on another show, so from the very beginning, I asked Peter Schneider of Gotham Sound and Communications about his interest in providing the prep design of the comm system and gear rental for the spacesuit scenes. Peter and Gotham have provided support on many other shows for me when the needs were off the normal path and they made this prep as much of as a comfort zone as possible. Peter cleared the way for things like full RF coordination of all departments on set, manufacturer support of the equipment pieces selected, and follow-up on the interfacing of our gear with the suit and helmet design phase being done in Los Angeles by Legacy Effects. We hired Ed Novick for a day of test recordings in Los Angeles at Legacy with the helmets. From those recordings, we selected which lav mic we could use and where they had to play out of sight. The Shure Twinplex lav was selected for most of the helmets given the high max SPL and had some DPA 6060 for a couple of actors due to head versus helmet space and
tonal differences. The stunt team used Sanken COS-11 with the Clear-Com FreeSpeak II packs.
The Clear-Com FreeSpeak II package was the glue for our full system.
The design had to be a full duplex comm system where everything needs to go through, and be fingertip-controlled on set by our AD, Benita Allen, along with our Director, Kyle Alvarez, and the Stunt Coordinator, Dave Macomber, and his stunt team.
All of the leadership needs not only to hear all of the primary actors and stunt actors, but to be able to speak to them as a group and at times individually. All controlled from their own belt packs or base station.
The design needed to be able to move to different sound stages, as well as be duplicated for a separate unit to shoot stunt actors performing on different sets, while our first unit continued or reverted to our more traditional task of dialog capture without helmets for interior set work.
With Shure Axient transmitters, our lav mics, and Shure IEM units for the actors selected, the stunt actors were fitted with the Clear-Com FS II units since we were already using that system for the floor communications. The Clear-Com FS II provided the duplex needed for stunt actors rather than an expensive full duplication of what we required for our actors. The Clear-Com FS II could network with the stunt actors and on-set leadership by our dedicated comms technician who used a separate Yamaha QL-1 console. Auto mix and Cedar NRS were used for the comm feeds. We divided up the full task knowing it was too much for one person on one console to focus on because things were going to change. It is the nature of our work.
Kyle Lamy was hired to be our Comms Tech. Kyle came to us from NCIS: New Orleans which had just wrapped. He was their Playback Operator and had the skill set from stage and music venues to operate the mixer, the wireless system, and IEM system with intercoms. From there it was a quick step to fold in the new flavor of the Clear-Com FreeSpeak II on a network via a laptop.
I now cue it over to Kyle for the hands-on experience…
Range and Battery Life
I will admit that I was very skeptical when first learning this unit ran on a 1.9 GHz cellular band. In my experience, wireless microphones that run on a 2.4 GHz band will run out of range quickly. The FS II should never be put in this category.
On our largest stage with the full cast of stunt personnel and production, I was using up to twelve belt packs on three transceivers. The belt packs quickly jumped to the closest transceiver, and I was able to keep a 90%-95% stability on all belt packs throughout the filming.
The range of these belt packs are only outperformed by the incredible battery life that they can achieve. Very few rechargeable batteries can stand the test of all-day feature film working hours, but the batteries on the FS II proclaimed and delivered sixteen hours of life. After testing these on our setup days, the crew moved into a routine where the batteries were charged and added to the belt packs first thing in the morning and first thing after lunch. I was in no danger of ever losing a belt pack due to a battery, and we had many hours left by the time we wrapped every day.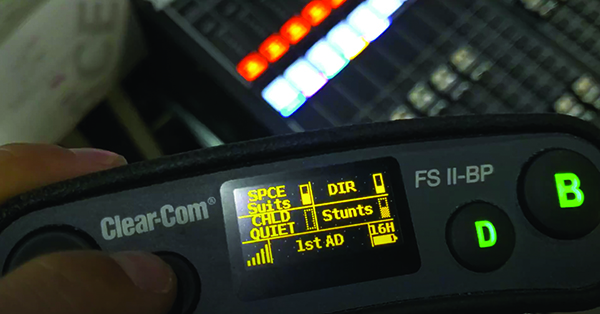 Network Ability
The FS II really shines when networked together with console and other transmitters. Peter and I were able to quickly formulate a workflow that included role assignments, battery and range health indicators and gain structure. Logging into the Static IP address was a convenient way to make changes and monitor the different aspects of the belt packs while in use.
On our Splinter+ Unit, the stunt actors all had the FS II wireless belt packs assigned by their roles to be Force Talk and Listen. This allowed all of the stunt personnel to freely talk and listen to our stunt coordinator at all times.
As the day moved on, certain stunt actors not in the setup were quickly assigned to Force Listen. The off-camera stunt actors were kept in the chain of communication and allowed to listen to the conversation, but with their microphones turned off, clearing that line of fan noise, breathing, and chatter for everyone else.
All changes could be achieved on the hardware unit on set, but being networked turned this into a few clicks of the mouse and did not hold production up in the slightest. We could work from the behind the curtain stage position at the carts without having to go onto the set itself and keep in line with the COVID protocols.
Clarity and Expandability
The FS II provided the clarity and level that was always sufficient and quickly adjustable by the network ability to change the levels on the fly as each actor or AD's requested. Not once did I notice the dialog or direction from our AD was in danger of being misunderstood. The preamps were clean and headphone outputs were more than loud enough for all various earpieces and headsets.
In short order, our 1st AD desired a bit more control from her belt pack in order to quiet everyone trying to communicate through the system. Our solution was to have the AD's FS II belt pack trigger a GPI on the Yamaha QL 1, turning on or off the Actor's Mute Group. The implementation of this mute group trigger allowed the AD to stop all side chatter and gain the attention of everyone in the system. This was particularly important working with excited teenagers or when a little focus was lost as the day grew long.
Deeper in our schedule, the actors and stunt personnel would move from main unit to splinter+ unit, and the belt packs were very quick to drop the base station that it was initially linked to and join the network of the new base station once it was in range. This worked seamlessly and almost became forgotten about in the workflow.
Over to Ledford's side of the cart in pure production recording world…
I got a raw feed of each actor from the Shure Axient receivers for the iso tracks and the comm feed to monitor the Clear-Com FS II channel for on-set instructions. I got slates and did a mix of our capture on my board for dailies. I could also talk back with our AD via my board to her belt pack, if that was needed.
My crew of Zach Lancaster on Boom, and Colin Beyer, our Utility Sound, loaded up the spacesuit backpacks with the comm gear and guided the helmet on and off routine with the Legacy crew and Costume Department. Actors got a transmitter and an IEM unit in the backpack connecting a harness to the helmet. Lav mic and ear pad pieces were built into each helmet. The backpacks also held power, lights, and fan controls for the suits. Zach and Colin had my IFB system feeding into the FS II pack to help check the actors and on-set staff for any issues. The Clear-Com FS II packs could be programmed to fit each person's need.
The original request had the actors being fully dressed with helmet fitted in a dressing trailer off stage. Then, like all the NASA footage we have seen, walk them to the stage and on set. Challenges were revealed by the amount of crew in an expanded trailer with many frantic hands dealing with our young actors. Add in our technical challenge of having a good RF signal to ensure we were good to go. A harness was made to run through the stage wall to a small box version with antenna tree of our system inside the trailer out in the parking lot. This extended our ability to hear, talk, and network with the gear and our crew. However, we could not see anything, and what seemed like a good idea did not complete in a smooth or timely fashion on the first day of spacesuits.
Sometimes the better solution is not always about more gear. The kids were not happy to stand for so long while this whole suit thing took place. Putting the helmets on is a routine of hold in the air, connect the harness, squeeze down, and fit to lock-in, without pinching the harness. For the unpracticed, this is another barrier if you are standing up. To listen to all of this and discern the flow while blind was a bit riotous in a kind observation.
We evolved to having a simple, long wood bench made for our talent to sit on within eyesight of our carts on stage. Clothing and packs were done in the dressing trailer. The helmets and final fits were done on the stage. This helped us to calm the energized actors and work both front and back of the actors and stunts suiting up. We always got a "good to go" check before anyone left our care and walked onto the set. If there was an issue, we could address it right there with eyes on and all within COVID protocols with less people and more space at each step. Production adjusted the expectations to give us the needs to make good. Then we all got better at the process together.
On first unit, we had six Shure transmitters going along with six IEM systems for the mix minus back to the talent, and then I had some Lectrosonics units running for boom and plants plus my crew IFB and video village on a Lectro IFB system. At no time did we have interference due to the homework in design and frequency selection Peter Schneider performed for us. We had full scans of all stages ahead of time, and we had the full cooperation of all departments using RF devices, i.e., walkies, running lights, camera crew, crane, controlling special effects gear, or visual effects capture devices.
As much effort we put in to making the helmets work, we had to consider setups with the helmets off. OFF due to storyline and OFF due to the actor being off camera, and the helmets are a pain to put on and off long into the day. Having the same connectors on the harness break point as my own lav mics was a convenient savings. This was important since my transmitter system was different from the spacesuit units. Zach, our Boom Op, could see the first time an actor snuck up on set without a helmet and quickly pull a lav out of his boom stand kit to connect the actor back into our channel lineup … so the actors isolated in the helmets could hear the non-helmet person in the dialog runs or just any other interaction. Having these extra lav mics were good for backups, and good for on-set workflow, as well as those extra lines of dialog for post.
I had lived through and learned more about other shows having the on-or-off face shield issue. Our helmets could remove the face shield for reflection issues. That was a bonus for us giving a more natural voice to record without lots of pressure build-up on those loud lines. Post can then decide what the flavor of that is to be in the final. With the shields on for the wide coverage, there is of course, the enclosed bubble sound of the helmets and then the fans running to keep the shield clear of moisture. Auto mixing and Cedar NRS on that comm channel did improve the clarity on the comm feeds in keeping with the FS II system. I got decent scratch recordings to hand off to post on those. On the tighter coverage with the shields off, I was happy that we could quickly flip our gain settings for a better base line voice worthy of the cinema venue. The helmet shields changed often and at times without much warning, so again having networked gear to keep up was impactful to us all.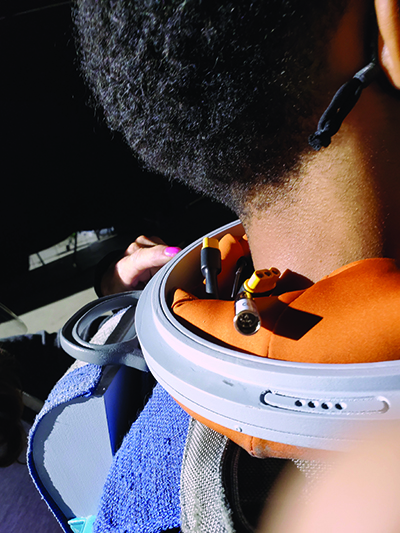 I want to thank our splinter unit crew of mixer Richard Schexnayder and Boom Op Leonard Suwalski, and Jared Lawrie and Lewis Rhodes as our 2nd Tech Comm Daily Operators.
This was a fulfilling project to work on because we had support in time and resources to select people and the gear suited to the task. Computers and the ability to network the gear were our friends. We were given the time to sort out issues as they revealed themselves to us. We had a plan and committed to it and identified the bits that were not working and got rid of those in favor of something better. We had leadership that led by the idea to be fully engaged, stay calm, and carry on because the pumpkin time is coming for our young actors.
No doubt being contained on stages was a big help versus a live expansive location exposed to the weather elements and more RF density. Without the homework, networked gear and evolved knowledge, the friendly walls of that stage keeping our outer space cold in and the hot summer rains out, could very well have been those same prison walls of stomach aching hell lurking from the past.