by Laurence B. Abrams
New Classes to Keep Pace with the Technology
This year's educational programs offer more training opportunities than ever before. Some are funded by Local 695 and are completely free to 695 members and some are funded by the Contract Services Administration Training Trust Fund (CSATTF) and are either free or eligible for a 2/3 reimbursement to members who qualify. This article contains an overview of some of these classes but the best way to stay in touch with all the educational opportunities available to you is by checking www.local695.com. Also make sure that we have a good email address for you so that you'll receive updates and new class announcements as soon as they become available.
Local 695 Projectionists will see some new class options for training in digital cinema projection. We still offer the 5-day Digital Cinema CP 2000 and Solaria Series class from Christie Digital Systems but this year we've added a new class from Barco Digital Cinema… Barco Certified Operator – Basic Projector Operations and Troubleshooting. By the time you receive this publication, we hope to also have approval for Barco Certified Operator – Projector Operations and Troubleshooting, Digital Cinema – Barco Certified Specialist – Installation and Basic Maintenance and Barco Certified Expert – Advanced Diagnostics and Service. These classes are eligible for 2/3's reimbursement from Contract Services if you meet their requirements. See www.local695.com/html/edu.php for details.
Still available at no cost to all Local 695 members is the online training offered through VTC. With more than 10,000 software tutorials to choose from, this self-paced training covers a huge range of programs, including Adobe Premiere Pro, Sony Vegas Pro, Apple Final Cut Pro, Adobe After Effects, Adobe Media Encoder, Adobe Director, LightWave 3D, Adobe Photo Shop, Avid Pro Tools, Sound Forge, Adobe Audition CS6, Adobe Soundbooth, Steinberg Cubase, Steinberg Nuendo, Abelton Live, FL Studio, Apple Logic Studio, Audio Mixing Essentials, Filemaker Pro, Adobe Fireworks, Adobe Flash, Adobe Dreamweaver, WordPress, Drupal, Joomla!, Wikis, PHP, Javascript, Networking, Programming and literally thousands more. Each tutorial is divided up into a series of small, relatively easy-to-digest chapters. The most effective way to use these tutorials is to have the software being discussed open on your computer at the same time that you watch the tutorial so you can pause and repeat the training video as needed while you're experimenting with the operations and techniques being discussed. New VTC tutorials are being added all the time. See details about how to access this free training at www.local695.com/html/edu.php.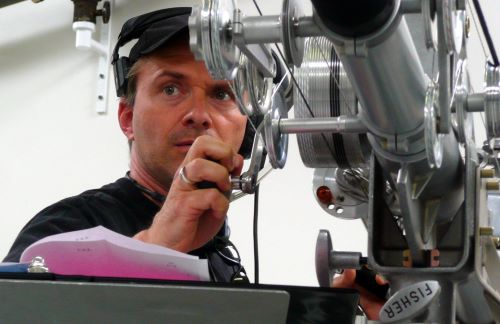 Available on an appointment-only basis, our Fisher Microphone Boom Training: One-on-One Intensive continues to provide Local 695 members with a unique training opportunity that is not available anywhere else. In addition to Microphone Boom Operators and Utility Sound Technicians, we strongly encourage Production Sound Mixers to enroll in this training, as well. While a Fisher boom may not be appropriate in many shooting circumstances, it still remains a useful and powerful tool that can help you to produce superior tracks when used in the right situations… and definitely worth a look when you expect very long shooting takes. Attendees to this training session will have hands-on time with the Model 3 and Model 6E bases and the Model 2 and Model 7 boom arms. This training is free and available exclusively to 695 members. Contact us through edu@local695.com to request a one-on-one training session. NOTE: On May 18, 2013 Local 695 will be giving demos on a 23-foot Fisher boom at J. L. Fisher's 8th Annual Open House, Mixer and (free) BBQ Lunch. See the Announcements page of this issue of the Quarterly for complete details.
Studio Arts, which is located just east of Echo Park, offers training for a large list of software, including After Effects 101, After Effects 201, After Effects 301, Avid Media Composer 1, Avid Media Composer 2, Final Cut Pro 101, Final Cut Pro 201, Final Cut Pro 350 – Color and more. Members who attend these classes are eligible for a 2/3's reimbursement of the training cost if they meet the Contract Services qualification requirements.
Also eligible for 2/3's reimbursement from Contract Services is software training from a new program by an online training provider called fxphd.com. Most of the classes relevant to our members pertain to Video Assist Technicians and Engineers, such as After Effects, Avid Media Composer 5.5, Advanced Color Theory and ACES Workflow, LUTs, Gamma and ACES, Intermediate Premiere Pro CS6, and The Craft of Color Grading II. Additionally, for Production Sound they offer An Audio Production Primer and Practical Audio Techniques with Audition.
EVS offers two 2-day classes for EVS operators… LSM-XT Basic Operational Training and LSM-XT Advanced Operational Training. And Video Assist Technicians and Engineers may select from two color monitor calibration classes offered by the Image Science Foundation. All are eligible for 2/3's reimbursement from Contract Services.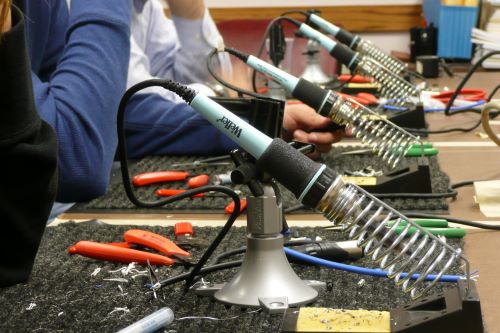 Our Cable Clinics, now in their fourth year, are conducted on a recurring basis by Local 695's "Master Cable Builder" James Eric. These hands-on classes are limited to just four members, providing a great opportunity to receive highly personalized training in the essential skills of cable building and repair for sound and video, including work with XLR's, BNC's, CAT-5 cables and more. Class dates are announced on our website and in email announcements.
More classes this year will expand upon our training program for Digital Asset Management and Workflows and, as in previous years, we continue to offer classes for Final Cut Pro and for Avid Certified Pro Tools Training.
New classes always appear on the Announcements page at www.local695.com and full details for all training opportunities appear on the web site's Education & Training page. Training updates and announcements are also sent by email. Most of you have been getting those emails periodically but if you haven't, you should check your profile at www.local695.com and update your email address if necessary. You may also want to check the junk filters on your computer and, if necessary, "white list" our address… info@local695.com… to assure that you're receiving all of our emails. As always, if you have any questions or suggestions about training or about the website, don't hesitate to contact us at edu@local695.com.